"A friend of a friend was doing it; I went to see it five years ago. I was going through some stuff in my life — my grandmother had passed; I had body positivity issues; and they had an open call to be in the first Circa show they had, casting extras," Novak said recently at Circa '21 Dinner Playouse. "I got around this great group of people and realized, I really want to do that."
She helped make some costumes, took the group's first burlesque 12-week training session, did a student showcase, and became an apprentice for six months before becoming a full member.
"All I see is the flaws, the negative," Novak said of her body image issues. "But when I'm on stage and hear the crowd cheer, it all goes away."
She will be among performers in the group's annual Halloween show,"Stephen King Halloween," Saturday, Oct. 12, at The Speakeasy. The show will be a tribute to legendary horror writer Stephen King's characters.
"It's very supportive; it's good for my soul," she said. "I can't stop. I don't want to stop."
"I wasn't nervous because of my age. I was nervous because my lack of dance experience," Novak said. "Being on stage is a lot more than having the exact moves. It's an attitude. It's the confidence. I've been through 40-plus years of life. I do have the confidence."
Novak, whose stage name is Jordahn Storm, wants to bust the misconception that burlesque is all about stripping.
She said it's more about the theatrical experience. That's especially tru of this wildly dramatic King show, in which she'll portray the iconic, cold-blooded villainess (and fully clothed) Annie Wilkes from "Misery,"  who was made famous on the movie screen by Kathy Bates. "She's a simple character, but she obviously has mental issues. I just have to play it, I'm sweet if you do what I want."
She'll interact with Bottoms Up host Joshua Kahn, who plays the writer tortured by Annie. Kahn wrote the script for the show, and he will narrate the evening's interrelated story with other guest co-hosts Devin Alexander, Jessica Taylor and Anthony Natarelli.
Over the past eight years, the Bottoms Up troupe typically has performed at the Speakeasy every other month, except for the last three, when it has been featured every month. Past Halloween shows have had themes such as movie monsters, murder mysteries, seven deadly sins, and space. Audiences members always are invited to take part in a costume contest to win tickets to future shows.
'Pandora's box of King'
For this year's show, "we are essentially opening the Pandora's box of Stephen King," Kahn said. "The idea is all of the performers are possessed by a character of a Stephen King novel. We have to rescue the girls from being completely taken over by these creatures."
"I think Stephen King is one of the best storytellers alive," Kahn said. "If you read 'Carrie' right now, if you take the fact of telekinesis out of that book, what you're left with is a story about bullying people, which is relevant now. The core of stories are relatable years after they're written."
"Also, he's a darker storyteller, now we have darker content. Edgy storytelling is accessible," he said. "People want to feel those things."
"Stephen King is more popular now than he's ever been," Kahn said, noting the "It" films — based on the sprawling 1986 novel — are huge. The 2017 and 2019 horror flicks have grossed a combined $1.1 billion worldwide.
"It's been interesting learning about Stephen King, how his works are connected, how deep the stories are, and the most important thing — how iconic his characters are," Kahn said.
Some women are doing gender-bent versions of characters, including the Des Moines burlesque performer Queen Anatomic as Pennywise the clown from "It."
"I love her Pennywise routine; it's great," Kahn said. "She puts in other references into her costume; you catch these little asides. If you've read the book, there are clever subtleties in her routine. My God, that's insane, that's so great."
"With Stephen King, my first thought, 'Everything's going to be scary, one note,' but that's not the case," he said. "It's, 'What would this character be like if they did a burlesque routine?' "
'The most fascinating place'
Cameron Jaime, 33, of Moline, is a co-founder of Bottoms Up. Her stage name is Mac DeVille, and she loves bending genders. One of of her King characters is the dark, brooding gunslinger from "The Dark Tower" series.
"He's tough, full of just obsession, and he's got good intent," Jaime said, noting she'll play the character as a woman. "But anything between him and his obsession is in the way. ... Everything I'm wearing is women's clothing, a female design of a man's outfit. The character is so macho."
Normally, Mac DeVille is "a woman of travel — worldly, kind of a bitch," she said. "In Mac's world, she's a 6-foot-tall, chocolatey-dark drag queen ... who used her charms to travel the world and collect the finest of things."
"I find the middle ground to be the most fascinating place. Me by nature, I'm very black and white, all or nothing," Jaime said. "So to be androgynous, of both genders, to flow between those two is the most interesting place in the world to me. I've always loved drag queens, cross-dressers, people of multi-genders. I've always been fascinated by that. I wanted to portray their bravery and their character from their struggle on stage. Also, I'm a really dainty girl (5-foot-3), and drag queens get to be tall."
After seeing a burlesque show, "I got completely hooked," Jaime said. "I've always been fond of classic and vintage aesthetics. I'm super motivated and fascinated by the human sexual experience and how that affects our daily psyche. So, just the self-expression, the sexuality, the glamour, the inspiration of it all just completely took me away."
Jaime has led some of the Bottoms Up training sessions. "No matter how confident you are as a woman, when you step into a room with strangers, you're humbled a little bit. Watching that humility turn into bravery and confidence is great. I give you the tools to do a good job. Like watching someone pull their own tools out and use them — that is my jam. I love that."
"With burlesque, the goal is to connect with the audience; you actually get to look out at your audience and make connections," she said. "Whereas in ballroom, it's all about displaying how glorious and how hard you worked — very disconnected in comparison. In ballroom, there's no room for happenstance, for improvisation."
"The expectation is that at some point, I'm going to be some level of nude. What surprises you is how I'm going to get there," she said. "It's the journey to getting there."
"You can't come into a burlesque club and tell someone how big their waistline is; it's not going to fly very well for you," Jaime said of accepting a variety of body shapes. "That's the biggest difference for me between burlesque and stripping — every body, every gender, every ability, disability, misfortune, whatever it is. You've got a body; you've got a routine."
She noted there's not a big leap between horror and burlesque, combining the scary and sexual.
"Being a woman, your sexuality and your fear are directly connected with each other anyway," Jaime said. "It's hard to imagine for guys, but anything being inside of you is a terrifying feeling, so it's really second nature to be on the edge of life or death. Doing Halloween is kind of relieving for a lot of us because you get to be very aggressive with your sexuality."
A feeling of empowerment
Alice Guzman, 27, of Moline, has been involved in theater for 20 years, and doing burlesque for three.
"I love the empowerment that comes with burlesque," she said. "Society always wants to see the female body unless we want to show it. It's such a thrill to hear people cheering you on for your art and your body. I worked so hard to feel good about the way I look. It's amazing for people to be supportive of an art form that is so taboo."
"It's definitely not an easy thing to be sexy and scary," said Guzman, whose stage name is Willow Wonderlust.
"That's why I chose to just go with just spooky for my group. For the other two, one has a pretty awesome horror element to it, but I won't spoil it for you. Halloween is my favorite day of the year. I love dressing up, so this is easily my favorite show. It also presents a theme that is both wide but restricted. I love the challenge."
"I'd say 'Rose Madder' is actually my favorite," said Guzma, whose stage name is Willow Wonderlust. "I love Greek mythology, so unlike how other people feel about the story, I genuinely enjoyed it. Also, it's a story of incredibly striking domestic abuse, which I've been a victim of, so I associate with this character. It's unlike any other stories that he's written. It's more a realistic horror."
"It's intense, but it's really representative of the story. I wanted to do it justice."
Returning home
Rhiannon Haile, 26, moved from Rock Island to the Rockford area in the past year after getting married. She goes by Tetra Tormenta on stage and has been dancing with Bottoms Up for three years.
In the King show, she will portray perhaps the most famous female in the King canon — "Carrie," the title role in King's 1974 debut.
"I do love Stephen King movies, and my favorite movie is definitely 'Carrie,' so I'm excited to get to do this routine again," Haile said by email recently.
In burlesque, "I love the freedom to be my realest and truest form of myself. I have always been a free spirit that felt trapped within society's expectations and standards," she said. "In burlesque, there are no standards; there is no normal or cookie-cutter stereotype. We are all so vastly different and pride ourselves in loving those differences so intensely within ourselves and others that when we translate that on stage, it really is beautiful."
"Each routine is a story, a piece of ourselves that we expose to the public," Haile said. "We get to tell a story with our bodies and even if its emotional, comedic, dark, or completely fictional, its a journey I love going on every time I see a show."
"A big majority of my routines are darker with more metal or alternative music," she said. "It has just always been the aesthetic I wanted to portray on stage. Getting people to be scared yet slightly aroused at the same time is always a fun challenge. Mixing the two is easy – it's just basic burlesque moves, then you add in a few gallons of blood. Easy! If you have passion for what you are doing, any subject or theme you choose will translate."
"If we could just have Halloween all year, I would be fine with that," Haile added. "I love seeing everyone channel their inner horror icons."
092519-mda-nws-kingburlesque-1.jpg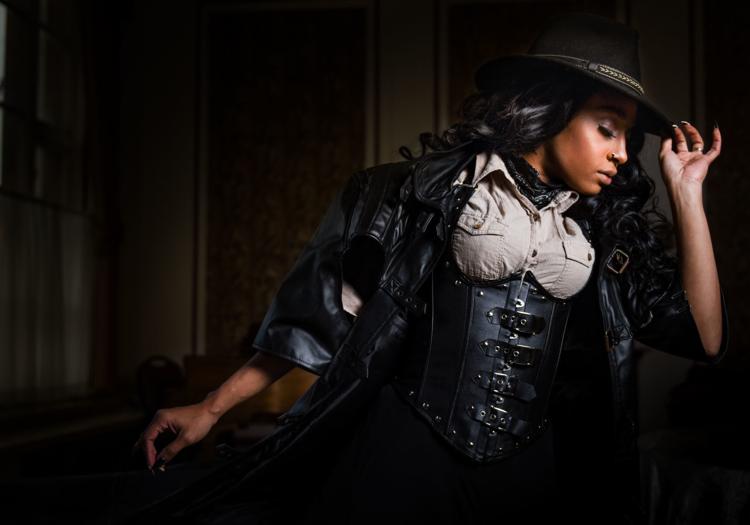 092519-mda-nws-kingburlesque-3.jpg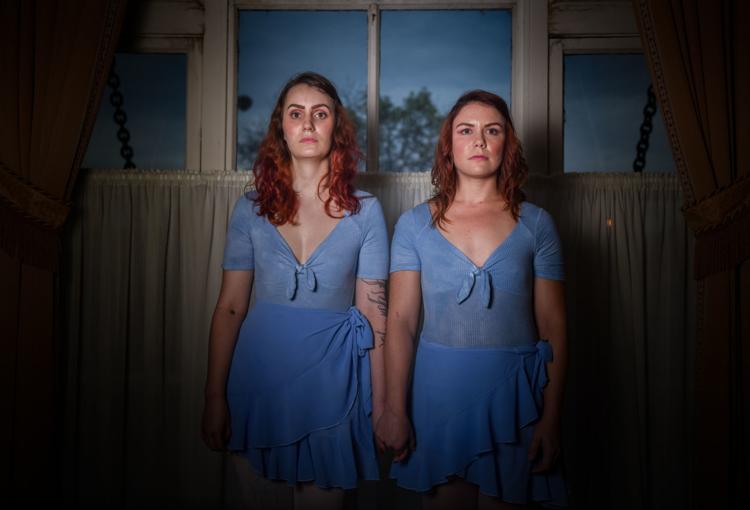 092519-mda-nws-kingburlesque-4.jpg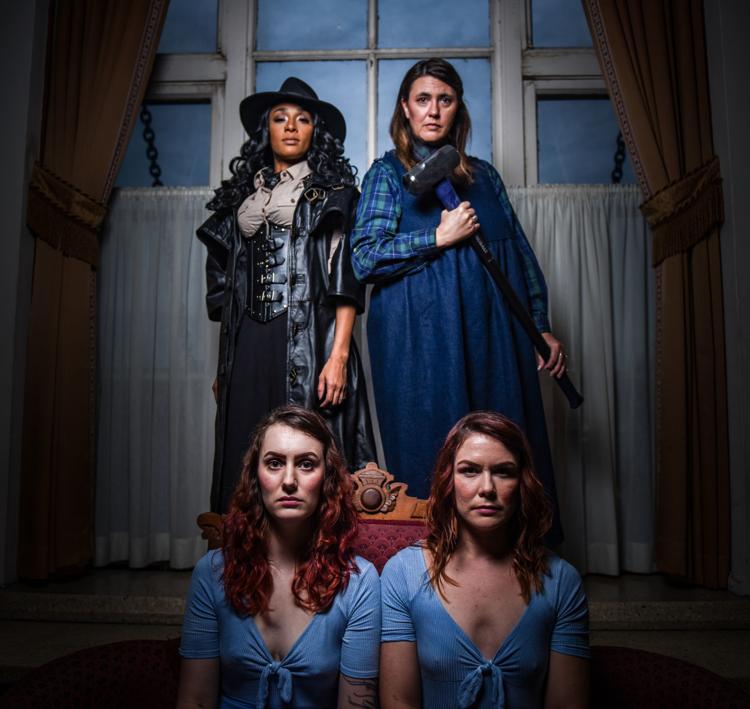 092519-mda-nws-kingburlesque-2.jpg
100319-mda-nws-kingburlesque6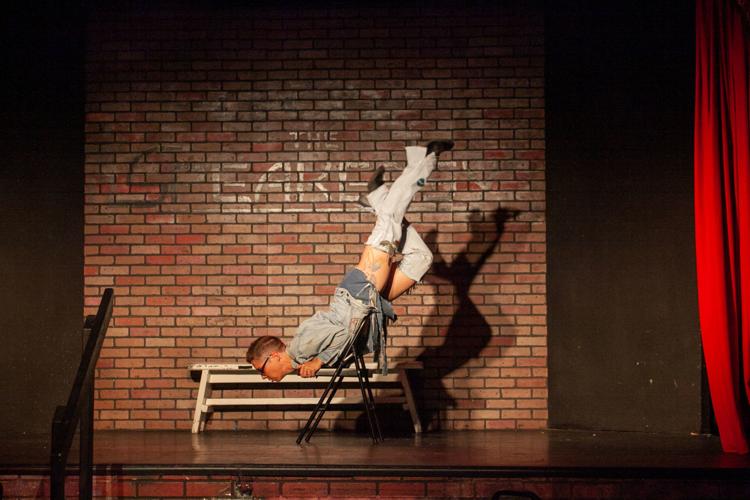 100319-mda-nws-kingburlesque4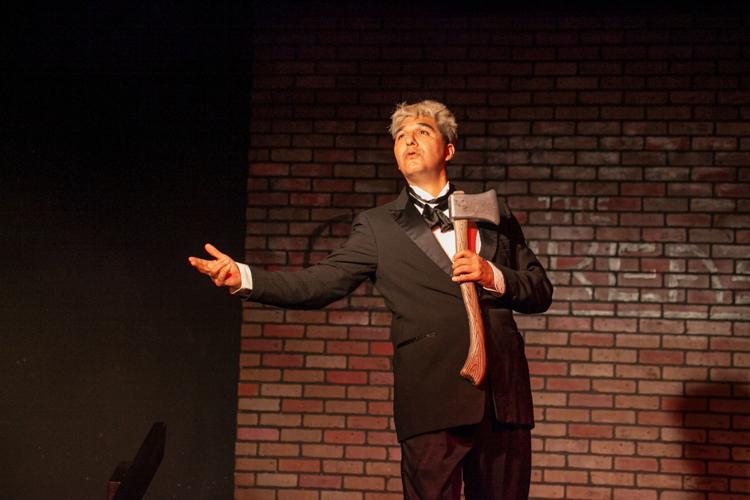 100319-mda-nws-kingburlesque5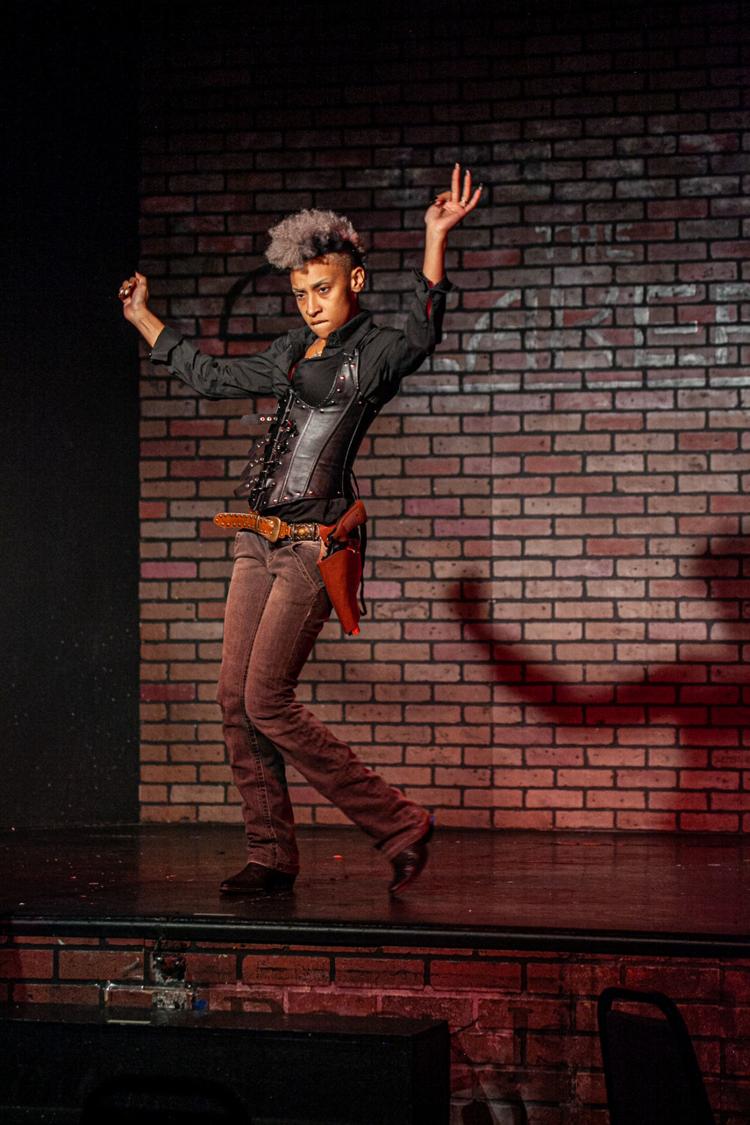 100319-mda-nws-kingburlesque3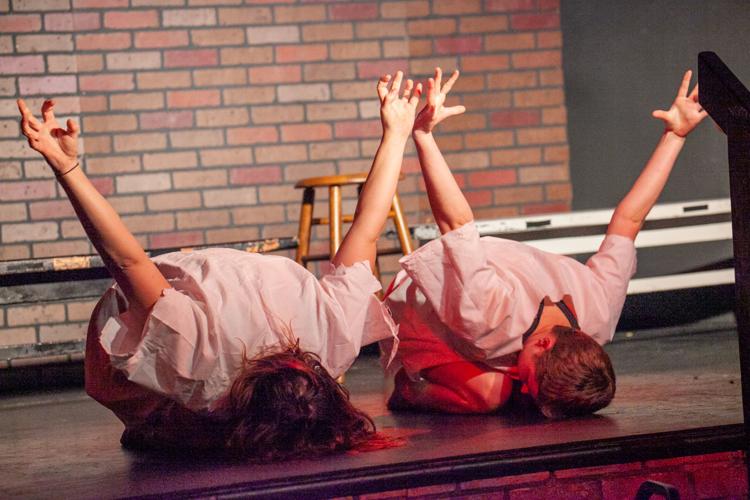 100319-mda-nws-kingburlesque2
100319-mda-nws-kingburlesque1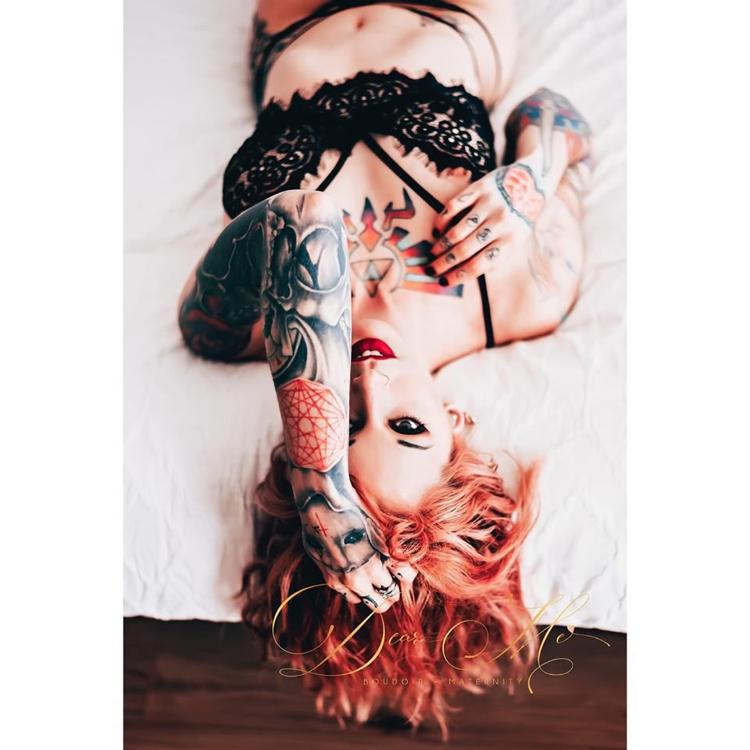 Get local news delivered to your inbox!
Subscribe to our Daily Headlines newsletter.