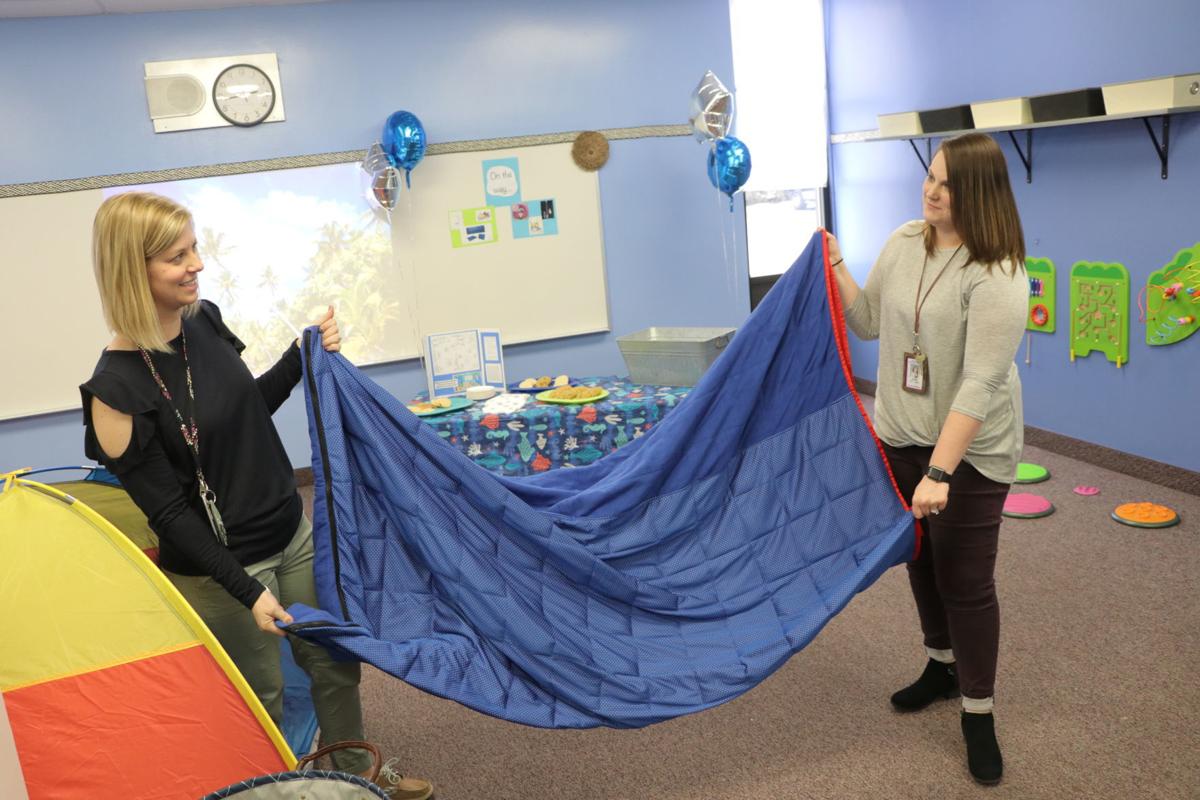 VIOLA — Winola Elementary School on Wednesday unveiled a sensory room designed to help students deal with anxiety.
In August, Winola Elementary Principal Kari Roberts approached the school board about dedicating a classroom for use as a sensory room. Along with money from the school's Children's Fund, the project was aided by $10,000 from the school board.
Ms. Roberts said the room was designed to meet the needs of special education students as well as students with sensory needs or behavioral issues. The room is divided into two spaces — a calming area and an active one.
She said the district had discussed such a room for a few years and it had become more of a need for students with sensory issues.
"We hope to get the behaviors in check before they become a problem," she said.
The room won't be an escape for students who get in trouble, she said. Instead, it will be scheduled at the beginning of the day to set the tone, or throughout the day for students who need breaks.
"It's amazing what some time in a tent with a weighted blanket can do for some of these students that just need the break," Ms. Roberts said.
Winola special education teacher Lori Staves said the school had students who needed breaks to calm down and regroup or self-regulate.
"I think this is a great place for them to come and explore and see what will help them calm down and get back to class," she said.
Students selected for the room are by teachers in tandem with the special education department and occupational therapist. The blue/green room includes a "cozy canoe" with LED lights draped over it, a mirrored wall, jumping boards, weighted blankets, bean bag chairs, sensory sacks and tents for kids who need their own space.
A projector with calming scenes and sounds can be played. Organizers also plan to add a barrel roll, a bubble tube and mats for the floor.
The cost so far has run around $5,500. Ms. Roberts said the school used items already on hand and had other products donated. She acknowledged all the volunteers who made the room possible.
"Everybody's had their hand in it," she said, adding the school hopes to add things to the room as needed. "We're going to see what we use the most and then maybe add some additional items after we figure out what we really need."
Superintendent Alan Boucher said the district hoped the room "weaves into our educational program." He said the district someday would like to have a sensory room at the Sherrard Elementary School as well. School board member Kim DeBlock helped paint the room with her father, a retired painter.