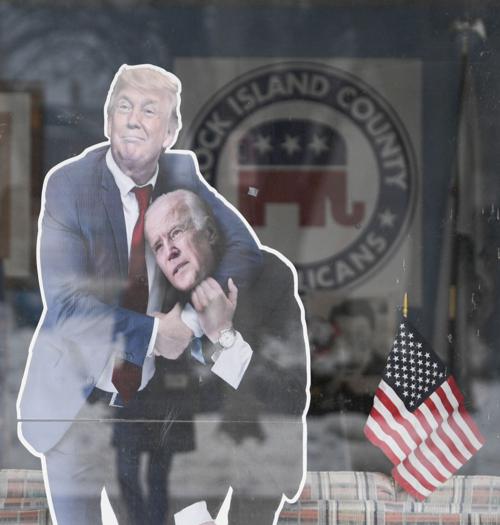 Scott County Republican Party Chairman Dave Millage is calling for the impeachment of President Trump and his removal from office following the insurrection at the U.S. Capitol building Wednesday after Trump incited supporters during his "Save America" rally in Washington.
Millage said he disagrees with the request by House Speaker Nancy Pelosi and Senate Minority Leader Chuck Schumer that Trump be removed by using the 25th Amendment.
"I think they ought to impeach (Trump)," Millage said. "If they impeach him, he's gone for good because he can never hold another office. If they invoke the 25th Amendment, he could come back."
Rock Island County Republican Party Chairman Drue Mielke disagrees. He does not support invoking the 25th Amendment or the impeachment of Trump.
"If we want to divide the country and anger the Trump supporters more, then that's what we should do," Mielke said. "Is that the purpose — to inflame and anger them? That's the wrong thing to do for our country. Is this another political vendetta? If it is, it would inflame Americans. I'm thinking of our country first. If there is evidence that supports it, then I would reevaluate my decision."
Millage said he was disturbed to see a mob of Trump supporters push through barriers and break into the Capitol building.
"I think the actions were despicable," Millage said. "I think it's atrocious conduct — the conduct of the president since the election has been decided and since the appeals have run their course. (Trump) should drop it, act like a leader and accept defeat. There might have been fraud, but there wasn't enough fraud to turn the election.
"If they respect the Constitution, they certainly weren't doing it (Wednesday.) Their conduct was abhorrent. We are supposed to be a constitutional republic; we're not a banana republic where the whims of congressmen can overrule the votes of the people. It's just appalling to me, their conduct. And for the president to egg them on is just atrocious conduct. But we're used to that with this guy."
For several months, there has been a life-size cardboard cutout of Donald Trump with a smirk on his face, holding Joe Biden in a head lock, on display in the window of the Rock Island County Republican headquarters office, 500 16th St., Rock Island. Mielke said he had the cardboard cutout immediately removed after Wednesday's violence. 
"It was placed there without permission prior to the election in November," Mielke said. "In light of the heinous events, I viewed it as being in bad taste but I do not believe its intent was to provoke hate or violence. Wednesday's events in Washington have changed the lens of how this is perceived and rightfully so.
"I expect that we will find that the violence that occurred was done by infiltrators, possibly antifa, and those wishing to cause anarchy seeking to distort and hijack the peaceful rally by Americans wishing to exercise their freedom of speech and assembly," Mielke said. "The Department of Justice must prosecute these terrorists as criminals that have created horrific acts against our country. As Americans, we all agree that these unlawful acts must be punished."
There has been no verifiable evidence that members of the far-left activist group participated in Wednesday's violent insurrection. Trump supporters were vocal about their participation, waving Trump flags and wearing red MAGA hats as they took selfies and posted videos on social media. 
Mielke said he accepts Joe Biden as president-elect and that he accepted the results of the election when electoral college votes were certified in a joint session of Congress early Thursday morning. 
"Anything else would be going against the Constitution," he said. "I have taken an oath to defend the United States Constitution and that oath is a solemn pledge to my constituents."
Millage has taken a stronger stance against those in the Republican party who still oppose Biden's victory. When asked about conspiracy theories surrounding Dominion voting machines that have been proven untrue and alleged fraudulent mail-in ballots, Millage said anyone who supports those false claims should move on. 
"I wish people would just let it go," he said. "We got beat in the presidential race. Biden got more votes than Trump did in the appropriate places. It's now been to the courts, it's been to the states, it's been certified and nobody says there was widespread fraud that affected the outcome. Republicans and Conservatives who are involved — they haven't found it. They should let it go."