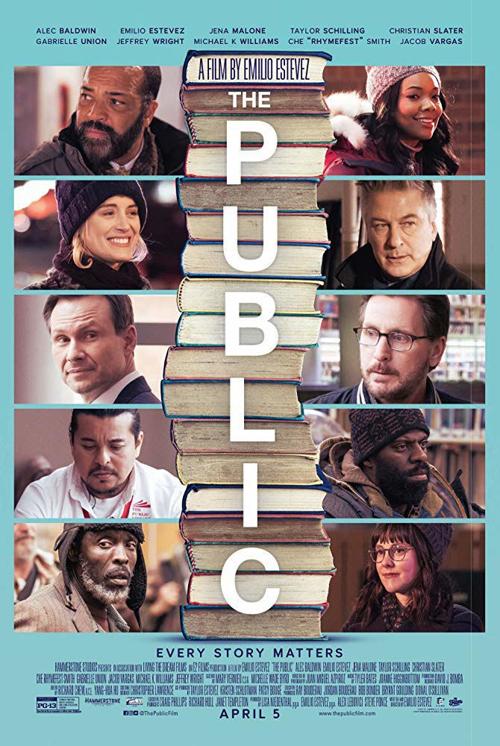 ROCK ISLAND — The Rock Island Public Library will host a two-part Community Conversation on Homelessness this week and next at the downtown library, 401 19th St.
It will start at 5:30 p.m. Tuesday, Jan. 14, with a free screening of the thought-provoking movie "The Public," a 2018 Emilio Estevez film that will be shown in the Community Room. The movie, which may not be suitable for all audiences, is a fictional look at what happens when bitter cold leads a contingent of homeless people to stage an overnight sit-in at a public library in Cincinnati, according to a Rock Island library release.
Estevez plays Stuart Goodson, a librarian on easy conversational terms with the homeless who camp out there every day, according to a 2019 New York Times film review. One night, during a potentially fatal arctic chill, Jackson (Michael K. Williams) informs Stuart that the city's shelters are full. He and a large group of other men simply refuse to leave the library.
"Estevez does an elegant job with this setup, creating a low-key, uncondescending portrait of lives on the edge," the review said. "Stuart has his own checkered past, as does the building manager for his apartment (Taylor Schilling), a recovering alcoholic and new romantic interest."
On Tuesday, Jan. 21, the Rock Island library will host a community round-table discussion on homelessness and housing insecurity in Rock Island. The conversation will take place from 6 to 7:30 p.m. in the Community Room of the downtown library.
You have free articles remaining.
Both events are free and are being presented in partnership with Christian Care Center of Rock Island.
On Wednesday, the Rock Island library will offer a second chance to meet Devin Hansen, author of "Guts: The Lane Evans Story." The 6 p.m. event will take place at the downtown library.
Hansen will discuss his biography of U.S. Rep. Evans, who served Illinois' 17th Congressional District from 1983 to 2007. Attendees may share memories of the late congressman, learn more about him from the author, and get an autographed copy of the book.
Additional library programs for January include a movie based on the novel "The Art of Racing in the Rain" by Garth Stein. The free movie will be shown at 10 a.m. Thursday, Jan. 16, at the Rock Island Southwest Library, 9010 Ridgewood Road.
A "Chocoholic Paradise" talk by local chocolate-maker Randyl Mohr of Chocolate Manor, Davenport, will begin at 1 p.m. Saturday, Jan. 25, at the downtown library. It will focus on the art of chocolate making, and free samples of the wide variety of flavor combinations will be offered.