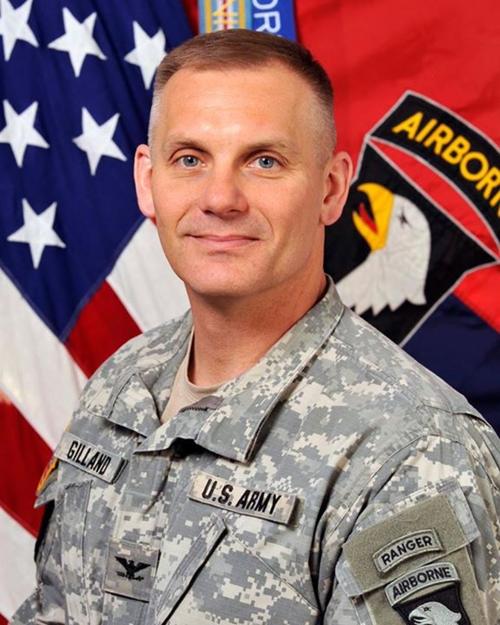 U.S. Army Col. Steven Gilland, a 1986 Sherrard High School graduate and Rock Island native, today becomes Brig. Gen. Steven Gilland.
In June -- under Title 10, U.S.C., Section 624, Col. Gilland was named by Congress for appointment as brigadier general. He remains Deputy Commanding General (Operations), 101st Airborne Division (Air Assault), at Fort Campbell, Ky.
Col. Gilland said numerous friends and family members from the Quad-Cities plan to attend today's 10 a.m. ceremony.
"Absolutely humbled, honored and touched to the core that family and friends -- some friends I have known since I was 7 years old -- will be here to share the day with us,'' he said in a phone interview this week.
"I'm so lucky; there are so many others who deserve this," he said. "Truth be told, not much changes. It's the same desk, and I am still working alongside some amazing people, all with the same goal in mind.''
Col. Gilland, who has commanded at multiple levels and participated in operational deployments to the Middle East, Africa and Afghanistan, said his wife -- a West Point graduate -- made today possible.
"Betsy is simply out of this world,'' Col. Gilland said. "I truly am the luckiest guy on the planet to have her and three great kids. That's where all my good fortune starts.''
Col. Gilland's mother, Janet Gilland Hutchins, of Rock Island, will be on hand to see her son become a general.
"You cannot imagine how proud I am,'' said Ms. Hutchins. "It's all come so fast for him, but he has earned everything.
"He is a tremendous leader, but he is best at being a great husband and father," she said. "To have family and friends take time to travel and share such a big day speaks volumes of the kind of man he is. He deserves to enjoy the day.''
Col. Gilland was commissioned from the U.S. Military Academy at West Point in 1990. He holds a master's degree in military operational art and science from the Air Force Command and Staff College.
He said he understands the greater good is not about one man. On Thursday, he participated in the 101st Airborne's Day of the Eagle celebration at Fort Campbell, a tribute to those who have gone before him.
"I had the opportunity to share the celebration with someone from World War II who, at age 90, is amazing in his recall of all that he has been through and his service,'' said Col. Gilland.
"Then I chatted with three Vietnam veterans, who have not seen each other in 50 years," he said. "When they saw each other they knew immediately who each other was. They talked like they had just seen each other yesterday.
"Service, history, tradition and the bonds formed are what this is about.''
Col. Gilland's list of military decoration is lengthy: The Legion of Merit, Bronze Star Medal; Defense Meritorious Service Medal; Meritorious Service Medal; Army Commendation Medal,  Army Commendation Medal with V Device; Joint Service Achievement Medal; Army Achievement Medal, the Combat Infantryman's Badge, Expert Infantryman's Badge, Ranger Tab, Master Parachutist Badge, Air Assault Badge and the Military Free Fall Parachutist Badge.
Get local news delivered to your inbox!
Subscribe to our Daily Headlines newsletter.