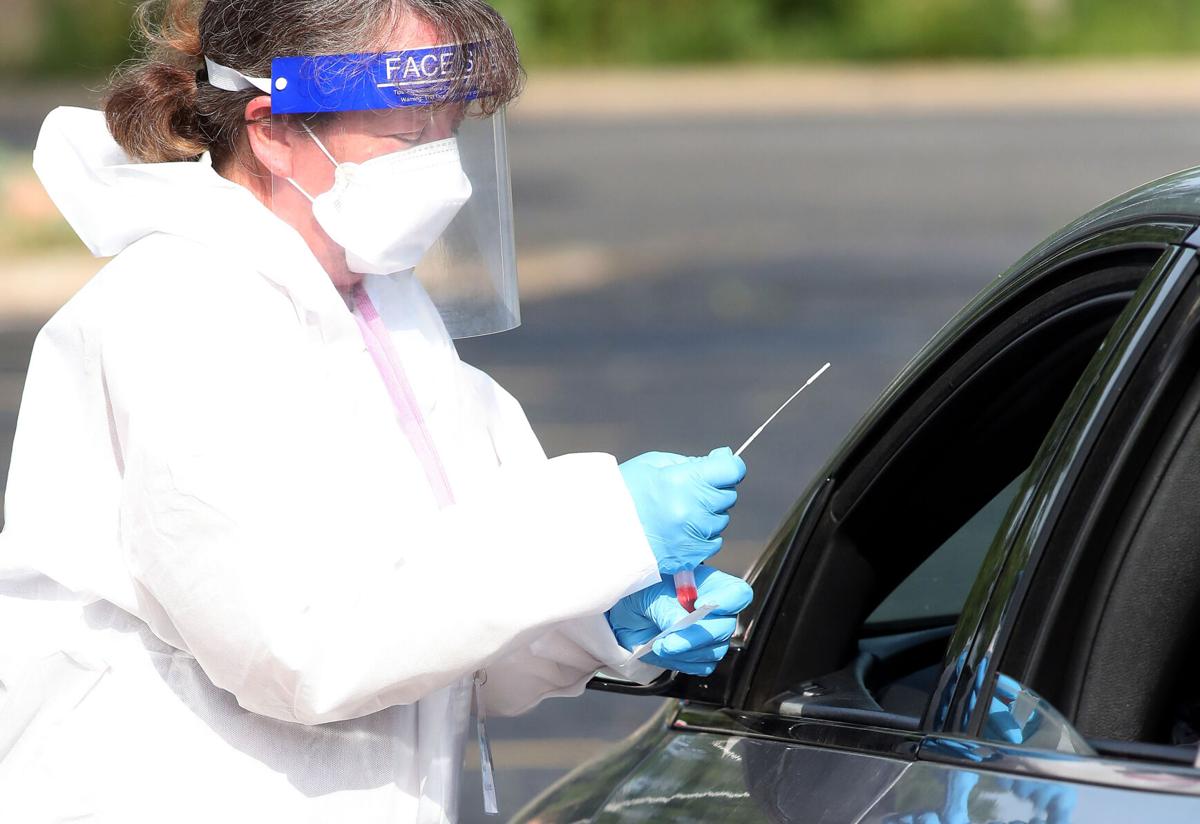 On a day when health officials presented a plethora of numbers about COVID-19 both statewide and locally, Rock Island County Health Department officials also issued a grim fact — Rock Island County is in the warning stage. Next up would be mitigation with the closing and limiting of many venues.
It only takes reaching two of eight factors for a county to receive a warning and Rock Island County had reached four of them.
 The number of new positive cases (132) per 100,000.
The number of deaths in a week, 8.
Positivity rate, 8.1%
The number of tests performed, 3,001.
The numbers are for the previous week. 
"We know this is the last thing anyone wanted to hear, especially before the holiday weekend, Labor Day," Nita Ludwig, Rock Island County Health Department administrator, said. "As much as we want to ignore COVID-19, we can't."
The other numbers Friday were not good for the county either.
They included one death, a man in his 60s, who had been hospitalized, bringing the death count to 68 in the county, with 13 people still hospitalized from the virus.
Also, there was a total of 56 new cases in the county, 10 from an outbreak at the East Moline Correctional Center. That means the county now has 2,378 positive cases. 
"We are headed in the wrong direction and have been all summer," Ludwig said, admitting officials thought the county might reach the warning level even sooner due to rising July and August numbers.
The numbers given for the state of Illinois Friday were not good either.
Due to a backlog of tests that were worked through, 5,368 new cases of COVID-19 were reported Friday, including 29 additional deaths. Currently, Illinois Department of Public Health is reporting a total of 245,371 cases, including 8,143 deaths, in 102 counties in Illinois.
Scott County had 30 more positive tests Friday for a total of 2,307 with a total of 21 deaths.
Stark County in Illinois reported its first death Friday from COVID-19, a man in his 80s.
The Henry County Health Department reported its fourth COVID-19-related death, a man in his 80s.
"We are deeply saddened to hear of the passing of another of our Henry County residents due to this illness. Our hearts go out to the family and friends of this gentleman who are mourning the loss of their loved one and we send our sincerest condolences," Henry County Health Department Administrator Duane Stevens said in a statement, echoing words of the other local county health leaders Friday. 
Much like Stark County, the Henry County Health Department announced multiple confirmed cases of COVID-19. Public health officials in both counties are working actively to identify and investigate all individuals who were in contact with the cases, their releases said. 
 The health departments note with expected additional cases coming, residents need to assume that they have been exposed to COVID-19.
The numbers are just part of the story, though, Dr. Cheryl True, medical director, for the Rock Island County Health Department, said. The numbers mean something if you know someone who is one of them or it is yourself, but the real story is what it entails — the symptoms — like  fatigue, loss of smell or taste, nausea, diarrhea, vomiting, skin rashes — besides a cough and shortness of breath. "We also see affects on the heart and nervous system and within our blood vessels," she said. 
It's a multi-system disease, she added. "It affects more than just our lungs."
It's affecting some children, who get a multi-system disease, athletes in prime condition are being affected with heart complications and young adults are also being affected. Scientists are still in the early stages of understanding the disease, she said.
"We have yet to know what the long-term affects of this virus will be," True said.
People need to be cautious heading into the holiday weekend, she said, especially when around those with risk factors, including being elderly, having Type II diabetes, heart disease, sickle cell disease, cancer, COPD or lung diseases, kidney disease and immuno-compromised state, and people with weakened immune systems and obesity  plus people with asthma, high blood pressure, strokes, liver disease or who are pregnant.
People need to concentrate on the fundamentals of hand washing, social distancing and mask wearing, all the health officials stressed and keep their gatherings small and ideally outdoors. 
"Lives in our community are intertwined far beyond what we see in our personal view," True said. "I urge you to consider that people around you have these health conditions, whether we are aware of them or not. And many have more than one of these conditions.
"This really does impact us all."
Concerned about COVID-19?
Sign up now to get the most recent coronavirus headlines and other important local and national news sent to your email inbox daily.