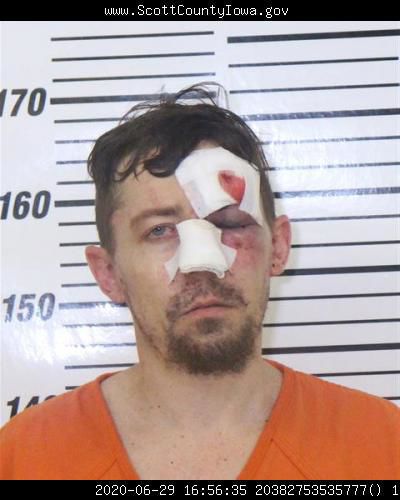 A Davenport man is being held without bond in Scott County Jail after he allegedly stabbed two Davenport police officers and earlier threatened a woman on Monday.
Rick Timothy Sullivan, 36, is being held on two felony counts of assault on a police officer, along with an aggravated misdemeanor charge of domestic-abuse assault with intent or displaying a weapon.
Here's what happened, official documents say:
Police responded shortly after 10:30 a.m. to a "domestic problem" in the 4000 block of Cresthill Drive, Davenport, where a woman said Sullivan became angry about tree cutters coming to cut down a tree.
She told officers Sullivan had a butter knife in his hand and came toward her, threatening to kill her while brandishing the knife. She backed up and Sullivan pushed her down, causing her to strike a coffee table with her chest and hit her knee.
She feared for her life and "sustained pain but no visible injuries."
An officer went to the basement where the defendant was lying on a couch. "The defendant had a large buck knife palmed in his right hand," and was ordered at gunpoint several times to drop the knife.
Sullivan refused and said the officer would have to kill him.
Three officers in the room were able to secure Sullivan's right hand and pin the knife to the couch. "The defendant continued to grip the knife and refused to let it go."
One officer began to try to loosen Sullivan's grasp of the knife in his right hand while two other officers secured his arm. Sullivan then produced another knife from his left hand he had been hiding under a sheet.
Sullivan thrust the knife up toward both officers. One officer was stabbed twice in the right forearm, and another officer sustained a slash of about six inches to his left bicep, "just missing his left chest area."
Sullivan and the woman live together. She requested a protective order.
Get local news delivered to your inbox!
Subscribe to our Daily Headlines newsletter.