MOLINE — Yes, the outside of the four-story building can be bathed by lights of nearly 100 colors.
Yes, the walking paths around the 92,000-square-foot building are long enough that it only takes two laps to cover one mile.
And yes, all the people working inside can see outside, no matter where their offices are, and most can catch a glimpse of the Mississippi River.
The opening of the new, almost palatial corporate headquarters of IH Mississippi Valley Credit Union on River Drive was celebrated with a ribbon cutting Thursday night, but many of the 250-plus employees have been working there for three weeks already.
Company officials say collaboration with employees was key to creating a building that features many offices with large interactive TV screens, work spaces with stand-or-sit desks, and long tables that can accommodate as many as 10 to 12 colleagues.
Whether it's the comfortable furniture, the three fireplaces, the covered outdoor meeting area outside the east wing of the fourth floor, or the many coffee centers throughout the building, employees very likely had a say in it.
The building is not just open for business — it's open, period. Even the steps are wide and built out in the open so conversations can take place en route to the next floor.
"The goal here was collaboration," said Allan Hosack, CFO of IHMVCU. "And to take in the beautiful views of the Mississippi to harvest the natural light that comes through as well.
"We wanted to create an important home for our employee family. That's why you will notice the number of fireplaces throughout the building, to create that feeling of warmth. That's one of the most important things for us: to make sure ... employees feel that throughout the building."
The building can actually hold more than 400 employees, should future expansion dictate that.
And there is room for another building — if the need arises — on the more-than-8-acre campus.
But the star will be this building.
"We put all the offices in the middle," said Brian Laufenberg, IHMVCU CEO. "So the office core there will be able to leave this all open in terms of the work stations. Everybody has a river view or at least an outside view."
"We have open glass on the interior offices, all with an eye toward bringing in the beautiful views and Mother Nature," Hosack said. "That was really critical to us in terms of the design language of the building."
Large work stations outside the offices are closer to the windows and feature the sit-and-stand desks. "Wellness was another employee focus area, to make sure that they had the opportunity to move the desks up and down," Hosack said.
"We also have a gym facility on the first floor. We have a number of walking paths, all with an eye toward promoting employee wellness, which is very, very important for us."
They also wanted to create a place where people wanted to come to work, Laufenberg said. "We wanted to establish a campus feel. So there's a lot of green space so that it really becomes a destination point more so than just a place to go to work," he said.
You have free articles remaining.
Another interesting feature are the large photographs — one at least 95 inches wide — behind Plexiglas adorning many walls. Most were shot by local photographers, including Hunt Harris, Laura Grossman, Brandon Erdman and Trent Foltz. They, too, were chosen by the employees. There are also some prints by local artist Michael Blaser and pictures by Alex Gubski.
"They just really pop; they did a great job," Hosack said. "We selected pictures from the Midwest, primarily the Quad-Cities."
The building also has a sizable Community Room.
"We will be happy to share that with the community," Hosack said. "We envision having membership events with our members, perhaps a movie night. Giving back to the community is very important to us."
Another interesting aspect of the building is that it was built using mostly Quad-Cities laborers. Also, IHMVCU donated $6,000 to the Tri-City Building & Construction Trades Council to further the education of  local tradespeople.
A "community investment" is what Laufenberg calls the building.
"One of the great things we set out when we wanted to use this building was to use local talent, local union labor," Hosack said of the approximately 600 tradesmen and -women who worked on it. "What's nice about that is I would say the majority of the people that actually built this building are members.
"So we in effect paid our members to build this building. That was something really important for us, too, to zero in on before we started the project. We are really happy to give back to our membership base with this project."
It should be noted that other than going there for house closings or to apply for loans, members won't be visiting the new building very often unless there is an event in the Community Room, since it is a corporate office and not a credit union branch. There are some ITM (Interactive Teller Machines) on the campus for members.
IHMVCU does plan to have an open house during the summer of 2020 for its members.
The building also includes a history wall near the Community Room, commemorating important facts and dates in the company's history.
The perspective it offers is important to Laufenberg.
"The first time I walked in and looked at this history wall, it just kind of takes your breath away when I think of where we started," he said. "It's really the work of all the faces and names on this wall really built everything before us. So it's humbling knowing that now it's my job and my team's job to really write that next segment."
Though River Drive has flooded a few times this year, both men said they believe the new facility is safe from the river across the street. "We targeted a 500-year flood event," Hosack said.
Hosack is plenty proud of what IHMVCU has created.
"It's a culmination of everyone's idea of what our family home should look like," he said. "And how we can give back. We are really excited to move in. And when we think about our future, our future is very, very bright.
"We are excited about the wide runway we have to continue to grow and expand our services to our membership base. This is an important milestone in our capacity to do that. So we are very, very excited about it."
101619-mda-nws-newihmvcu-001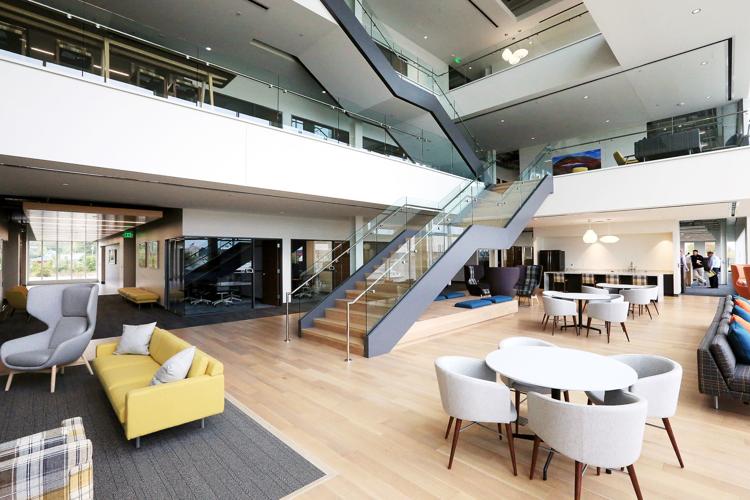 101619-mda-nws-newihmvcu-002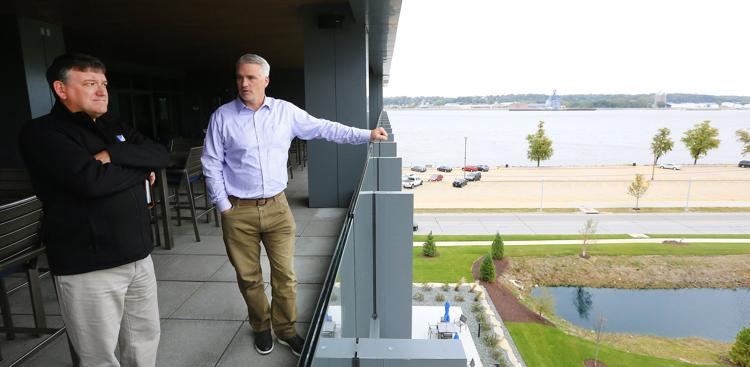 101619-mda-nws-newihmvcu-003
101619-mda-nws-newihmvcu-004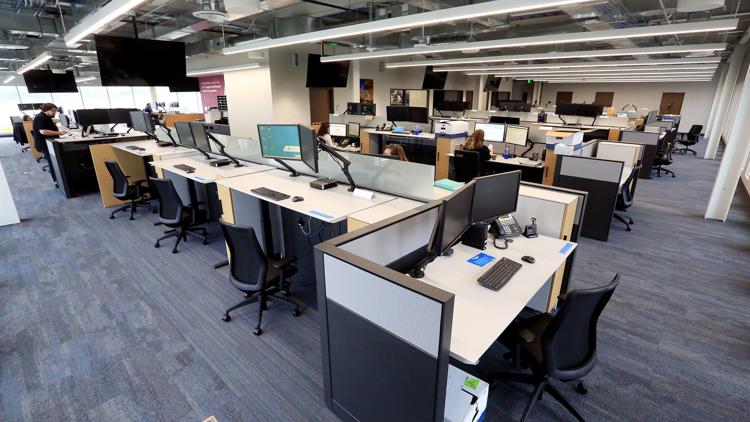 101619-mda-nws-newihmvcu-005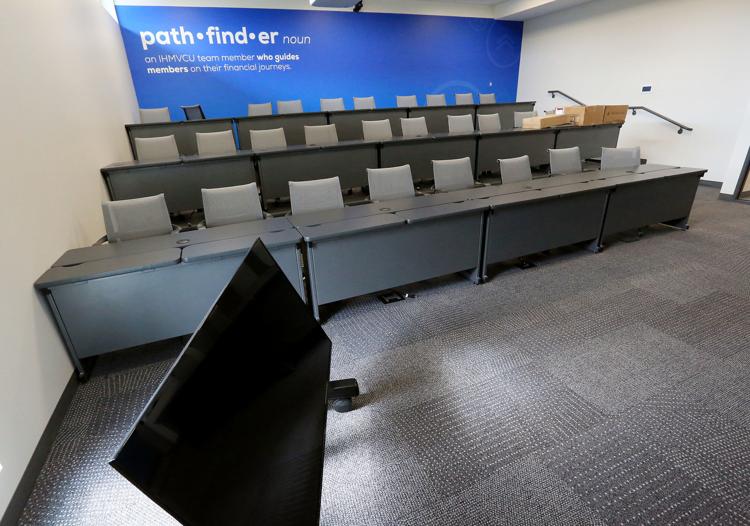 101619-mda-nws-newihmvcu-006
101619-mda-nws-newihmvcu-007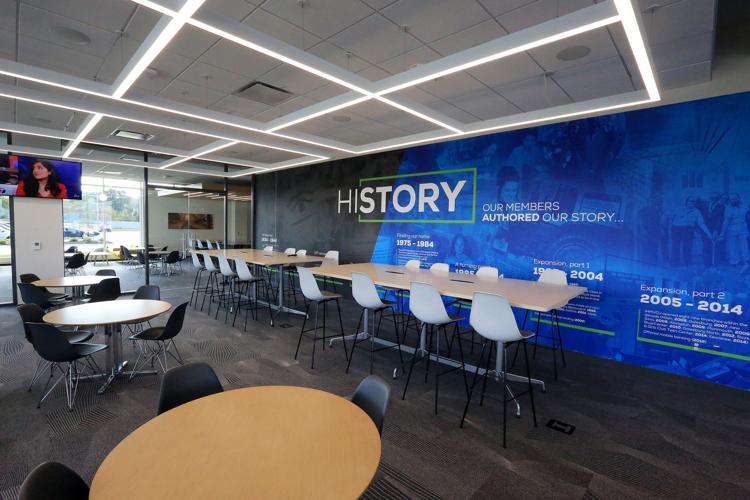 101619-mda-nws-newihmvcu-008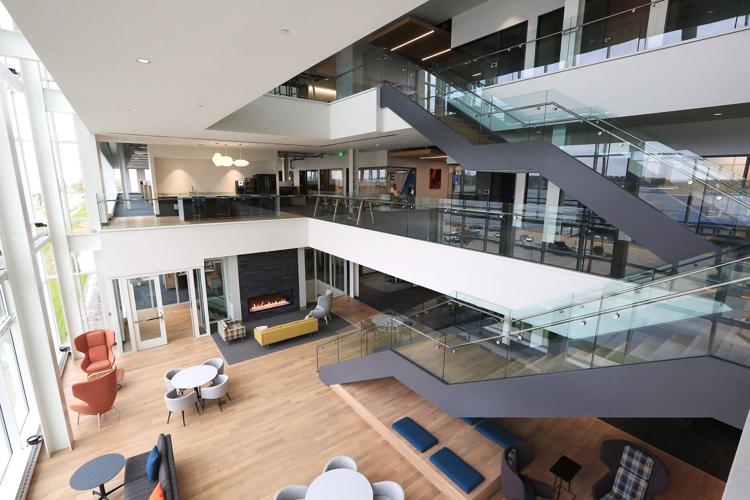 101619-mda-nws-newihmvcu-009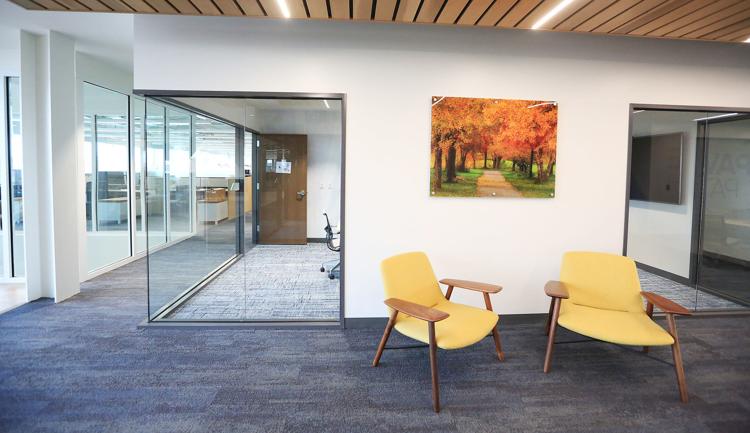 101619-mda-nws-newihmvcu-010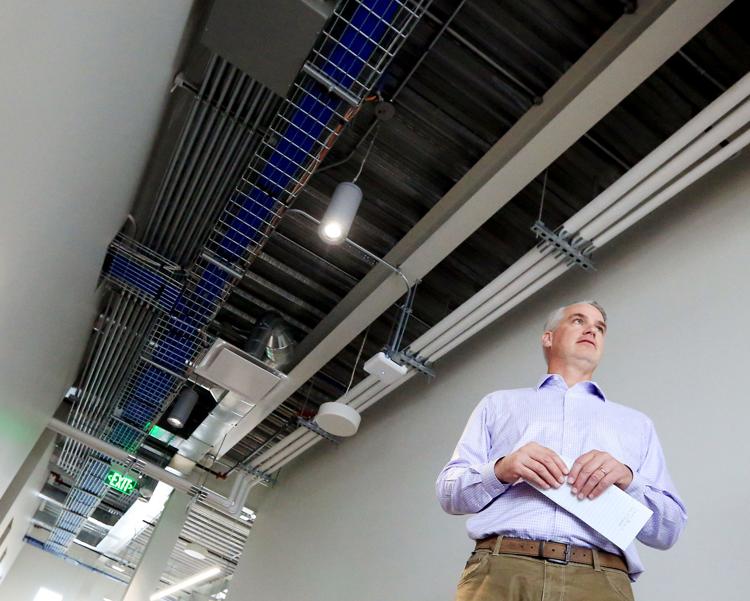 101619-mda-nws-newihmvcu-011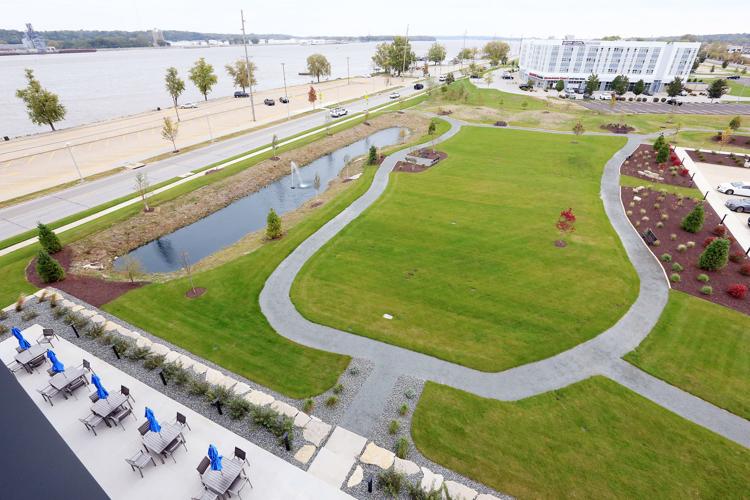 101619-mda-nws-newihmvcu-012
101619-mda-nws-newihmvcu-013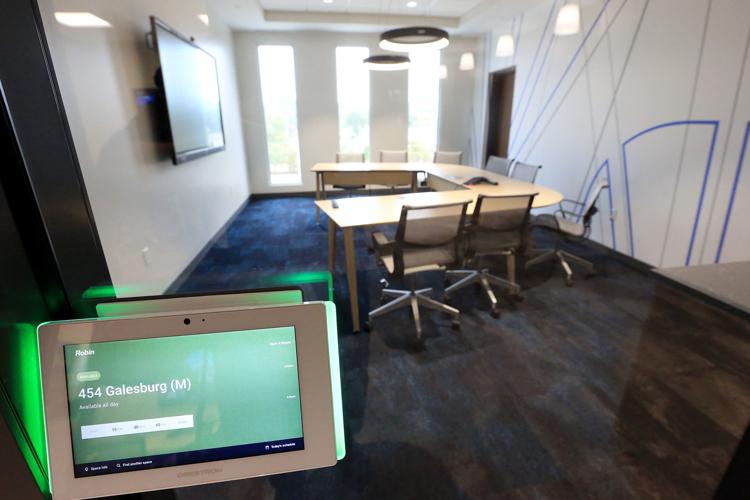 101619-mda-nws-newihmvcu-014