Niabi Zoo's pair of pachyderms who moved to a warmer climate about six years ago are living large in Little Rock.
Senior citizens Babe and Sophie are staying active and healthy in their golden years, the director at the Little Rock Zoo said this week.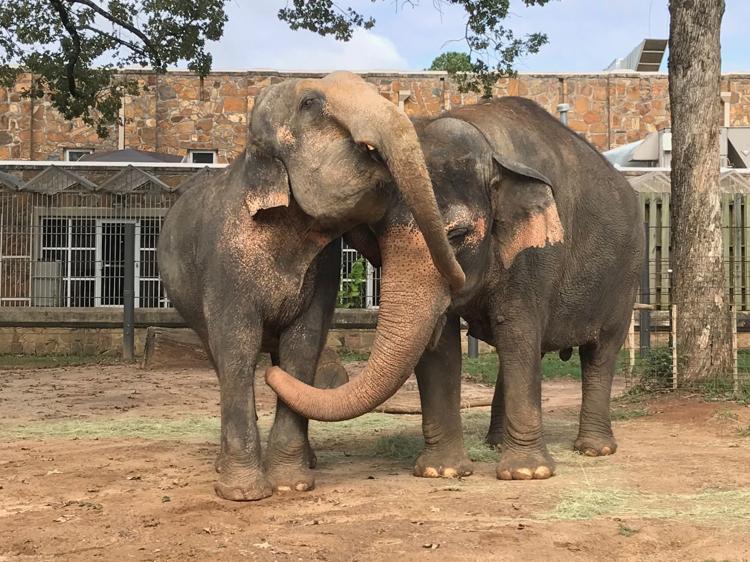 The zoo has big plans for Sophie's 50th birthday this spring. It is especially satisfying for keepers to celebrate Sophie, because she nearly died three years ago from a uterine infection.
"Sophie's health is stable, and she's been doing well," Director Susan Altrui wrote in an email Tuesday. "As with any older animal, keeping them moving is key."
Also key for highly socialized elephants is other elephants. While Babe has made a new friend at Little Rock, Sophie isn't quite so keen on the zoo's third elephant, Zina. But Sophie is increasingly tolerant of Babe and Zina's growing bond.
"Zina was solitary for many years, and there were people who said we would never be able to get her a friend," Altrui said. "After more than a year of careful introductions, we were able to get her with Babe, and now Zina loves having Babe around, and Sophie is accepting of their new friendship.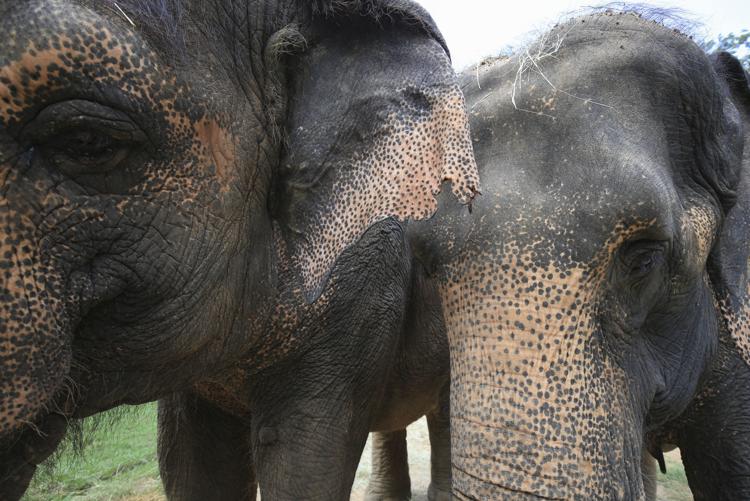 "Both girls share time with Babe, and Sophie is enjoying alone time in the afternoon to nap and spend time with her keepers. We do a 60-minute exercise routine with all three of our elephants every day and provide all of the elephants with enrichment each day."
Though Babe is the largest of the trio, she also is the most timid and fearful. She also was Niabi's — now Little Rock's — star painter.
Babe's talents are boosting the zoo's fundraising efforts. A program called Behind the Scenes Tours places up to six visitors at a time (for $56 per person) in a "restricted contact setting," where Babe paints for them.
"It's been a huge hit and all proceeds go toward conservation," Altrui said.
In 2013, Babe and Sophie were placed on permanent loan to Little Rock after an elephant expert warned Rock Island County officials they were in increasingly poor health. The cold climate was partly to blame, but the elephants' yard and barn were inadequate in size, and the barn was too drafty for the Asian species. The two former circus performers sustained damage to their ears from frostbite, and the cold winters were particularly hard on their arthritis.
While Niabi still owns the pair on paper, the Little Rock Zoo is responsible for their care — at a cost of about $400,000 annually — for the rest of their lives.
The zoo has a good reputation for caring for elephants, especially geriatric ones. Three have lived to be 60 at Little Rock.
Keepers are planning a blow-out party this spring to celebrate a milestone for Sophie, Altrui said.
"We are throwing a 50th birthday party for Sophie on April 13 with a beach theme, because Sophie enjoys laying on sand piles and taking naps each day in the afternoon," she said. "We will have enrichment for the elephants that day made out of beach balls, palm trees and umbrellas. Sophie will get a special cake made out of ice treats. The other girls will also get to enjoy the cake."
Meanwhile, she said, the keepers are keeping the trio active and entertained year-round.
"Babe's keepers tell me that she is looking forward to the summer when she can enjoy more ice treats and get in the pool with her new friend Zina," Altrui said. "Sophie is not as much of a fan of the pool as Zina is.
"Babe loves to splash around and both Zina and Babe love it when the keepers throw bath bubbles in the water."
The elephants are territorial about their pool. Zoo officials have said that workers in the commissary frequently contact keepers to warn that the elephants are disturbed. The problem: They don't like ducks landing in their pool.
"The Little Rock Zoo loves having Babe and Sophie at our zoo, and they have become loved members of our zoo family," Altrui said. "Our community has embraced them as our own. Our elephant staff love and adore them, and Zina now loves and adores Babe.
"She trumpets every time she gets to see her, and this has contributed greatly to her overall health and well-being. We couldn't be happier, and we think that they couldn't be happier, either."