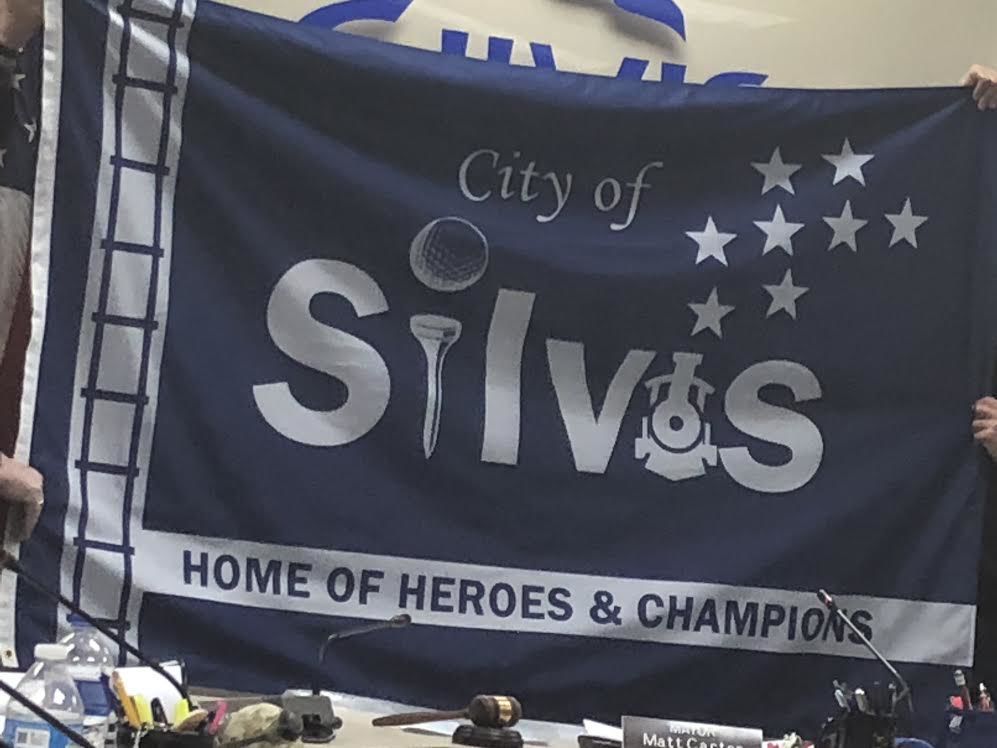 SILVIS — Silvis  has a new flag and it has a  lot of meaning to its designer.
Holly Handel, a Silvis native who works as an accounts payable clerk at Silvis City Hall, won a tight contest on Facebook with her flag design. She was part of a three-way tie when several aldermen voted, trimming the list of about 10 originals to three. Handel estimates well over 300 people voted on Facebook. The total could have exceeded 400.
The win meant a lot to her, but then again, so does Silvis.
"Yes, it did (mean a lot)," she said. "I've spent most of my life in Silvis. I am hoping to buy a home here in Silvis pretty soon. All of my best memories as a child growing up are here in Silvis."
Her grandmother was actually born in a boxcar in the Silvis railroad yard. "There are hundreds of us," she said of her extended Terronez family that included her maternal grandmother Angie Terronez Ayala's. "She had 13 brothers and sisters from Silvis. Their roots are pretty deep."
The contest was held a few months ago. Mayor Matt Carter unveiled the winning flag at the Oct. 15 city council meeting.
The navy blue flag features a white train track running down the left side, a white golf tee and an outline of a ball for the first "i" in Silvis, and a white locomotive and a whistle, which spews eight white stars into the air.
"I just wanted to incorporate everything that's meaningful in the city of Silvis," Handel said.
"So the 'i' (that was the tee with the ball dotting the i) represented the John Deere Classic, (which takes place in Silvis); the eight stars represent the Hero Street 8," Handel said. "The train (locomotive) represents the railroad; the track would also represent the railroad (Silvis is also well known for its large train yard)."
The design is simple but gets its points across regarding Silvis' heritage.
"I spent most of my life in Silvis, so it's pretty meaningful," Mandel said.
Across the bottom of the flag in 3-inch high capital letters were the words, "HOME OF HEROES & CHAMPIONS"
When she learned she had won, Handel was pretty excited. "There were a couple of other designs that were very good," she said.
City Clerk Jim Nelson was pleased with the contest. So was Carter.
"This is such a neat logo that they've built on this," Carter told the council at last Tuesday's meeting. "They did a wonderful job."
A double-sided version of the flag will be for sale soon for about $158, with orders to be taken at City Hall.
Carter said he may have some sweatshirts made with the logo with the railroad tracks running down the sleeves. He praised 1st Ward Alderman Larry York, who ran the contest, as well as Handel.
"Great job by everyone," he said.
Get local news delivered to your inbox!
Subscribe to our Daily Headlines newsletter.