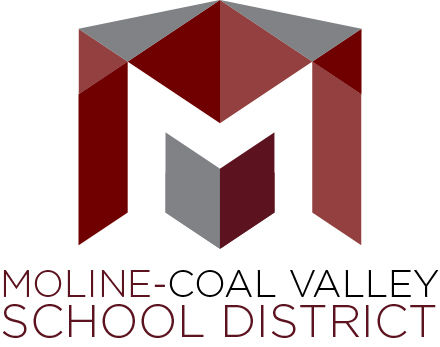 MOLINE – Moline-Coal Valley School Board members on Monday night voted unanimously to move forward with a new multi-purpose physical education facility at Moline High School.
Board members voted to accept the recommendation of Superintendent Lanty McGuire to build the new structure onto the high school with the aim of creating a safer physical education space for high school students. The board also accepted his recommendation to form a committee with representatives from the school board and the community to seek a cooperative partnership to build a new swimming pool.
McGuire's recommendation includes four multi-use courts, updated locker rooms, a new weight room and a six-lane track. It's the new track, which was not part of previous plans, that upped the estimated price tag from between $8 million to $10 million to $12 million to $13 million. According to chief financial officer Dave McDermott, the district could expect a seven-year bond repayment period.
McDermott said previous boards have aimed to not engage in new facility projects if it means a property tax hike for homeowners. He reviewed the district's outstanding bond repayment schedule and said now is a good time to consider new projects.
Now that board members have agreed to this path, administrators will get to work establishing timelines and a budget.
Monday night's vote follows a public forum held Feb. 25 that garnered comments from many stakeholders about how the district should move forward with its facility plans and how the local option sales tax money can be best put to use. At the forum, administrators estimated an $8.9 million expense to build a 47,600-square-feet addition and remodel 2,000-square-feet of the existing west locker room. A pool was estimated at about $9.5 million.
McGuire again reviewed the district's facility priority list on Monday and noted check marks have been added to the items for air conditioning the high school and upgrading the high school's auditorium. He said the air conditioning project at the high school will start this summer and it will likely take two summers for completion.
He said the impetus for moving forward with a physical education space is all about the concern for improved student safety.
"I look at physical education at Moline High School and it's really sort of sad to see physical education happening … in the gym and hallways and any space they can find," he said.
McGuire said on any given day, the number of students trying to use the weight room is concerning. Many have also commented on the concerns of having students running in hallways.
"There's all kinds of safety issues I have with what's going on," McGuire said.
McGuire, who will retire at the end of this school year, said he has talked at length with incoming Superintendent Rachel Savage about these issues and that she is supportive of the board moving forward. He said Savage said it will take her a year or two just to get to know the district before being able to weigh in on such decisions.
Board members also heard public comment from Moline resident Christy Key about the resignation of Blanca Leal as principal of Lincoln Irving Elementary. The resignation is effective at the end of the school year.
Key praised Leal for being invested in the welfare of children and prioritizing their needs. She said Leal is a "proud Hispanic woman" who is a real role model for students.
"I just really wish there was a way we could keep her," Key said. "She is so important to our school."
McGuire said he could not comment on Leal's resignation. This item was originally listed on the school board agenda as a voluntary transfer, with Leal moving to a teaching position.
In other business, board members:
-- Returned from closed session and approved the expulsion of an unnamed student for the remainder of this school year and next school year. The student would be allowed to return in the fall of 2020.
– Heard an update on the high school's CNC program and the strides being made to create an apprenticeship program.
-- Heard a positive report on the district's use of site-based services from Robert Young Center. Looking forward, the district hopes to develop group counseling sessions and add telepsych services.