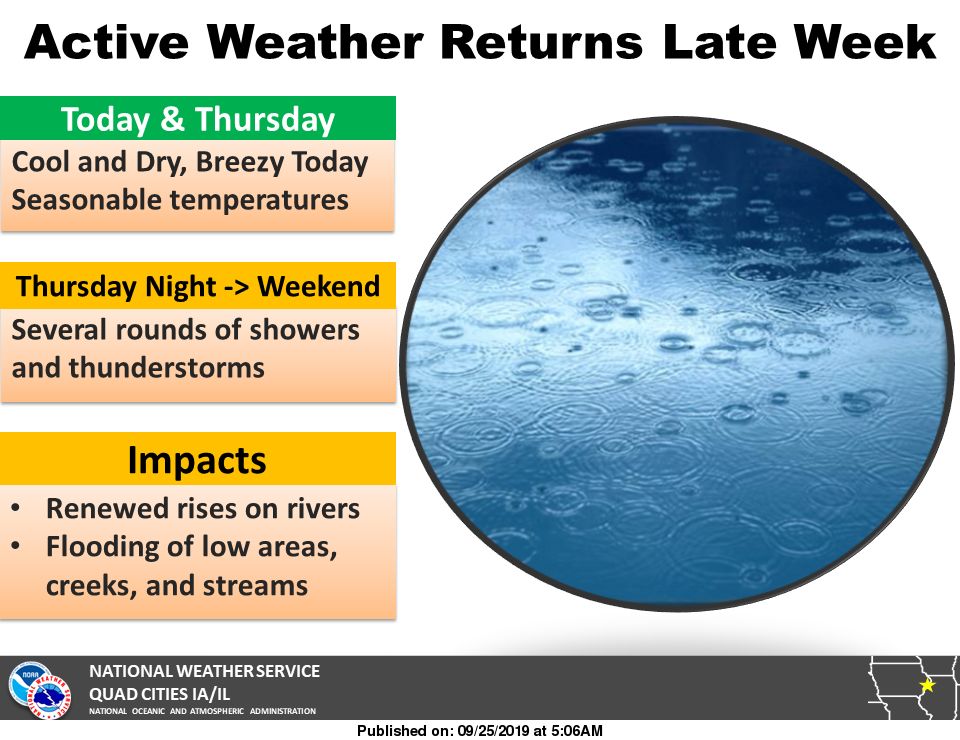 Here's the morning forecast from the National Weather Service.
There's a 10% chance of showers and thunderstorms before 7 a.m. Otherwise the day will be partly sunny with a high near 75 degrees and a low around 50 degrees. Winds could gust as high as 25 mph.
Thursday will be sunny with a high near 71 degrees.
Thursday night showers and thunderstorms are likely with a low around 60 degree. Some of the storms could produce heavy rainfall. The chance of precipitation is 60% with new rainfall amounts between three quarters and one inch possible.
According to a NWS Hazardous Weather Outlook, thunderstorms are likely on Friday with a few of the storms being severe Friday afternoon and evening. The Storm Prediction Center has a slight risk in place for portions of southeast Iowa, northeast Missouri and west central Illinois, with a marginal risk extending as far north as a Cedar Rapids, Iowa to Freeport, Illinois line.
In addition to the risk for severe weather, heavy rain will also be possible which could lead to renewed rises on area rivers.
A near daily chance for thunderstorms will continue Saturday into the middle of next week. It is too early to determine the severe weather potential during this time period. Heavy rainfall will remain possible.