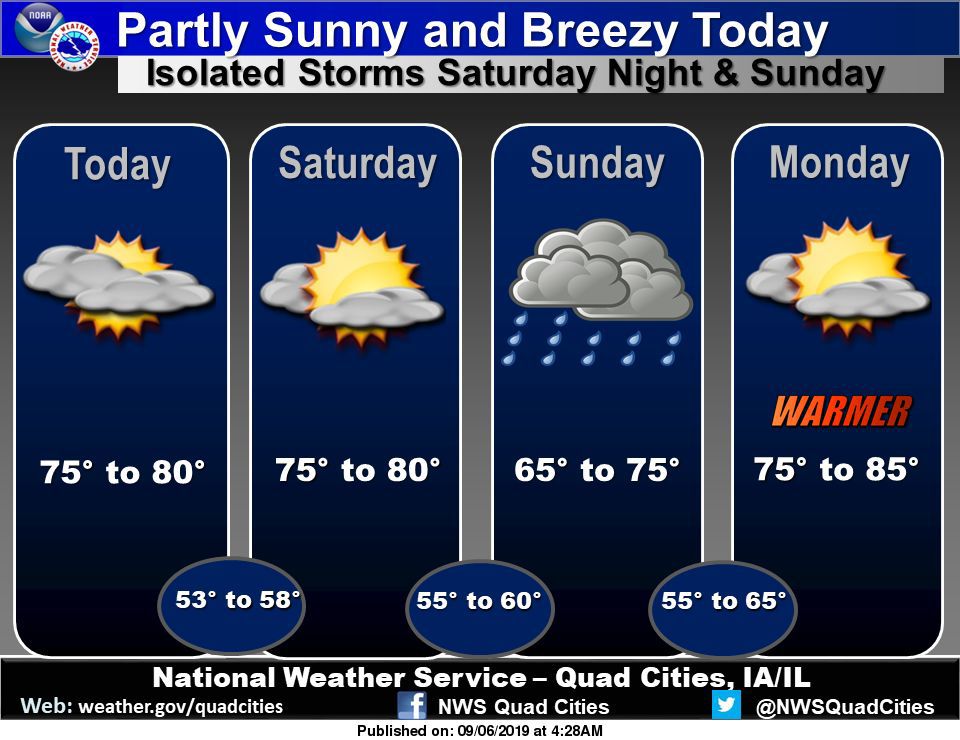 Here's the latest forecast from the National Weather Service.
It's football Friday around the Quad-Cities and tonight should be a cool, crisp fall-like evening. For the weekend, Saturday should be nice, but showers are likely on Sunday.
Today will be mostly cloudy then gradually becoming sunny with a high near 79 degrees and a low around 57 degrees. North winds between 5 to 15 mph will gust as high as 25 mph.
Saturday will be partly sunny with a high near 78 degrees.
Saturday night shows a 40% chance of showers after 1 a.m. Skies will be mostly cloudy with a low around 60 degrees.
Showers are likely before 1 p.m. on Sunday. Skies will be cloudy with a high near 70 degrees. The chance of precipitation is 70% with new precipitation amounts between a quarter and half of an inch possible.
Sunday night will see a 30% chance of showers and a low around 61 degrees.
Here's today's news in a nutshell. Click on summary for full report.
EDGINGTON — It is 10:47 on a sun-kissed August morning, and Glen Cook, a 79-year-old who has the heart and soul of a teenager, is carefully an…
More than 30 years ago, Dawn Thurman received the gift of life. Now she needs another miracle, but both Medicare and Medicaid stand in her way.
You have free articles remaining.
Enrollment at Western Illinois University continues to decline.
DAVENPORT — The 66th biannual Beaux Arts Fair will be held Saturday and Sunday at the Bechtel Plaza outside the Figge Art Museum, 225 W. 2nd St.
• Today's crime headlines
A Bettendorf High School physical education teacher accused of hitting a woman relative in the face Sunday night appeared in Scott County Cour…
A teen has been accused of stealing a vehicle and being illegally armed in East Moline.
The president of Bettendorf Wrestling Club was arrested Aug. 26 after allegedly repeatedly punching a woman relative in the face two days before.
The Moline Fire Department stopped a stove fire Wednesday night, but the residents of the home had to seek temporary housing after the fire. 
• Today's sports headlines
ROCK ISLAND – The old saying tells us that things get better with age.
GENESEO — Football has seemingly become a new kids game. Young coaches, coaching in a fast-paced and wide-open brand and playing in a video-ga…
DAVENPORT — It all comes down to tonight.
• Today's photo galleries