Mother Nature is turning up the heat this week along with the humidity so expect a muggy, steamy start to your work week.
Here are the weather details from the National Weather Service.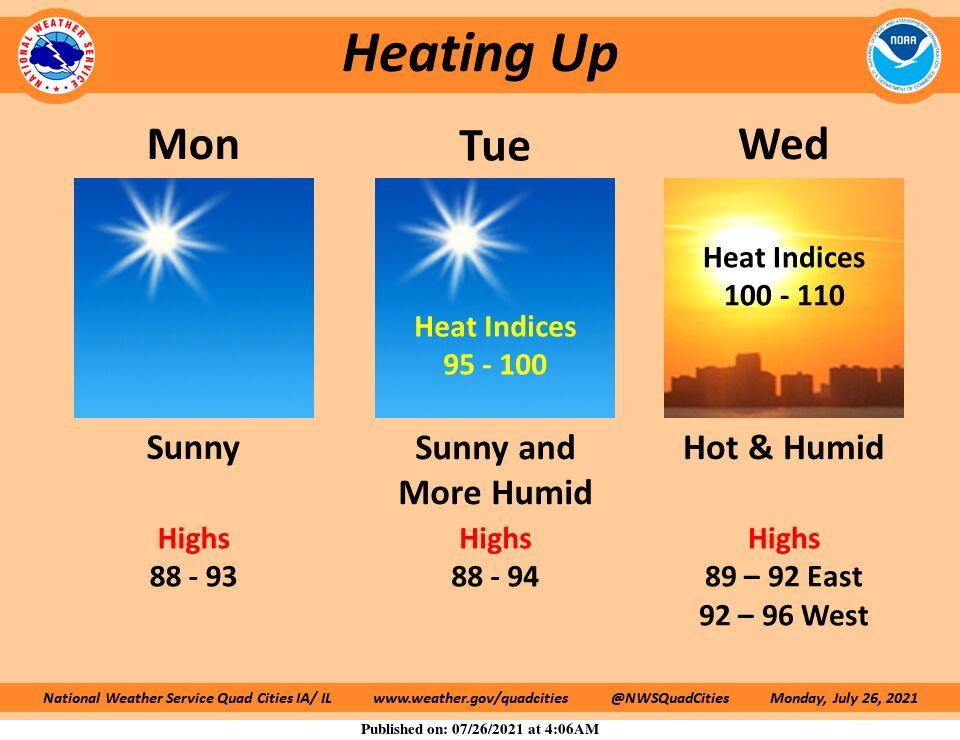 Today will be sunny with a high near 91 degrees and a low around 69 degrees.
Tuesday will be sunny with a high near 91 and a low around 72 degrees.
Daily highs in the 90s will hang around until Friday.
• Talbot (Centennial) Bridge inspections begin today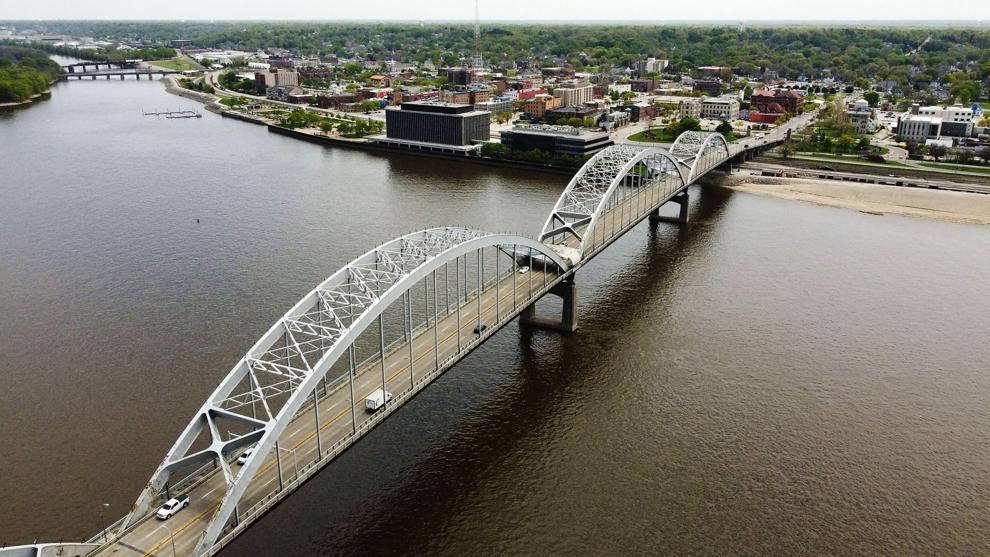 The Illinois Department of Transportation reports that inspection of the Talbot (Centennial) Bridge carrying U.S. 67 across the Mississippi River from Rock Island to Davenport will begin today.
The work will require daily lane closures through Friday, Aug. 6.
Work will begin on the northbound side of the bridge and the outer lane will be closed from Monday, July 26, through Friday, July 30.
Work will later shift to the southbound side of the bridge on Monday, Aug. 2, and the outer lane will be closed through Friday, Aug. 6. The lane closures will be in place from 9 a.m. to 3 p.m. daily.
Drivers can expect delays and should allow extra time for trips through this area and be prepared for slow and stopped traffic.
The use of alternate routes should be considered.
Drivers are urged to pay close attention to changed conditions and signs in the work zones, obey the posted speed limits, refrain from using mobile devices and be alert for workers and equipment.
• Traffic control will change on E. 53rd Street beginning Tuesday. Work at the intersection of Tremont Avenue and E. 53rd Street will move to the south side. North and southbound travel between 46th and 53rd streets will be via Grand Avenue, Brady Street, or Eastern Avenue. Work at the intersection is expected to be completed by the second week of August when traffic control will change again for the final project phases.
Today's top news headlines
DeWitt is hosting its first overnight stop in the 48-year history of the Register's Annual Great Bike Ride Across Iowa. The night of July 30, the town will quadruple in size for the bike tour's last overnight stop with entertainment, food, and drinks planned throughout the day.
The bell of Bettendorf's Forest Grove School No. 5 will ring students to class again this fall.
DES MOINES — After more than a half-year in decline, the number of COVID-19 cases in Iowa has been increasing in recent weeks.
Crime, courts and public safety news
Davenport police are investigating a shots fired incident that occurred Sunday night along the 200 block of West Locust Street near Main Street.
A rural Scott County man is charged with shooting and wounding the father of a woman with whom he was having a domestic dispute Saturday night, Scott County Sheriff's investigators said.
A Clinton man, who was out on bond and awaiting trial after he was arrested June 9 for allegedly peddling methamphetamine, was arrested Thursday by Clinton police again for allegedly trafficking in meth.
Lifestyle and entertainment headlines
Choosing a perfectly ripe melon can feel daunting, but there are a few indicators to look for to ensure you pick a winner.
Today's top sports headlines
Rock Island Post 200 wins the American Legion 3rd Division title in two games over Moline Post 246. Rock Island won the first game 9-4 and the second 8-2.
Assumption will have to fill several key spots next summer to continue its softball dominance.
Thousands of runners turn out for the Quad-Cities' largest event since the pandemic shutdown.