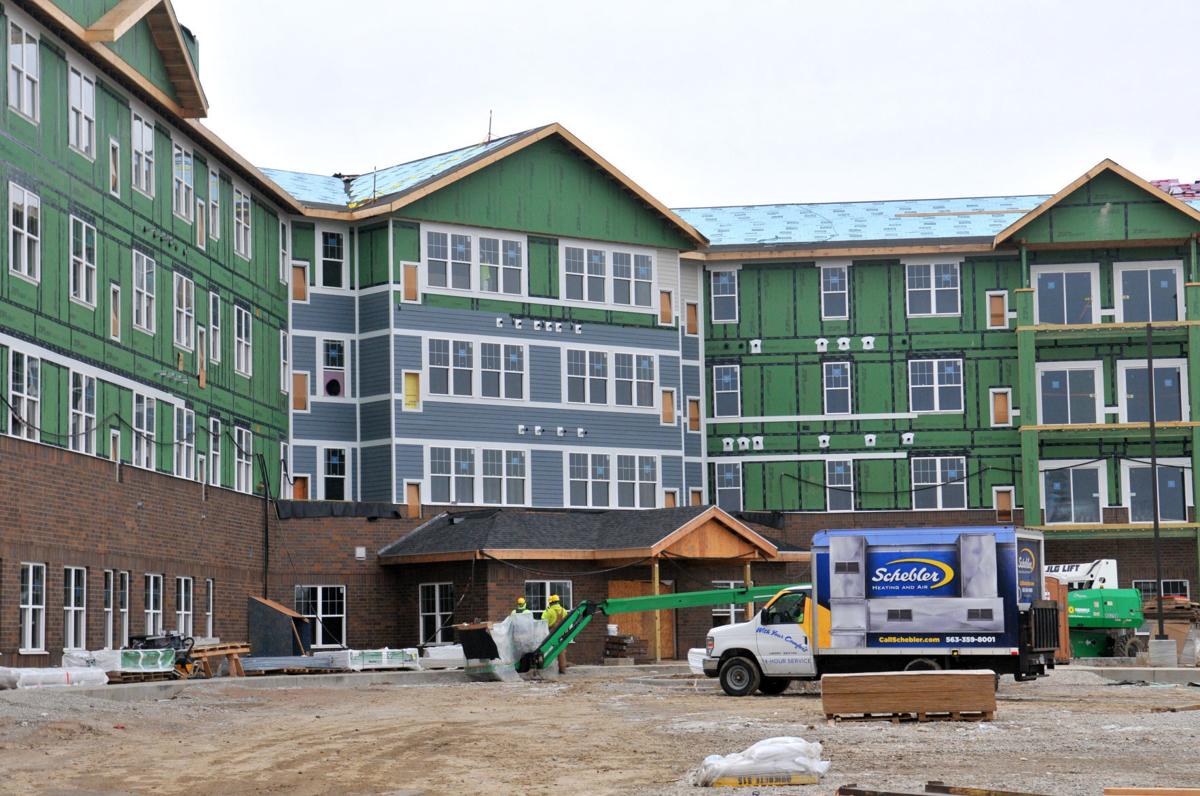 MOLINE — Overlook Village in Moline is expected to be open by the 4th of July or even late June.
The $33 million Dial Corp. project — built by Russell Construction on 10.5 acres on the old Lutheran Hospital property in Moline — will remind many of The Fountains in Bettendorf, its sister property also owned by Dial, Russell and third party investor.
There is one major difference, said Becky Lee Hinton, executive director and director of marketing at Overlook who spent the last nine years in similar roles at The Fountains.
"The big difference is Overlook Village will be all under one roof, which will offer a great deal of additional conveniences to those that live there," she said.
That's a very big deal to a resident who just left independent living for assisted living. Friends won't have to go outside to reach their building to visit them or vice versa.
The Fountains, built in 2006, and another Dial facility, the Silverbrook Garner Senior Living Community in Davenport built in 1999, are multi-building campuses.
"Psychologically, it will be easier to remain under the same roof as the friends you have grown to care about," said Ms. Hinton said. Residents can easily visit each other or go to dinner, she said, regardless of which end of the 135-room wide-V-shaped complex they live in.
Moving from independent to assisted living sometimes is hard for residents to accept, she said.
"It was difficult to say you really need to be an assisted living person, you have to uproot now and move to the other building," she said.
At Overlook Village, she said, residents can stay on the same floor and move down the hall, she said. Overlook Village also will offer memory care.
The four-story facility at 941 6th St., Moline, has underground parking and will offer all of the amenities of The Fountains and Silverbrook Garner. Utilities, including cable TV, come under a monthly fee. So do daily buffet breakfasts and dinners.
Phone services, such as offered at the other two local Dial facilities, are not covered. A gym with exercise equipment and a coffee/ice cream shop are again part of the motif.
Independent living prices range from a 550-square foot studio apartment for $2,895 a month to an 1,150-square-foot, two-bedroom "Butterworth Deluxe" apartment for $5,225 a month.
One-bedroom "Sylvan Deluxe" apartments of 950 square feet go for $3,895 a month. A two-bedroom "Montgomery" apartment runs $4,195 a month.
The prices are a bit higher than Fountains and Silvercrest Garner "to reflect the newer construction," Ms. Hinton said.
"We are definitely in line with the market and not the most expensive in the market, especially when comparing apples to apples," she said.
Another attraction of Overlook Village are the views of the Mississippi River from the north and east.
"The view alone is incredible," Ms. Hinton said. "It's just an expansive view. From the fourth floor — even the third floor — you can see up river almost to LeClaire."
Apartments facing the south and west are tree-lined, she said, "so it's like living in a forest."
Ms. Hinton, a former candy striper at Lutheran Hospital, said having Overlook Village in her hometown means a lot. The concept for the location was first brought up about seven years ago, she said, adding she long supported the location.
"It's very central," she noted. "It's not very far from John Deere Road and I-74. So if folks are needing to travel, it's very close."
What makes Overlook Village unique, she said, is its care. She recalled how a Fountains resident had to be in a rehab facility after hospitalization and missed the annual Christmas party. So she and another staffer, dressed as Santa and Mrs. Claus, paid her a visit with a treat.
"One of the things that will carry over is our caring for people," Ms. Hinton said. "There's an old adage, 'People don't care how much you know until they know how much you care.' One of my jobs is to make sure that the quality reputation we built at The Fountains, that is going to be how we start and carry forward at Overlook Village."