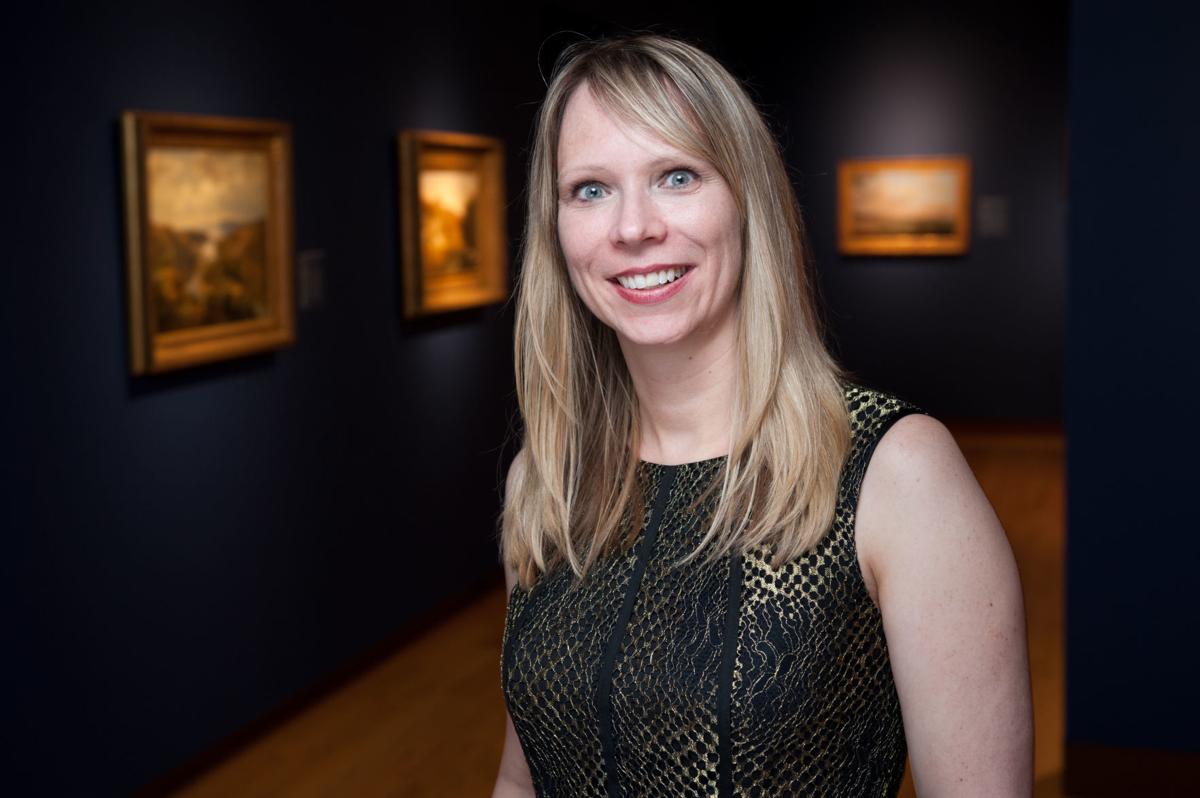 DAVENPORT – As a Midwest native, Michelle Hargrave feels like she's coming home when she starts as new executive director of the Figge Art Museum in early December.
"I'm looking forward to going back to the Midwest," the 47-year-old, who grew up in a Detroit suburb, said in a Wednesday phone interview from Connecticut, where she's deputy director of the New Britain Museum of American Art. "I was really impressed with Davenport."
"It was a wonderful opportunity; how could I resist?" Hargrave said of heading the Figge, the 14-year-old landmark on the riverfront, 225 W. 2nd St. "I was impressed with how passionate people are about the Figge; the board and staff commitment to high-quality programs and exhibitions; being diverse and welcoming. I was incredibly honored to be given this opportunity, to build on what they've been doing."
"Her extensive background growing cultural institutions will serve her well as she continues the growth and success of the Figge," Ken Koupal, president of the Figge Board of Trustees, said of Hargrave, noting she was chosen among over 50 candidates nationwide.
"Her experience and leadership abilities combine nicely with our opportunity to take the Figge to the next level as a regional resource and cultural center for the Quad-Cities."
"What separated Michelle from the others, she came from a community that was similar in size to the Quad-Cities," Koupal said; New Britain (nine miles from the state capital of Hartford) has a population of about 72,000 and Davenport 103,000. "Culturally, we thought it would be good fit for her and us."
"She's very gregarious, she's very gracious," Koupal said. "Her management style, she's definitely a leader. Her creative background to fund development, connections across the country. She manages a larger staff than what we have at the Figge."
Hargrave – who earned a psychology degree at the University of Michigan – was picked to succeed Tim Schiffer, who resigned as executive director effective July 31, after seven years. Former Quad City Arts CEO Carmen Darland has been serving as interim Figge CEO.
As deputy director of the NBMAA (with a staff and artwork collection twice the size of the Figge) since 2017, Hargrave oversaw significant growth in programs, revenue, membership and attendance. In her prior role as curator at the American Federation of Arts, New York City, she organized dozens of exhibitions and spearheaded international and national partnerships as well as institutional development.
Hargrave holds a master's degree from The Bard Graduate Center, New York City, where she spent several years as an associate curator.
"Michelle is eminently approachable, someone who is outgoing," Ken Carifa, vice chair of the NBMAA board, said this week. "She's definitely without any airs. She is someone who is just very good-natured, always very helpful."
"As happy as we are for her – this is a wonderful opportunity for her to become director of a museum, she is quite able for that task – we're sad to see her go. She was just a joyful presence."
Hargrave said she first fell in love with art as a child attending the Henry Ford Museum. "I loved how art connected me to other people, provoked an emotional response," she said.
She worked for arts organizations in New York for 19 years, including six at the American Federation of Arts, which doesn't have a permanent home for its collection, but arranges for exhibitions to travel around the country and internationally.
"I worked connecting people through art, on dozens of exhibitions there, initiated partnerships with museums around the world," Hargrave said, noting a highlight was a major China initiative.
"AFA had been a leader for many years, had really tried to help museums, and one of the areas we felt that was room for growth was in China," she said. "It has this tremendous museum boom going on. It was a great opportunity, to bring museums from East and West together, share collections and share knowledge."
Hargrave went to China a couple times and brought museum directors together. "I'm grateful for that exciting opportunity, but one of the reasons I left, because the organization was so focused on the external. I wanted to focus on one particular community, that New Britain was very focused on serving its community; being welcoming for all, something Figge is also keen on."
She agreed that New Britain and Davenport are similar in size, history and  founding of their museums. "Like Davenport, New Britain was very much a manufacturing city," she said, noting NBMAA originally was part of the New Britain Institute, "an institution built by leaders of the community, to enrich the lives of people in the community."
Founded in 1903, New Britain was the first museum of strictly American art in the country, and now has 8,300 works in its collection. The Figge (which owns over 4,000 works) was founded in 1925 as the city-owned Davenport Municipal Art Gallery. Hargrave noted the Figge facility is larger than hers – 110,000 square feet, compared to NBMAA's 77,000.
Carifa credited her for overseeing a blockbuster Georgia O'Keeffe exhibit there this past spring. "That drove in attendance, and revenue, which is always a plus," he said. "The executive director worked very hard to arrange funding, and did major high-level arrangement for that, but a lot of the detail would be handled by Michelle."
Hargrave has also worked on another big exhibit that's opening at NBMAA soon and will later come to the Figge. "For America: Paintings from the National Academy of Design" – featuring over 90 paintings of American art from 1809 to present – will be there Oct. 17 to Jan. 26, 2020, and at the Figge Feb. 20, 2021 to May 16, 2021.
"It's probably as prestigious as the French Moderns exhibit we had," Koupal said.
"We're usually working on these exhibits two to three years out," Hargrave said. She was very impressed with the Figge's programming for "French Moderns: Monet to Matisse, 1850-1950," that opened here in October 2018 and included a vast number of companion programs and activities, with other cultural organizations in the area.
"That's something I absolutely will do at the Figge," Hargrave said. "It's a great way to involve the community, expand the reach, give more context to the exhibit."