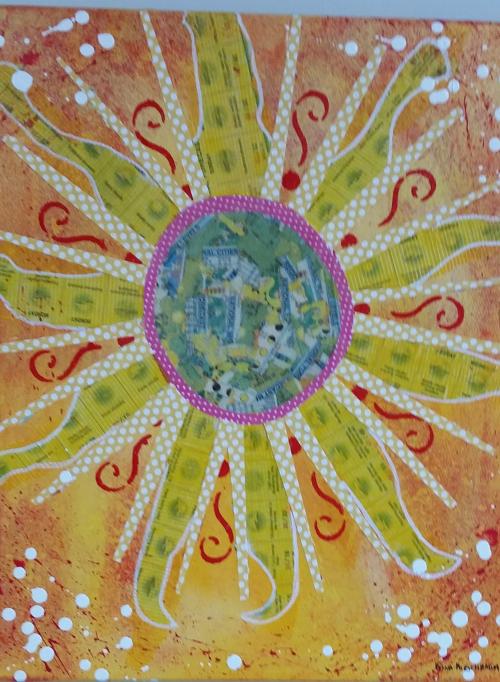 Gina Kirschbaum, of Bettendorf, is a three-time survivor of melanoma and loves to paint to ease her stress.
"For me, it's very relaxing. When I paint, I tend to lose all sense of time," the 51-year-old mother of three said recently. "Oftentimes, even if you've gotten through the cancer and are supposedly OK, you think about it all the time. It gives me something to do. Then I'm not thinking about that stuff when I'm painting."
Ms. Kirschbaum -- who's had skin cancer three times since 2008 and been clear since 2012 -- is among area cancer survivors participating in Living Proof Exhibit. The six-year-old nonprofit provides cancer patients, survivors, caregivers and families with year-round art therapy classes for free, as well as other art programs.
Executive director Pamela Crouch, of Moline, has been asked to talk about it Friday at the Iowa Arts Summit in Des Moines, among 13 organizations to present on "Flashes of Iowa Innovation."
"It's a wonderful program. I'd highly recommend it," Ms. Kirschbaum said. She got involved after seeing Ms. Crouch on TV and after she had to stop working because of treatment side effects. Her children bought her an easel and paints.
"My kids knew I always loved to draw and paint," Ms. Kirschbaum said. She's been chosen to exhibit her pieces each of three years for Living Proof's annual art exhibits. The third one will run Sept. 10-Oct. 16 at Davenport's Figge Art Museum.
She also rotates new paintings every three months at UnityPoint Health-Trinity's Cancer Center at 7th Street and John Deere Road in Moline as part of a program Living Proof and the Cancer Center started last year.
"My art tends to be really bright and cheerful, and they thought it would work well in the exam rooms there," Ms. Kirschbaum said. "I liked that stuff was being placed there. When you have cancer, you're in doctors' offices all the time. It's very depressing, or boring when it's the same piece of art every time. It's usually a print that means nothing."
"We celebrate the creative spirit of cancer survivors," Ms. Crouch (a breast cancer survivor) said recently. "As you're beginning your journey, you're going to create something. Cancer takes so much away from you," she said, noting it helps people have something tangible that they made.
You have free articles remaining.
Art therapy "can bring peacefulness to patients as they go through their challenges," said Pat Shouse, vice president for community advocacy, UnityPoint Health-Trinity.
"What's amazing to me, people who didn't think they could, were able to create art," Ms. Shouse said. "It's because of the support system built into the program, they're willing to give it a try."
She's heard from cancer patients who have said the "bright and cheerful pieces people have created helped make the Cancer Center a happier place." And as opposed to generic artwork, it's meaningful to see art by "people in the same situation they were in," Ms. Shouse said. "They had a sense of hope; it meant that those people are still alive. It makes it real for all of us."
Scientific evidence from studies has shown that "this really does make a difference for cancer survivors," she added. "It's a gift they're giving each other and giving the community."
The organization is aptly named since the art "gives you hope to keep living," Ms. Shouse said. "It's literally proof. And it stays on the wall long after any of us are gone."
Trinity has donated money for art materials, and Trinity staff have taught art therapy at Gilda's Club, Davenport, and as part of patient rehabilitation sessions, Ms. Shouse said.
Jeff Morgan, spokesman for the Iowa Arts Council, said Living Proof was invited to the daylong statewide summit as part of "innovative and exciting ideas for the arts and the state."
Of Living Proof, Mr. Morgan said: "It really goes to demonstrate the healing power of art, and art therapy. We're excited they are expanding that in the Cedar Rapids area. It's very inspiring work that they're doing."
The Iowa Arts Council gave a grant of $10,000 for Living Proof to offer programs in Cedar Rapids, including an exhibit in fall 2017.
Living Proof will show 60 pieces at the Figge this fall from survivors within a 200-mile radius of the Quad-Cities. Last year, it brought artwork to Peoria.
The group got their formal nonprofit status last year, with the help of the Community Foundation of the Great River Bend, Ms. Crouch said. Most grant-making organizations require applicants to be a registered 501(c)3 nonprofit. Living Proof has received funds from Quad City Arts, the Susan G. Komen Foundation and Stylin' Against Breast Cancer for other projects.