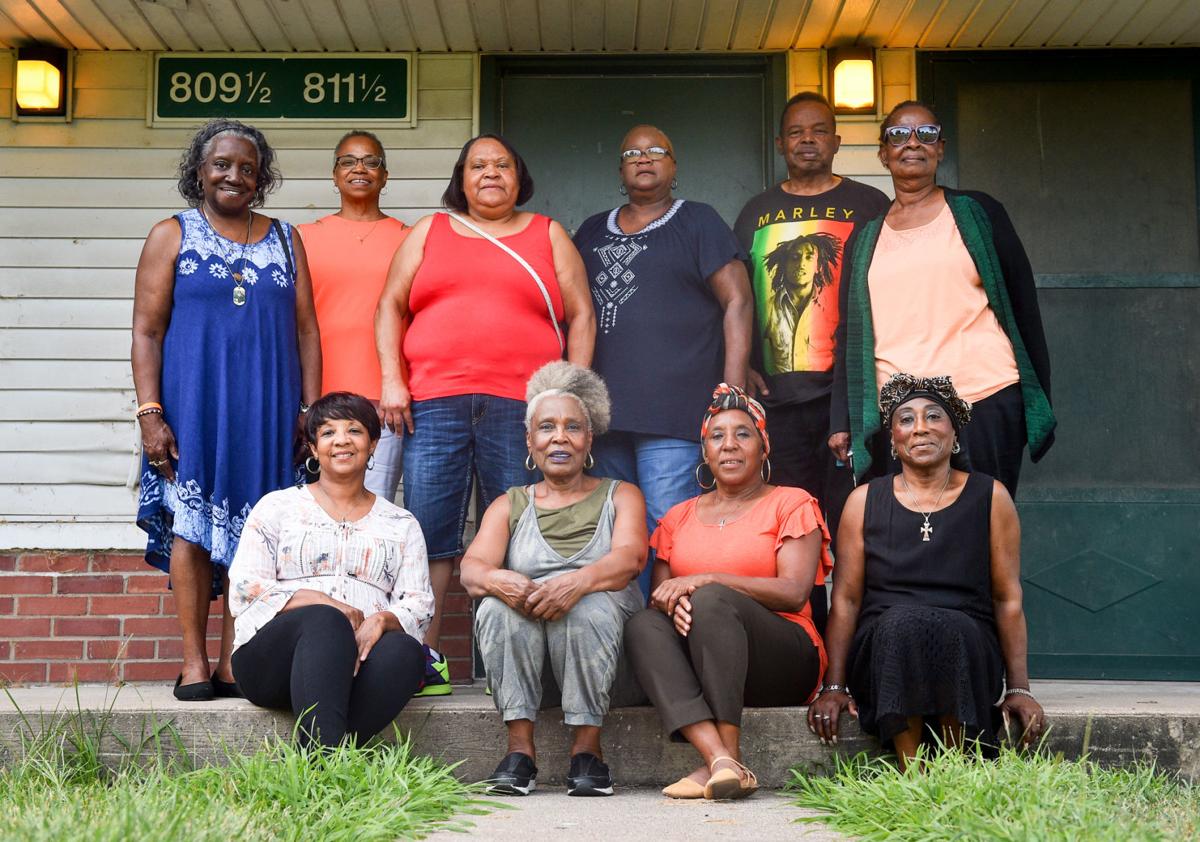 ROCK ISLAND – We took sunshine showers during the summers in my neighborhood...skipping and jumping, twirling round and round until we dropped and hugged ourselves...getting lost in all that laughter and day-tripping...feeling lucky to be alive in a place where everyone knew our names.
— Shellie Moore Guy, from "A Perfect Summer Day"
Shellie Guy treasures memories of growing up at Lincoln Homes, the former low-income, public-housing complex at 9th Street and 5th Avenue.
The 37-apartment, six-building complex opened in 1953, a year before Guy's birth, in the heart of Rock Island's Old Chicago neighborhood. It is scheduled for demolition later this fall. The redevelopment will take up to 2 years to complete. The new neighborhood is intended to attract and retain working families. It will offer a right-of-return to Lincoln Homes residents recently relocated as part of the redevelopment effort.
In an effort to keep the fading memory of Lincoln Homes alive, Guy has organized a group of former residents who've been meeting weekly since early July.
"We wanted to get all of us together and celebrate our lives, and commemorate our lives," Guy (a poet and co-founder of Polyrhythms) said recently, "understanding that decades of families have lived there. We happen to be some of the children of some of the first occupants."
They'll have a table Saturday at the Polyrhythms Bill Bell Jazz & Heritage Festival, from noon to 7 p.m., at nearby MLK Park, with photos and a memory book, to seek out other Lincoln Homes alumni
"We wanted to do something significant, but looking at the time frame, we may have to look at next year, with people who have moved out of town," said Sherwin, who also lived there. "We're going to try and reach out to them, through different media, to raise their awareness of what's going on. We're not sure what the event will look like."
"There was a vibrant community and neighborhood surrounding Lincoln Homes, and so that would be a family reunion for the west end," Guy said.
Twenty years ago, Sherwin helped organize a similar westside celebration for the area around the King Center. For the new reunion, they'd like to include some owners of former businesses in the area, which included a grocery store, pharmacy, movie theater, nightclub, synagogue, shrimp house, shoe-shine parlor and junkyard.
"My memories have to do with kids and friends, and playing kickball, playing jacks, and circle ball in the street," Guy, whose family moved out when she was in 5th grade, said. "When I reflect back, it's not that every one of us lived a charmed life. Everyone had their struggles, but we were allowed to be children and outside."
"I realized, from a parent's perspective, they were working hard to move into something better," she said. "The reasons why projects were built were so they could get ahead, to the next level. They were working as adults and we were allowed to be children, and so that stigma, our parents may have felt it, but it didn't affect me."
"A lot of these skills I have now come from growing up the way I did," said Sherwin, who moved there in the early 1960s when she was 12. "My mother was a very caring person. She made food for the neighborhood," and invited other kids over who didn't have a TV to watch. 
She went back to Lincoln Homes with her three sons, from 1970-75. "The whole concept of public housing changed," Sherwin said. "At one point, people were living there and had a plan to move on, but at some point, this concept of public housing changed. It was considered the end of things."
"The world changed," said her sister, Johnnie Woods. "Farmall closed; John Deere laid off. All these plants closed. The later families, people didn't have the opportunities that our families had. The world changed around them, and not just our community."
"This was a community of stores," she said, noting she lived at Lincoln Homes through '75, and then those businesses closed and never returned. "For me, my memories were of the people," Woods said. "The camaraderie of the people and the families, and most of the time, they stuck together."
You have free articles remaining.
The Rialto movie theater then charged 17 cents to see a film, she recalled.
I felt safe

Gina Davis (a cousin of Guy) was also in one of the first families there. "It was a community. I felt safe; I had friends and family," she said. "We had a store on the corner, down the street. We had everything we needed."
"What they're talking about creating, we already had," Davis said. "We had businesses, we had the mixed-income that they're talking about."
"My memories of being there were fun. Everybody knew everybody. Everybody cared about everybody," said Rexie Tyson, who lived there in the late '50s. "I can remember they'd block off the street and have parties every weekend. That was our entertainment. We didn't go to shows, those kind of things. We stayed there and had block parties. You didn't leave the community. We never left the area for anything. We didn't need to."
Sherwin helped organize the first tenants' union for public housing in the '70s. Lincoln Homes was predominantly African-American, she said, noting there were very few families of color in Arsenal Courts and none in Manor Homes. She brought the groups together to effect change, representing all the complexes.
"They were maintaining as they should be, so we had issues with that," Sherwin said. The first white families didn't move into Lincoln Homes until the 1990s, she noted.
"They're going to create these mixed-income residences, and it's gonna be nice," Guy said of the new development. "But they talk about attracting working families, and most of our families were working families. Living in Lincoln Homes, one of the reasons people could not move away from here, there were restrictions on where black people could actually move.
"I remember being told that. I remember being a child and also hearing from the adults, that black people weren't allowed to live in Arsenal Courts, black people could not live in Manor Homes, and those were public-housing spots," she said.
We were happy
"The adventure for me had to do with the people you met along the way," Guy said of the neighborhood. "They all knew my parents and they'd always watch me. If you stepped out of line on your way, they'd tell you."
"I think we all have very excellent work ethic and I think we got that from our families," Davis said. "We had everything we needed. We were happy."
"That's where our passion comes from — not because we lived somewhere," Guy said of the people. "That was a great big part of it; we had someplace to stay. Lincoln Homes will always be, for a lot of us, something very sacred."
"Our childhood really reads like a novel or a movie, because of the vibrant community and the characters," she said. "You lived among your aunts and uncles, all their friends.
With the new housing, they hope new businesses will grow to serve the new residents in the area.
"They can say they're building this fabulous housing, but if there's no plan for future development, it just becomes housing," Davis said.
"Rock Island is very slow in that department," Tyson said. "Something is going to be happening. Hopefully, it will change for the better."