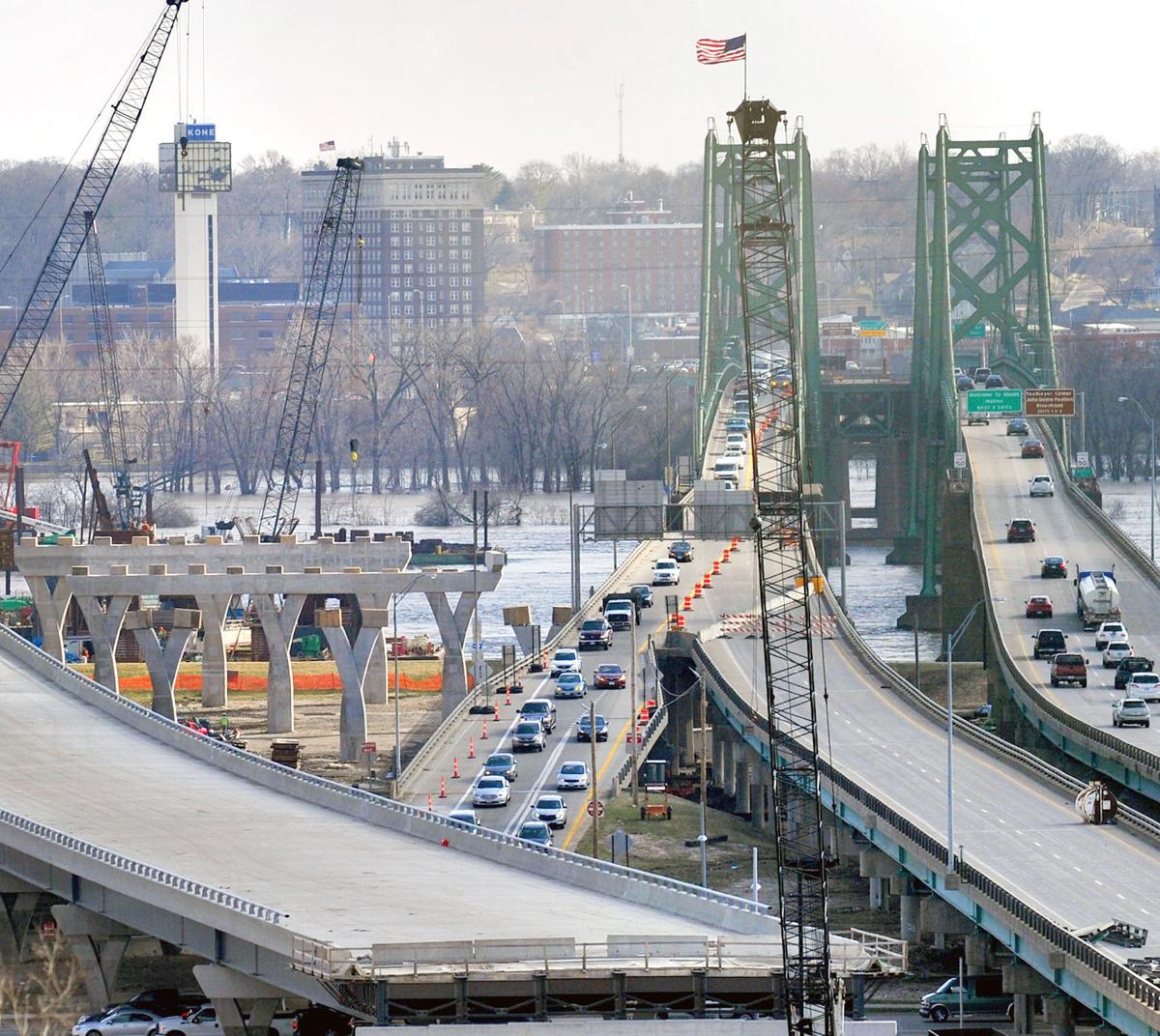 ROCK ISLAND — Way back when — before the 1980s Farm Crisis, before outsourcing and automation, before the term Rust Belt was popular and the effects of the Great Recession were felt everywhere — Rock Island County was booming.
A postcard from 1952 shows Rock Island's 3rd Avenue in its prime: a spacious street lined with buildings and cars, spotted with neon signs announcing stores and hotels, running through a city busy with life.
More than a half-century later, Rock Island remains the county seat, and its downtown still supports residents, culture, nightlife and tourism.
As Diane Oestreich of the Rock Island Preservation Society wrote in 2002, "Our formerly large downtown continues to shrink as buildings with strong historic connections are demolished."
Seventeen years later, the U.S. Census Bureau has released population estimates for cities, counties and metropolitan areas. In the Quad-Cities, the conclusions are mixed.
The good news: The Quad-Cities area is becoming more diverse.
The bad news: Rock Island County continues to hemorrhage residents.
To understand how the changing demography affects life in the Quad-Cities area, the Dispatch-Argus-QCOnline.com has launched an ongoing series about population decline in western Illinois.
The series will rely on publicly available data and interviews with residents and community experts to try and answer two questions: Why are counties across western Illinois losing people, while Scott County in Iowa grows? And what should be done about it?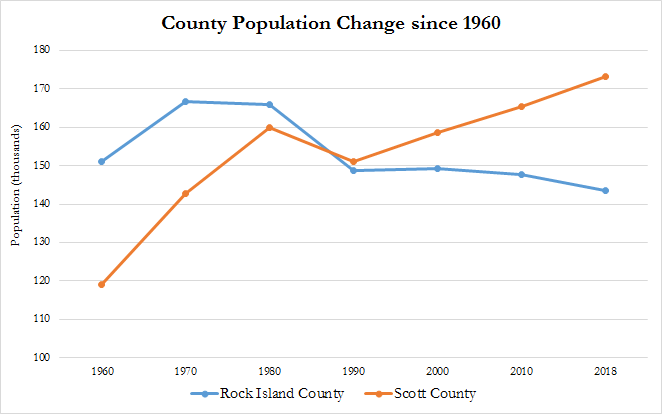 Not unusual for Illinois
The grim numbers confronting Rock Island County are not unusual within the state of Illinois and greater Midwest. Outside the Chicago metro area, Illinois cities and counties have struggled to retain and attract people.
Western and southern Illinois have been slammed the hardest by population loss. The reasons are manifold and complex: farm consolidation, automation in manufacturing, a lack of state funding for education and infrastructure, high taxes, and poor public health, among others.
That context might comfort policymakers in the Quad-Cities area. But it doesn't solve the challenges posed by an aging, shrinking population.
"It's a mess," said Edwin Langdon Jr., a member of the Rock Island County Board, representing District 17. "The problem isn't going to get any better. It seems to me like the problem's going to get worse."
A tale of two counties
According to Census estimates, the Davenport-Moline-Rock Island metropolitan area grew modestly between 2010 and 2014 and has declined since then.
Still, the Quad-Cities area — population roughly 381,500, as of 2018 — has gained more residents than it has lost since 2010.
But over the last few decades, the population has not changed evenly across the region.
Scott County has grown commandingly over the last few years. Between 2010 and 2018, Scott County grew about 5%, to a total of about 173,300 people. That's one of the highest growth rates in the state of Iowa.
The shrinking of the Quad-Cities area can be zeroed in more precisely to Rock Island and surrounding counties, which have been losing people slowly but consistently for decades.
Since 2010, Rock Island County has lost 3% of its population. In 2018, it had 143,500 residents, which represents a 14% decline since the county's population peaked around the late 1960s.
Scott County, meanwhile, hit its all-time population peak in 2018 — and the county is still growing.
In RI County, cities shrinking
In Rock Island County, the cities are shrinking, too.
In 2018, the county's largest city, Moline, had a population of about 41,900, according to Census estimates. That's a decline of nearly 4% from eight years earlier.
In the county seat of Rock Island, the 2018 population was estimated to be about 37,700 — a decline of over 3% from 2010.
Across the river, however, the story flips.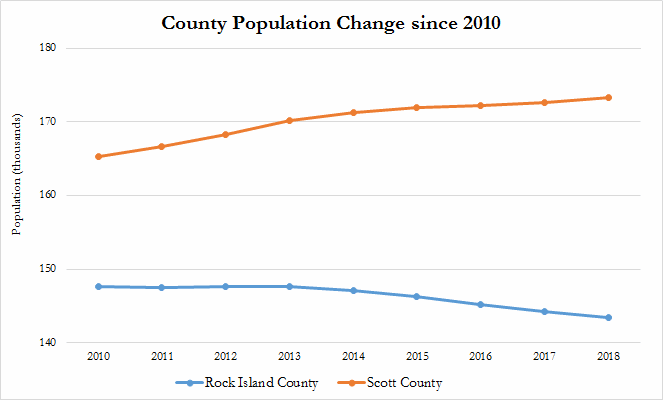 In Scott County, the cities are growing. Davenport has grown by more than 2%, on net, since 2010. Bettendorf has grown by 10%.
According to Census data, the average growth rate of American cities with populations between 10,000 and 49,999 was 5.6%. For cities with more than 50,000 residents, the average growth rate was 7.5%.
Diversification and migration
Although Rock Island County's population is dwindling, it also is diversifying.
Since 2010, the county has on net increased its number of residents who identify as African-American, Asian, Hispanic or biracial.
The county is also welcoming immigrants from around the world. Over the last eight years, Rock Island County has on net taken in around 3,800 international migrants, according to Census estimates.
Meanwhile, the county's white population is dropping. Since 2010, Rock Island County's white population has fallen almost 9%. Its "domestic migration" — the number of locals who move into or out of the county — showed a net loss of about 10,300 residents.
Populations aging in both states
In both Scott and Rock Island counties, the populations are aging.
Eight years ago, Rock Island County's median age was 40.0 years. In 2018, the median age had risen to 40.4 years, according to Census estimates.
In that time, the county's number of residents under 18 years old fell by about 4%. Meanwhile, the number of residents age 65 years and older jumped by 16%.
Scott County also has aged over the last eight years. In 2010, the county's median age was 37.7 years. That rose to 38.4 years in 2018.
What should be done?
Residents and policymakers have pointed to a number of factors that hamper Rock Island County's growth: a lack of vacant land to build new housing, issues with Illinois state government, aging facilities and residences, the appeal of nearby Iowa, and high taxes.
For rural communities across western Illinois, the issues are even more complicated, and their root causes are even trickier to untangle.
"A lot of people are moving across the river because of the lower taxes," Langdon said. "We need to bring more revenue here in Rock Island County, and we need to bring jobs here to Rock Island County. 
"I hate to see the population loss on this side of the river."
Get local news delivered to your inbox!
Subscribe to our Daily Headlines newsletter.