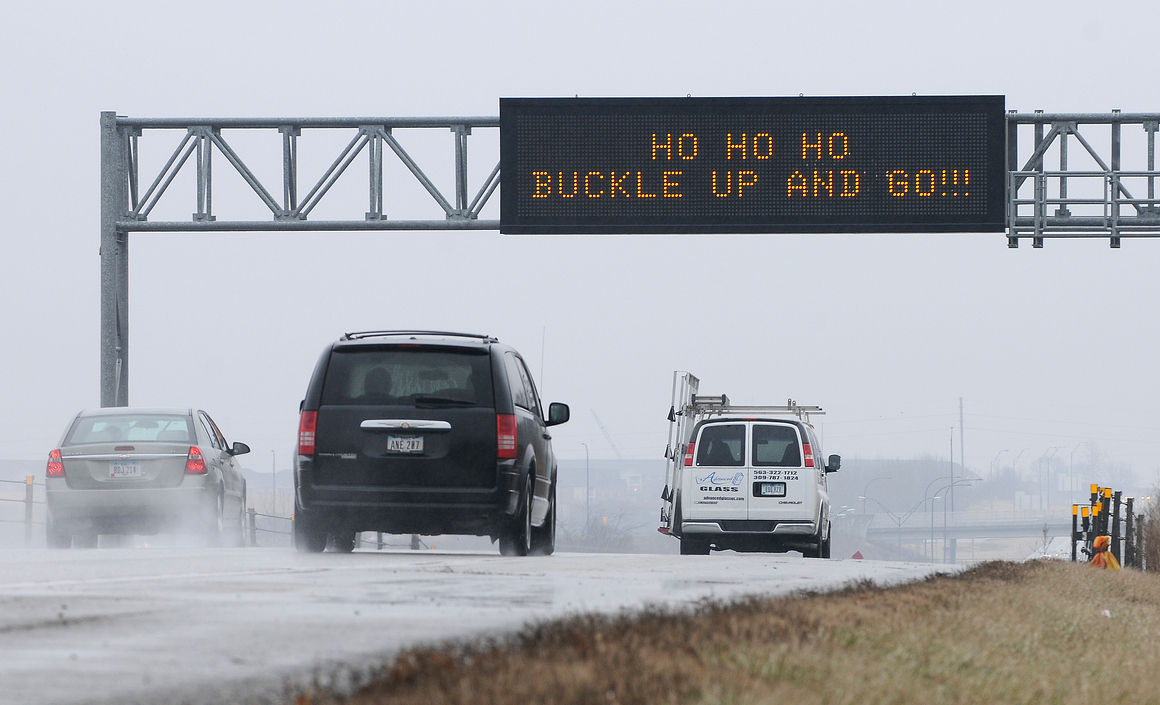 There are roughly 80 electronic signs hanging above Iowa interstates. One of those signs is on Interstate 80 east, not far from the Interstate 74 exit ramp.
Six days a week, the signs are blank, unless an emergency message is posted to warn motorists about things such as approaching storms and traffic delays.
Then there's "Message Monday," the day the Iowa Department of Transportation hits the "on" switch throughout the state and uses the signs to spark thought and conversation in just three lines of no more than 18 characters each.
It's followed by a second message, the year-to-date number of traffic fatalities in Iowa.
In all, IDOT has 12 seconds to embed the messages into the minds of passing motorists.
Ames-based IDOT traffic and safety engineer Willy Sorenson chairs the six-member committee that brainstorms the messages. In addition to his other duties, he's been one of the two main authors since the department started posting messages in the summer of 2013. 
Message Monday is one way IDOT tries to reduce accidents, he said, adding that they work hard to make sure the messages are memorable and to the point.
"Awareness is our biggest goal," he said. The next goal is to change driver behavior based on that awareness, which increases safety. "One fatality is too many." 
One of Mr. Sorenson's favorite messages was posted Sept. 29 and garnered national attention, including hundred of thousands of likes and re-posts on Facebook.
The message was, "Get your head out of your apps. Drive safely."
He said any post about using, or not using, blinkers, gets a lot of comments, such as one they posted Sept. 20, which said, "Does your blinker not work, or what?"
Mr. Sorenson said one of his favorites was posted on Nov. 10. It said, "Not buckled? You're killing me Smalls," which makes reference to the 1993 movie "Sandlot."
In it, "You're killing me Smalls" was a common phrase spoken when one character was doing something clueless. "Everyone knows you should be belted," he said.
This one, posted on Oct. 20, was meant to be a reminder: "Teens drive like their parents." 
"We do not want it to be mundane." Mr. Sorenson said of the messages. "We want it to resonate with drivers and spark conversation."  
If the driver or a passenger sees the message and starts talking about it in the car, or tells someone else what it said, it can lead to additional discussion about safety on the roads, he said. 
"If someone is passionate enough to talk about it in their car or to someone else, maybe they will get on their computer and dig a little further," Mr. Sorenson said. 
That's why the department has a Transportation Matters Blog, where it discusses each Message Monday and offers additional information and tips for motorist safety. To access the blog, go online to ia.zerofatalities.com and click on the Message Monday link toward the bottom of the page.
Mr. Sorenson said the messages need to be short and sweet to be effective. He said everyone on the committee offers a different perspective and by choosing and working on them as a group, it adds more value. 
He said there is a reason the messages are posted just once a week. When someone sees something repeatedly, they'll filter it out if it's not useful or important to them.
If messages were posted continually on the electronic signs, drivers would begin to filter those out, too, Mr. Sorenson said. 
IDOT has conducted studies to make sure the signs are not a distraction, causing accidents or drivers to suddenly slow down, he said, adding that they get feedback from the public and take suggestions for future messages, all of which are considered by the committee. 
"It's nice when people take the time to call in, to say it was a great message," Mr. Sorenson said. "Some people call in with concerns we are not being boring government," he said, adding that is a good thing, too, "because that means somehow we got to that person. Regardless of how they felt, we got to them, and hopefully we made an impact.