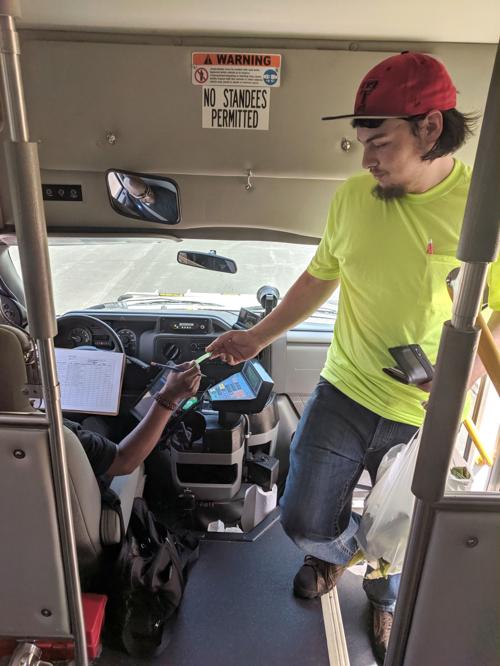 MILAN — MetroLINK is trying out its own version of Uber or Lyft, you could say.
With the aid of what is called the Microtransit by TransLOC app, riders can now input their location and have a 12-person wheelchair accessible van at their door pretty quickly. The program started in June.
They can then get on board and be at their desired Milan location in approximately 15 minutes from the time they first input the request.
It's all part of MetroLINK's pilot program featuring on-demand service for the Village of Milan.
"It's pretty convenient," said Jennifer Hirsch, manager of administration at MetroLINK. "We are seeing some really good use out of it. The residents are responding positively to it."
There's no arguing with the numbers.
Last week alone had 125 riders. Hirsch called that "incredible."
"In comparison," she added, "the first week (in June) we had 43 riders. So we are up about 190% in ridership. And we are seeing as many as 37 people a day use this service.
"We are really excited about that."
Lest any of the riders in the larger cities like those in Moline, Davenport, Rock Island, Bettendorf or East Moline — which MetroLINK also serves — think this service could be coming their way, it sounds doubtful.
"It's really designed for those service areas where fixed-route transit is maybe not as robust," Hirsch said. "Milan is one of our outlying areas. We looked at Milan because the demographics fit. The area fit. It's a little community. It has a lot of resources within that community. So we thought it would make a natural connection for microtransit."
You have free articles remaining.
Milan does have some fixed transit routes, but there are also gaps in MetroLINK's service.
"That's really what it's designed to do, to supplement where there might be some service gaps," Hirsch said.
Riders might use it to go to church, work, the post office or the grocery, Hirsch said.
It can also be used to make a connection to a fixed transit route to a larger city at specified sites, like the Milan Hy-Vee store or U.S. Post Office.
For those who prefer to use the telephone instead of the smartphone app, MetroLINK's customer service line can be called to book the trip.
The cost of each trip is just $1 for adults with discounted rates for honored citizens and students. Metro prepaid bus tickets and punch cards are also accepted on Microtransit.
This pilot program runs through January 3, 2020. Hirsch said she doesn't know what the future holds for the program but hinted that it could continue in Milan.
The pilot program was implemented with an assist from TransLOC.
To use the new ride-share program, passengers must first download the free Microtransit by TransLOC app to their smartphone.
Using the riders geographic location, users can request a ride and the Microtransit app will provide passengers with an estimated pickup time. Users can also track their ride in real time, and receive notifications when their ride is about to reach their desired location.
"Usually we are averaging about 15 minutes from the time you schedule your ride until the time you are dropped off," Hirsch said.
It's all about convenience.