Davenport city employees were given a day off to attend, admission was 55 cents, and a star attraction of the first Mississippi Valley Fair in 1920 was Ethel Dare, a trapeze artist from Michigan who could leap from wing to wing of two airplanes in flight.
Booze, gambling and fortune-telling were prohibited. Five telephones were available on the grounds in case a fair-goer needed to make a call. The Republican candidate for governor was slated to speak, but "he will not discuss politics," according to the Aug. 4 Daily Times newspaper.
The horse races were to include an entry from John Looney, former Rock Island gangster and newspaper publisher, but he had to drop out because the horse was stolen before the fair began.
In addition to Dare — who died four years later when her parachute failed to open — the fair featured nightly fireworks after a grandstand depiction of The Battle of the North Sea, a turning point of the recently ended World War.
"No expense has been spared, no detail overlooked to make (the battle) the most realistic and entertaining as well as educational spectacle ever presented by this famous firm of pyrotechnics …," according to the fair premium book schedule.
"There will be shown Dreadnaughts, Destroyers, Cruisers, Mine Sweepers, Submarines, etc., etc.."
Also in the lineup: "Daring" and "astounding" aerial acrobatics, including "sensational feats of teeth gymnastics." A performance by an elephant of "super-human intelligence." A wild west show with lassoers and rough riders. A minstrel show billed as "the best comedy mule act playing the fairs … a scream from start to finish."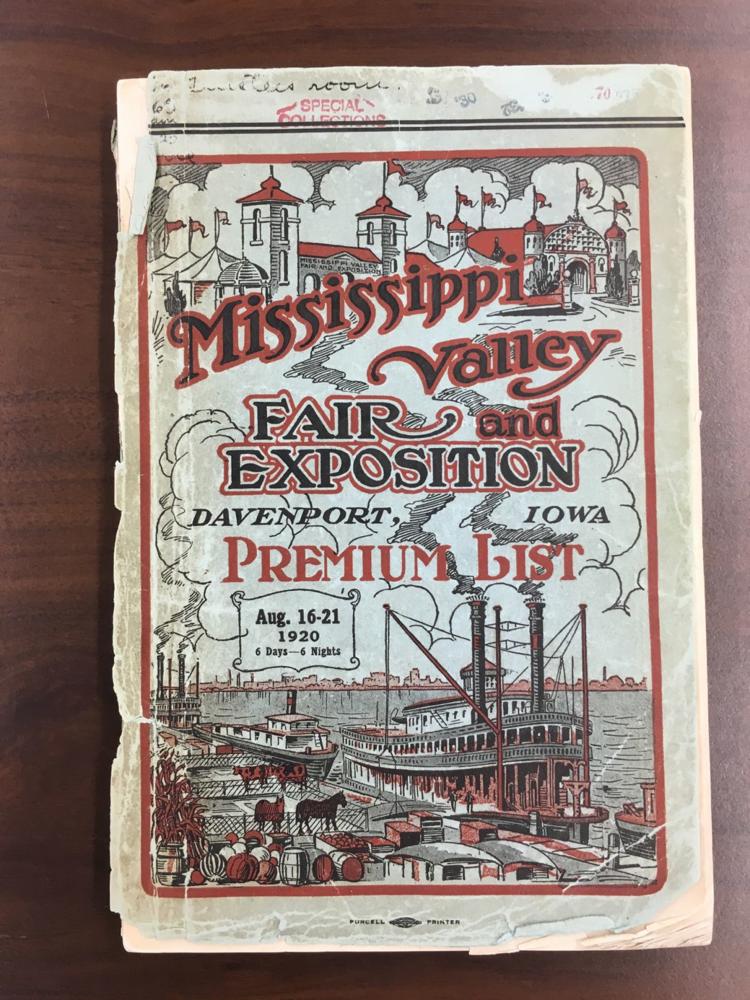 Human curiosities, "genuine Filipino midgets" ("There is no exhibit anywhere that appeals more to children."), a mammoth Ferris wheel, a jumping carousel, a model of underground Chinatown "showing the dangerous results of deadly drugs and quack medicines," and, finally, "The Girl from Delhi: A mystic astral vision, a masterpiece of cosmic phenomena, unequalled in mystic art, a performance that completely astounds, bewilders, puzzles and baffles all experts."
These are some of the particulars of the first fair held Aug. 16-21 at the same fairgrounds at 2815 W. Locust St. that still serve today, 100 years later.
While various groups hosted various fairs in Davenport since 1854, the Mississippi Valley Fair of 1920 — the same year Prohibition became law, Bix Beiderbecke played his cornet at Davenport High School, Model-T Fords could be purchased for $260 and farm homes relied on outhouses — is the one that has weathered significant ups and downs to celebrate its 100th anniversary beginning July 30.
Building began in April
The fair and exposition was organized by a group of businessmen who sold stock, bought 85 acres near what was then the northwest city limits for $91,000 and, beginning in April of 1920, hired the construction of about 20 fair buildings.
These included an amphitheater for 6,000, an exposition building, cattle, hog and horse barns and the iconic Twin Towers that still stand today, designed by noted architect Art Ebeling as a main entrance. A racetrack and restrooms also were built. The total cost was about $200,000.
The fair was intended to "bring the city and county people closer together to exchange ideas and make one big cooperative community," M.H. Calderwood, an Eldridge banker and president of the fair association, said in the Aug. 16 Daily Times.
And supporters literally beat the drums to drive interest; about two weeks before the fair, boosters in 60 cars, accompanied by a band, drove from Davenport to Montpelier, Buffalo and Muscatine in early August to spread the word. Trips also were made to DeWitt, Clinton, Low Moor, Iowa City and "intermediate points."
"What helps the community, helps every resident in it," boosters told the newspaper.
You have free articles remaining.
Register for more free articles
Stay logged in to skip the surveys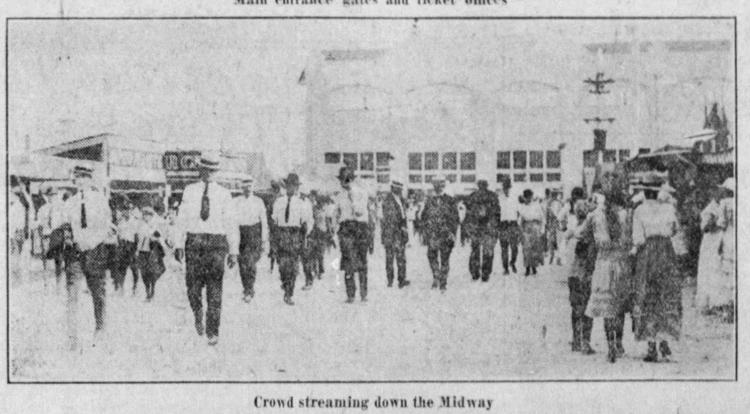 This same group apparently leaned on city and business leaders to encourage attendance by giving their employees a day off — or at least an afternoon.
"The fair is one of the biggest things this community has had in years," Davenport Mayor C.L. Barewald wrote. "Those who are really boosters for the community will close their doors. The fellows who are looking only to their own pocketbooks will, of course, stay open. I believe, though, that most of our businessmen will show the proper spirit and close at noon in order to allow their employees to attend the fair."
Indeed, "business will be at a standstill," the Daily Times reported.
"This was the decision of the retail merchants' board of governors, the retail grocers, master plumbers and the Davenport clearing house. Manufacturers could not be called together on such short notice for a decision, but most of those seem personally agreed to abide by the mayor's proclamation," the newspaper reported.
Although the Arsenal couldn't officially close, the Aug. 19 Daily Times noted that the commander had issued a bulletin saying that employees could take a vacation day.
As a result, "street cars and motor buses from the downtown were loaded to capacity," and overall attendance was reported at 98,374, nearly reaching the combined population of Scott and Muscatine counties at the time. 
Insured against loss
Then, as now, fair backers worried about rainstorms and how they might affect attendance and the bottom line, so they took out an insurance policy for two nights of the fair.
According to the policy written by Hartford Fire Insurance through John Ruhl, of Ruhl & Ruhl, "in case of a rainfall of .2 of an inch or more each day, the (insurance) company will pay the difference between the receipts for that day and the expenses, including interest on investment and depreciation," up to $25,000.
The policy cost $1,750, according to the Daily Times of Aug. 19, 1920.
Attractions such as Ethel Dare and the fireworks were, as today, only part of the fair. The other part was the exposition in which members of youth clubs as well as the general public could enter items — pies, pigs, plants — in various classes for judging.
The fair also had a merchant's arcade where 46 local businesses, such as the Gordon-Van Tine Co., maker of ready-cut barns as well as houses, set up booths to advertise their wares.
As the Daily Times noted in a December headline: "New Scott County project proves phenomenal success first year"
But a related story reported that despite the grand showing, the corporation behind the fair "has an indebtedness of a considerable amount."
That problem would dog the fair for most of its history.