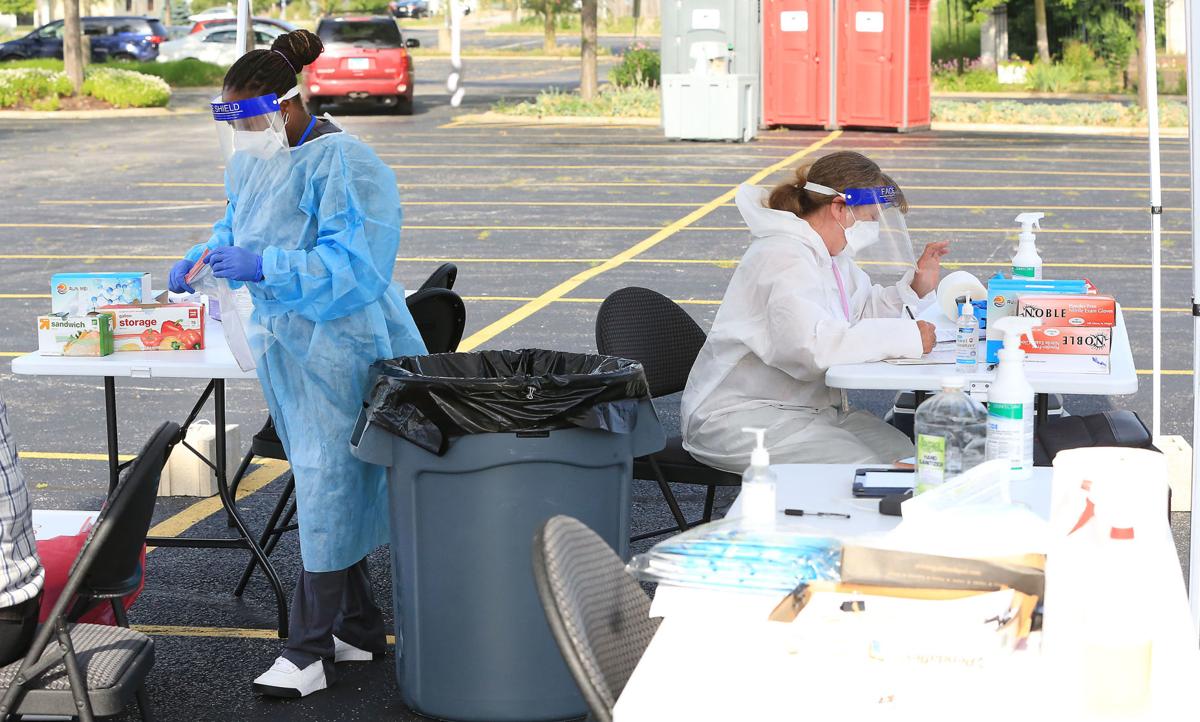 Cars, pickup trucks and sport utility vehicles started lining up in the QCAA Expo Center's parking before 8:30 a.m. Monday.
The line stayed long throughout the day. And the line returned Tuesday.
The occupants of the vehicles were waiting for a chance to be tested for the COVID-19 virus.
Backed by funding made available through the Illinois Department of Public Health, the no-charge mobile testing site opened Monday and will test drive-up and walk-up clients through Friday, July 10, except for Saturday, July 4.
It is the only free, community-based mobile testing site in Illinois within a roughly 100-mile radius of Rock Island County. And as worries grow that there's a new, explosive outbreak of COVID-19 on both sides of the Mississippi River, the testing offers some window into the nature of the novel coronavirus' spread.
Janet Hill said she was glad to see people interested in their health.
"It was a long line right from the start," said Hill, the Rock Island Health Department's chief operating officer. "I know by noon (Monday) there were 150 tests administered.
"It was busy morning and it looks like it will be busy for a while."
By 4:30 p.m. Monday 269 tests were administered. Officials said Illinois has collected almost 1.7 million test samples, while Iowa has administered 304,587 tests.
"Anyone who wants a test can be tested," Hill explained. "And the importance of testing is growing. I know there are some people becoming concerned.
"And I'm deeply concerned. There are roughly 100,000 people who live in Rock Island County. We are approaching 1,000 infections – if things keep going the way they have been, we'll pass 1,000 infections sometime this week. I think that's a significant number and I'm deeply troubled by it."
The total number of cases in Rock Island County did creep closer to the 1,000 mark, as officials reported 12 new confirmed positive tests. That put the county's total at 947.
Rock Island County's death toll remained 29.
Scott County reported three new cases as of 3 p.m. Tuesday, raising the county's total to 623.
Ten Scott County residents have died of COVID-19 related causes.
The Illinois Department of Public Health reported an increase of 724 confirmed COVID-19 cases Tuesday, raising the state's total to 143,185 cases. A total of 6,923 people are believed to have died of COVID-19 related causes.
The Iowa Department of Public Health reported 227 new cases as of 3 p.m. Tuesday, raising the state's total to 29,007; 715 have died.
Concerned about COVID-19?
Sign up now to get the most recent coronavirus headlines and other important local and national news sent to your email inbox daily.