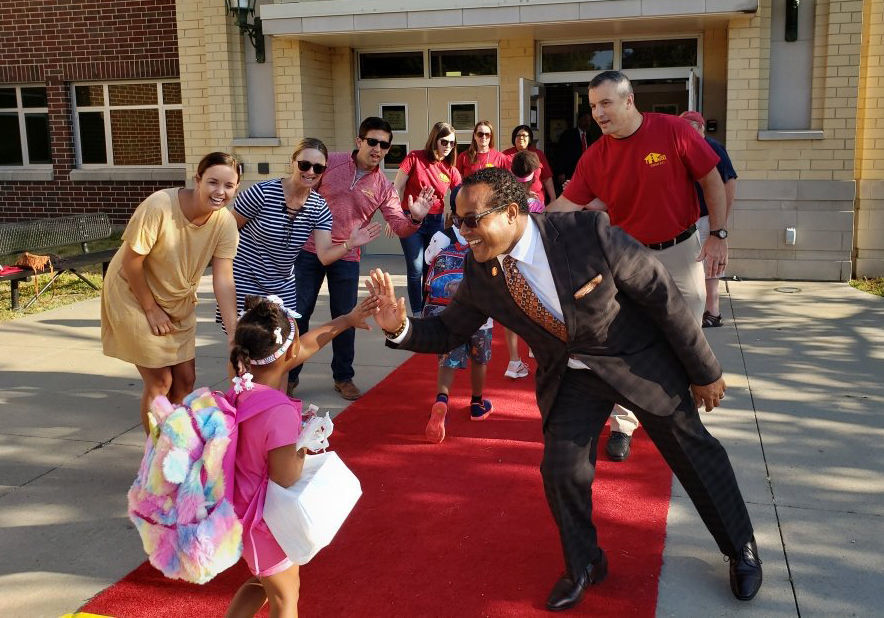 Since joining the Rock Island-Milan School District in June, superintendent Reginald Lawrence II has high-fived students walking the red carpet on the first day of school and showed off his red and gold pride in the Labor Day and Homecoming parades. His roots are in Milwaukee, but he already calls this place home.
Lawrence was tapped by school board members Dec. 21 to replace retiring superintendent Mike Oberhaus. Lawrence was slated to join the district at the start of July but asked to join the district one month earlier once he learned students started back to school Aug. 2.
Only months into his tenure and Lawrence has a vibrant Twitter feed documenting his interactions with Rock Island-Milan students and staff. His broad smile and pride for the district shine through in his videos with happy students from Rock Island Academy, Denkmann and other schools.
Lawrence is nearing 30 years as an educator, most of which were with Milwaukee Public Schools. His experience includes teaching at the elementary and middle school levels, serving as assistant principal and principal.
Prior to coming to Rock Island, he had been serving as the regional superintendent of Milwaukee Public Schools since 2010. In that role, Lawrence oversaw 35 schools, including eight high schools, and more than 14,500 students. Lawrence said despite his long-ties to Milwaukee, it was not hard to leave that behind for the chance to come to Rock Island and realize real change.
"It's exciting. With 35 schools, it's so hard to see change. I come here, there are 13 schools and one high school. I'm so excited. There's no way we should have this graduation rate. We can fix two junior highs," Lawrence said.
In all, Milwaukee Public Schools has 161 schools and more than 75,000 students, according to the district's 2018-2019 fact sheet. Rock Island-Milan had 6,417 students enrolled last school year.
Lawrence said being able to focus on a smaller number of schools gives him great confidence for success.
"We should be able to see change quicker," he said.
To get rolling on that change, Lawrence has created a plan for his first 100 days of the school year focusing on three priorities: increasing academic achievement through a commitment to equity, enhancing family and community engagement and sustaining systems for effective and efficient operations.
You have free articles remaining.
The 100-day plan aligns closely with the district's 2017-2020 strategic plan. Lawrence said at the end of this school year, it will be time for a new strategic plan and if it's up to him, he'd like to see a longer window than the current plan's three-year window. This, he said, would allow more time to strive for and track the district's goals.
Lawrence also has an eye toward facility improvements. Members from the long-range planning committee recently addressed the school board about leveraging the district's 1 percent sales tax funding in order to bond out for $26 million in major facility improvements. Lawrence said his top facility priority is enhancing Rock Island High School.
"In our district, every student will eventually go to the high school," he said. "... I'm looking at the high school and making sure it remains the center of our community."
Lawrence said he agreed with the committee that major improvements help the district stay competitive and helps retain those who are already here.
"New makes people feel good," he said.
Although there are many items on the facilities list, Lawrence said a new production kitchen and commons area at the high school would be a high priority.
In addition to long-range, strategic and other serious district planning, Lawrence said his days in the district so far have been packed with meetings with organizational groups, such as Rotary and United Way, faith groups and other individuals.
Monica Smith, Augustana College's vice president of diversity, equity, and inclusion, is among the new connections he's made. Lawrence said he wants Smith to create an equity plan for Rock Island-Milan schools similar to the one she did for the college. He said this plan would intertwine with the district's ongoing cultural competency work. Lawrence said an equity plan will address the needs of all students, including high achievers, English learners, and the lowest-performing students.
"How do we get everybody what they need to be successful?" he said.
Lawrence plans to continue building connections with those within and outside of the district. District stakeholders and community members will be able to join him at conversations with the superintendent meetings. Lawrence said he wants to hear from people what the district is doing well for them and what is keeping some people up at night.
Although challenges may give some people anxiety, Lawrence said he's excited and confident about working to achieve the district's goals.
"I'm a low-stress kind of person," he said. "I believe in destiny - where you're at is where you're supposed to be. You can't stress out about things, not in your control. You have to put in work to see change."