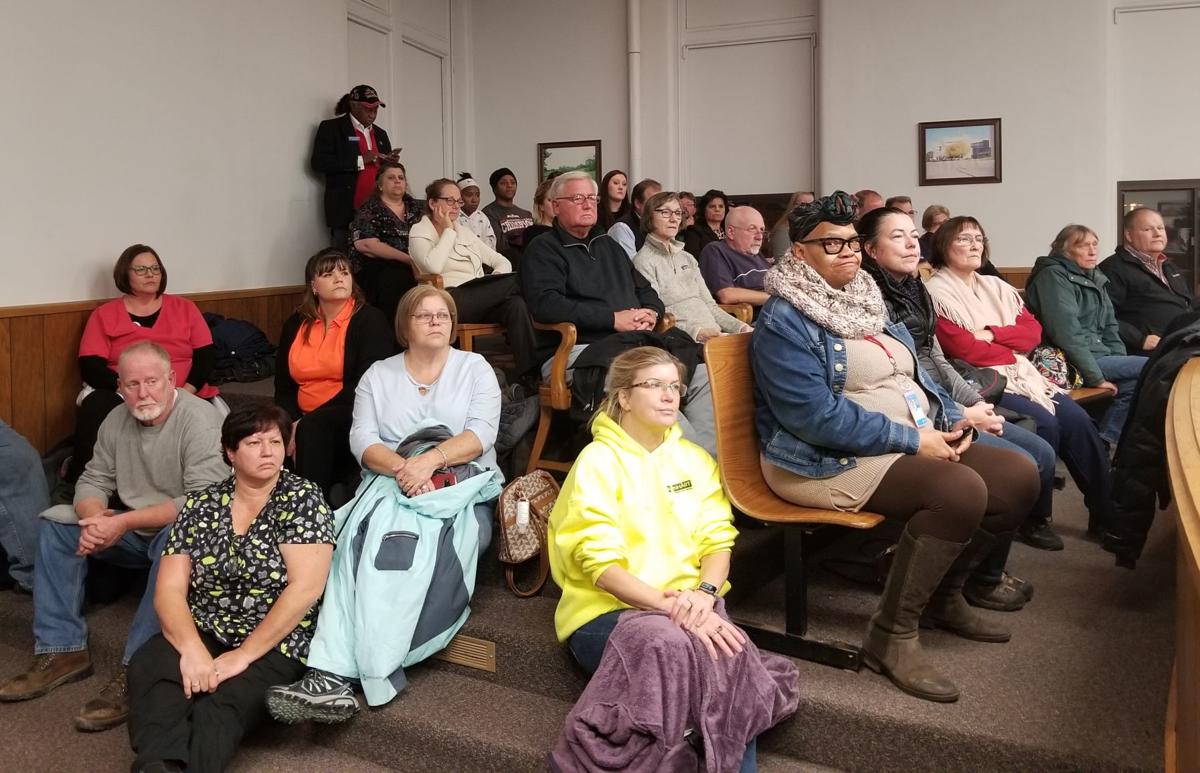 ROCK ISLAND -- County board members voted 12 to 9 Tuesday night to raise the county's portion of property taxes by 8.9 percent despite a public hearing filled with residents opposed to the increase. 
A public hearing was required since the proposed tax increase was higher than 5 percent. 
It was standing-room only as numerous residents spoke out during the public comment portion of the hearing — all of them opposed to higher taxes. 
"Since 2016, the Rock Island County board has increased taxes by 35 percent," Jim Uribe said. "If you pass this tax increase, it will mean a 44 percent tax increase since 2016. In my view, this is extreme and abusive. Tax increases are hurting people. Every dollar you take away has a devastating impact on their finances and emotional well-being."
Uribe said according to U.S. Census data, Rock Island County lost 2,800 residents between 2010 and 2016.
"Reducing taxes is the only way to stop the exodus of people, money and businesses," he said. 
"If this continues, I will have to leave," Lucy Armstrong said. "We've lived in our same house for (more than) 40 years. I would like to be able to stay here, but there is a huge dysfunction in this state. How can we do this to the kids who will be the future of the community?"
Sharon Heinze told board members she has lived in the county for 18 years. 
"I'm wondering why anyone who understands what is going on in this county would want to start or keep a business here, buy, or build a house," Heinze said. "The only truth in this taxation hearing is that Rock Island County residents cannot afford another tax increase."
Board members opposing the increase were Edna Sowards, Lauren Boswell-Loftin, Don Johnston, Rich Morthland, Drue Mielke, Ed Langdon, Robert Westpfahl, Ron Oelke and Dewayne Cremeens. 
Board members who voted in favor of the tax increase were Angie Normoyle, Patrick Moreno, Larry Burns, Luis Moreno, Brian Vyncke, Jeff Deppe, Rod Simmer, Kai Swanson, Pat O'Brien, David Adams, Dorothy Beck, and Ken "Moose" Maranda. 
Scott Noyd and Robert Reagan were absent. The seat of Mia Mayberry is currently vacant. 
"Tax increases are unfortunate," Board Chairman Richard Brunk said. "We are working everyday to stabilize the county. I wish we weren't in the position we are in."
Langdon said he would vote against the tax increase because his constituents asked him to oppose it. 
Morthland said raising taxes would be "taking the easy way out."
"I will not vote for this and I respectfully ask my peers to vote against it as well," Morthland said. "It is my conviction that raising county taxes is as uninspired as it will prove to have been toxic."
The total amount to be levied for the county's general fund for the 2020 fiscal year is $6.7 million. The total levy for special purposes funds will be $29.2 million. This levy includes the uncapped liability insurance fund, which is $7.7 million.
"The liability fund is uncapped and just in the case we lose a bunch of lawsuits," Johnston said. "Well, we're probably going to lose some lawsuits. I think some people are right; it's time we stop this."
Simmer said the county's portion of property taxes is minimal compared to what local school districts and municipalities collect. He noted the increase was necessary in order to fund state-mandated pension increases. 
"I will go ahead and push this thing through, but I'm not happy about it," he said. "These state mandates are killing us."
Normoyle also said the increase was necessary in order to pay for pensions and other county services. 
"We need the sheriff's department to be staffed," she said. "We need them to respond to calls. I just don't see a solution that presents itself by saying no. These things are not frills; they are not optional things we are spending money on at this point."
Swanson encouraged board members to vote for the increase, also calling it necessary. 
"Nobody likes taxes; I don't want to pay more in taxes, I don't want to pay more for Mediacom, for gas or for insurance," Swanson said. "But the fact of the matter is, it's not realistic. The reason we are in this bind is the county has, for years, practiced wishful thinking. We have to run this (county) like a business.
"Wishful thinking has bankrupted this county," he said. 
Also on Tuesday, Brian Vyncke was unanimously elected as board vice chairman. Vyncke replaces Mia Mayberry, who resigned her seat Nov. 4 because she was hired by the presidential campaign of U.S. Sen. Kamala Harris. 
Get Government & Politics updates in your inbox!
Stay up-to-date on the latest in local and national government and political topics with our newsletter.