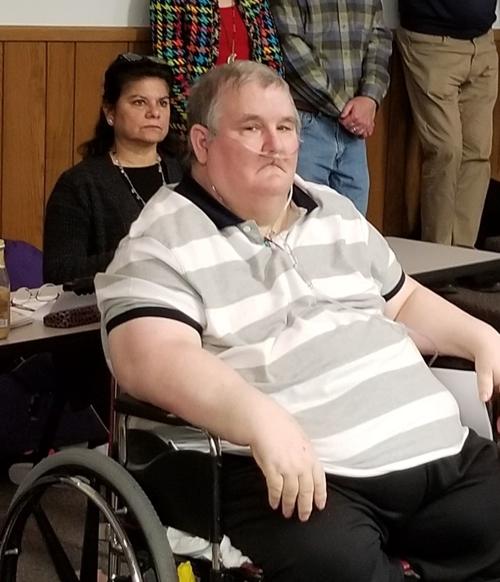 Aperion has offered to purchase Hope Creek, the county-owned nursing home at 4343 Kennedy Dr., East Moline, for $6 million. The county listed the facility for $19 million, just enough to cover its mortgage debt of $12 million and $7.5 million in short-term loan debt. 
Emotional pleas to save Hope Creek were often punctuated with bursts of applause, as more than 100 people packed into the board room at the county office building, many of them standing along the back wall or sitting on the floor. 
Hope Creek resident James Nelson attended the meeting in his wheelchair, oxygen tank attached to the back, and addressed board members in person.
Nelson said he has also been a resident at Aperion, where he "couldn't get out of fast enough."
"The quality of care I receive at Hope Creek is outstanding," Nelson said. "Not only is the care good, but the residents and employees are one big family. It would be a tragedy to see Aperion take this over. All you have to do is Google 'Aperion' and you can find numerous fines and complaints. 
"We're scared of what Aperion can do. Please think about their past history and don't forget us. What Aperion is offering to pay for Hope Creek is a joke. It's like a fire sale."
According to the Centers for Medicare and Medicaid Services, Hope Creek was recently upgraded to a three-star facility. By comparison, most of the 34 Aperion Care facilities in Illinois are rated as one-star nursing homes, including Aperion Care in East Moline, 430 30th Ave.
Aperion in East Moline was cited and fined $2,200 in August for the abuse and neglect of patients resulting in pressure wounds. The same facility was fined $75,000 in Jan. 2018 for the escape of a resident and the strangulation death of another. 
Hope Creek Activities Coordinator Angela Bernhardt, who has worked at the facility for 13 years, openly cried while asking board members to reconsider.  
"I take care of people like James every day," Bernhardt said. "Most of my coworkers are sitting here right now; please do not sell. I know Rock Island County got into the nursing home business to take care of the people in our area. If you were to come in and see how well our residents are taken care of and how much we love our residents ... they are our family and we are theirs. I hope you take that into consideration and do not sell to Aperion."
Quad City Federation of Labor President Dino Leone used his allotted three minutes to yell at board members, chastising them for not including any protections in the sale contract for residents or employees.
Most Hope Creek employees are members of AFSCME (American Federation of County and Municipal Employees). 
"When are the people going to say enough is enough?" Leone said. "You are responsible for me in the future. For 26 years I've paid for that nursing home so someday I could live my life in dignity. We know Aperion can't do that; you know that. If you sold this home without doing an appraisal, I'd like to see that appraisal because I don't think it's been done."
Leone then mocked Ray Giannini, senior marketing director for Marcus & Millichap, the firm hired by the county to market the sale of Hope Creek. During the Sept. 9 county governance, health and administration meeting, Giannini said Hope Creek's modern construction would be attractive to buyers, saying, "If a facility can be sexy, this is sexy."
"You hired a real estate agent that said, 'this is a sexy home.' I never found a (nursing) home sexy, but 'this is a sexy home and it should be worth at least $19 million.'
"Is that all we're worth ... $6 million? Don't you think our lives are worth more than $6 million?" Leone said. "Why would I live in this county and have people like you represent me if you're willing to sell my life for $6 million. You're selling off the residents of Rock Island County for $6 million."