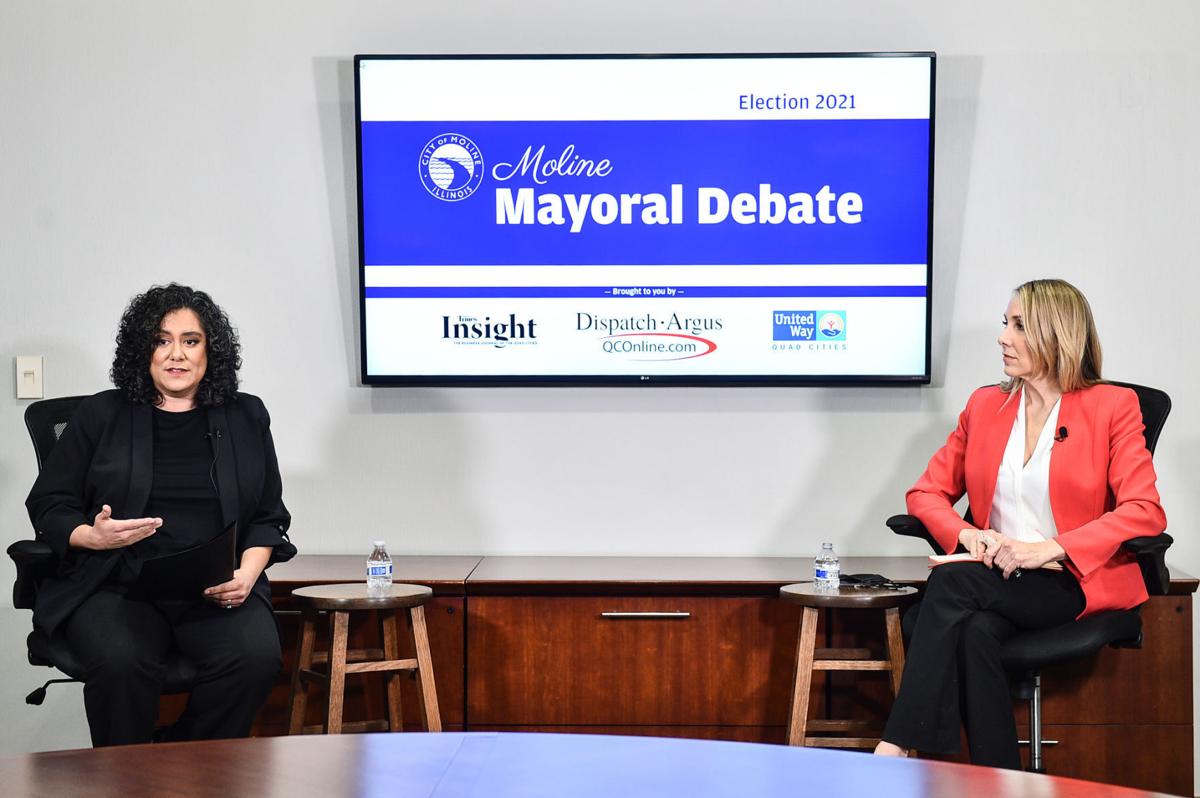 The Moline mayoral race between incumbent Stephanie Acri and challenger Sangeetha Rayapati appears to be a close one, with each claiming to be the better choice to lead the city toward stability and economic growth.
Prior to Stephanie Acri's election as the city's first female mayor in 2017, she served six years on city council as Alderman at-large.
Acri graduated from Oelwein High School, in Oelwein, Iowa, and earned a bachelor of science in mechanical engineering from the University of Iowa. She owns Evans Premium Manufacturing in Rock Island. 
Acri said it's been an honor serving the citizens of Moline and that her first four years as mayor have been "foundational work."
"It's a challenging position, but it's very rewarding because you're called almost every day to solve difficult problems," she said. "And residents who can't figure out get what they need from the city and being able to advocate for them to help the through their situation is extremely rewarding.
"I like the work very much; I would be very pleased to serve another four years."
Among her accomplishments as mayor, Acri said she has worked to bring down the city's debt, lower property taxes, increase transparency and help small businesses during the pandemic with loan and grant application assistance.
"I've worked very hard to get our finances in order so we're well-positioned for the redevelopment with I-74 Bridge," she said. "We have been able to cut the debt, the tax rate has incrementally stepped down each one of the years I've served as mayor. We not only are thoughtful about the city's balance sheet, but with the tax rate, we are thoughtful of our residents and business owners' balance sheets. 
"We have an opportunity in front of us that I would very much like to be a part of."
Acri said she is looking forward to redeveloping the river front when the old I-74 bridge comes down and new land is reclaimed. She envisions green space and turning the acreage into a family-friendly destination. 
"We have an opportunity on our river front and I feel like that is our strongest asset. We've got this beautiful river that we've got access to, and I want to continue that. When visitors come to our downtown area, they can't always point to the river. This is our opportunity to feature our river more in the downtown area. The green space on the river is a very important feature."
Acri acknowledges the city has had a problem with turnover among employees. At least 15 high-level employees have resigned, been terminated or taken early retirement in the last two years.
"I will accept the accountability for that, because I believe the mayor is accountable for everything in the city," Acri said. "I am the one that is advocating on behalf of the taxpayers. I'm the one that is responsible to make sure the right pieces are in place, but I would hope with that accountability I also would receive credit for the extraordinary people we have put in place."
Acri agrees the city needs to grow its population.
"I think having a vibrant university is critical. I would put the impact of having a strong university presence in our Quad-Cities as more impactful than the train," Acri said, referring to the passenger rail service the city is still waiting on. "It's more impactful than the I-74 Bridge. It makes a huge difference in a community. If we want to be that vibrant, growing space, then we need to have cultural features like that in our city."
Raised in Pennsylvania, Sangeetha Rayapati moved to the Quad-Cities in 2001 and has been a Moline resident since 2005.
Rayapati holds four college degrees: a bachelor of science degree in nursing and a bachelor of arts degree in music, both from Valparaiso University; and a master of music degree and a doctorate degree in musical arts, both from the University of Minnesota. After several years working as a nurse, she changed course and pursued music education.
Rayapati said she felt inspired to run for mayor after watching mismanagement of staff that resulted in massive turnover; ongoing stalled economic development and a decrease in city services.
"We really need to reset our leadership so that we can revitalize Moline," she said. "We can be better. I have the experience to do that. That is why I have chosen to run. We need to change how this city is led."
Rayapati said her ability to help navigate the Moline-Coal Valley School District through the pandemic is just one example of her ability to be a leader. 
"I know I have the experience to lead with a diversity of opinions and I know I have the experience to create a team. The team-building aspect of what I've done on school board has been really important."
If elected, Rayapati said one of her priorities would be to repair the city's reputation, which she said has taken a hit from the high number of senior level staff who have resigned, been terminated or taken early retirement in just the last two years. 
"You can't move forward on economic development — which not only benefits the citizens of Moline, but also benefits our entire region — if you don't pay attention to key staffing hires. They've had since 2019 to have (an economic development) manager in place. We can make sure key staff is recruited and more importantly — retained.
"I'm a team builder," she said. "I respect all employees."
Another focus would be to rebuild the city's population, and in turn, rebuild the tax base.
"Moline has lost population all the years my opponent has been on city council," Rayapati said. "The school board has been able to help people choose Moline. We have stabilized or had small bumps in growth over the last four years."
Rayapati disagrees with the city's recent decisions to outsource some city services, such as hiring private contractors for leaf collection and snow removal and the hiring of corporation counsel to handle legal issues. She said outsourcing is costing the city more money.
"In one and a half years of our legal services being outsourced to a firm based in Chicago, (Moline) has spent over $700,000 in that time frame. When you compare it to the in-house legal counsel we had, that's $176,000 more in less time. I also think there's an ethical problem with that. Legal counsel could be working toward their goals, as opposed to a neutral body of city-employed lawyers."
Rayapati said the city's recent decision to terminate its relationship with Western Illinois University and instead seek another university to take its place is short sighted. Picking "public fights" also has hurt the city's image.
"Has the mayor asked the higher education (learning community) what the situation is for recruitment at Western and other colleges? If the complaint is Western hasn't recruited enough (students), how much has the city tried to understand why that's not happening? After the budget impasse of 2017 at the state level, we saw a fast-forwarding of the brain drain from Illinois.
"We know our neighboring states have offered huge scholarships to our Illinois students. We had that budget impasse and our MAP grants were in jeopardy."
Rayapati said voters should choose her as Moline's next mayor because "Stephanie Acri has had multiple years to lead well. She's been on council since 2011. I've been on school board for four years and shown how I can build a team, take on difficult issues and move the ball forward. 
"There has been stagnation, chaos and a constant turnover of staff," Rayapati said. "It's time to reset our leadership. Moline can do better, and I've shown I have the experience to do that."
Early voting runs through April 5 at the Rock Island County clerk's office, 1504 3rd Ave., Rock Island, from 8 a.m. to 4:30 p.m. The municipal election is April 6; polls will be open from 6 a.m. to 7 p.m.