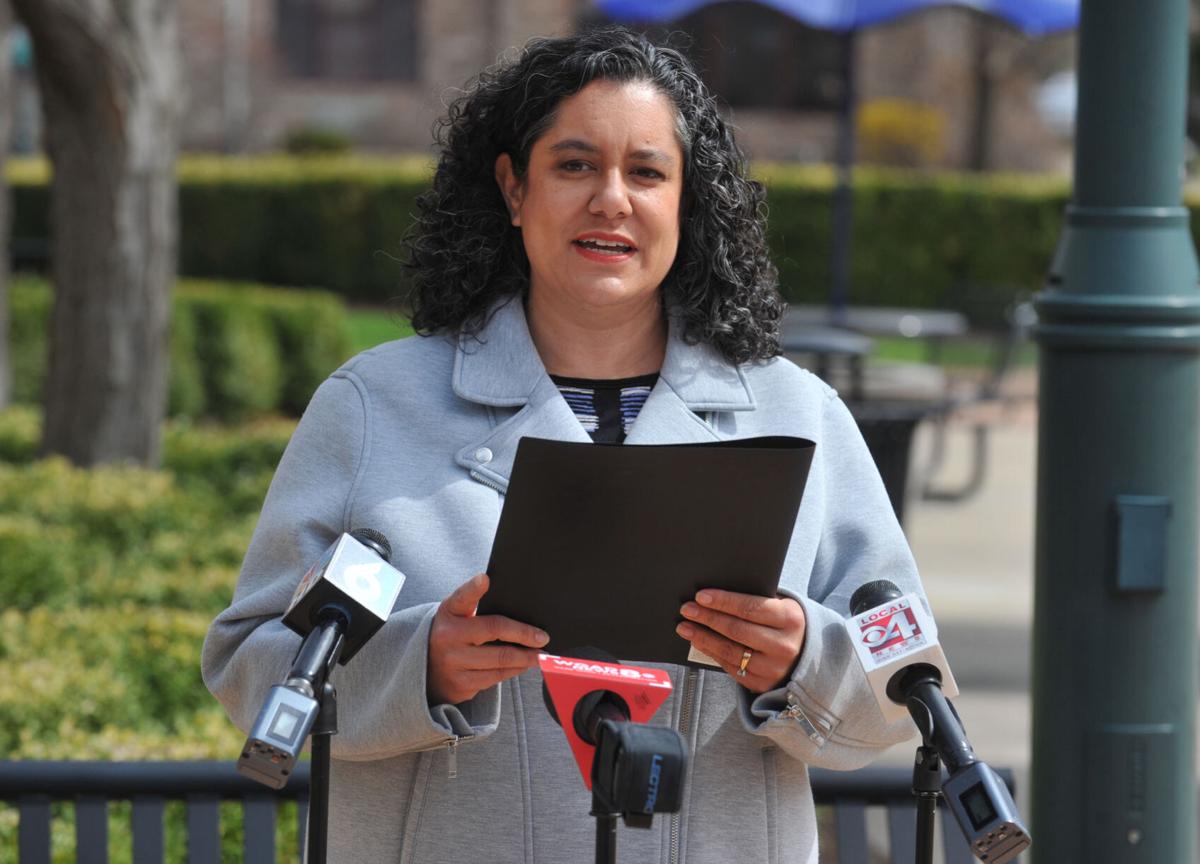 Mayor-elect Sangeetha Rayapati is ready to take the reins in Moline.
Rayapati and four new aldermen swept into office Tuesday night in an election-day overhaul of the city council, handily beating their incumbent challengers. After a contentious race, Rayapati defeated incumbent Mayor Stephanie Acri in a landslide, capturing 61% of the vote to Acri's 39%.
Upon hearing she had won, Rayapati said she felt, "joy and hopefulness and thankfulness to the community for putting their trust in me and the people I was running with."
"I have a lot of hope and expectation. I'm very, very thankful to the community for seeing the possibilities that new leadership can bring."
City Clerk Janine Hollembaek Parr said Rayapati and the new council members would be sworn in after canvassing of the votes is complete. According to Illinois state statute, oaths of office are administered during the next city council meeting, which would be April 27. 
"That has not been finalized yet," Hollembaek Parr said Wednesday. 
Rayapati said Acri called to concede the race after results were reported.
"She was gracious and glad that our community had a choice, and she wished me well," Rayapati said. 
Hiring a new city administrator is at the top of Rayapati's to-do list after she is sworn in. The 12-month contract for interim City Administrator Marty Vanags expires in May and the city has narrowed down a list of eligible candidates. 
"We need that flagship position filled, and we are almost to that point," she said. "We are already getting on board with where that process is at and I'm excited. And then of course (finding) the community and economic development director — another key staff position. That will be a main focus for a while."
Rayapati said she also is eager to hear from the Urban Land Institute, an advisory group the city is working with to determine a use for the reclaimed riverfront land around the old I-74 bridge when it comes down. 
"There will be a lot of plates in the air in the beginning," Rayapati said. "Then building relationships with the council members who will continue to serve and building our organizational culture. That's all really important. 
"I will be focusing on the teamwork that I'm known for."
Rayapati has a head start on building that team. 
On Tuesday, James Patrick Schmidt defeated incumbent Alderman at-large Sonia Berg; Alvaro Macias defeated incumbent 2nd Ward Alderman David Parker; Matt Timion defeated former 4th Ward Alderman John Zelnio; and Pat O'Brien beat out incumbent 6th Ward Alderman Kevin Schoonmaker. 
Rayapati, Schmidt, Macias and Timion formed a partnership early in their campaigns, often knocking on doors and holding get-out-the-vote rallies together. 
"I have so enjoyed getting to know these gentlemen and appreciate all the gifts they bring," Rayapati said. "In any team situation, you always want to find out what somebody's strengths are and make sure they contribute that to the decision-making process. That's the kind of work we did for all of these months.
"When you put all that together, you really can accomplish some great things. Our win is proof of that. We are excited to bring that to the council as a whole."