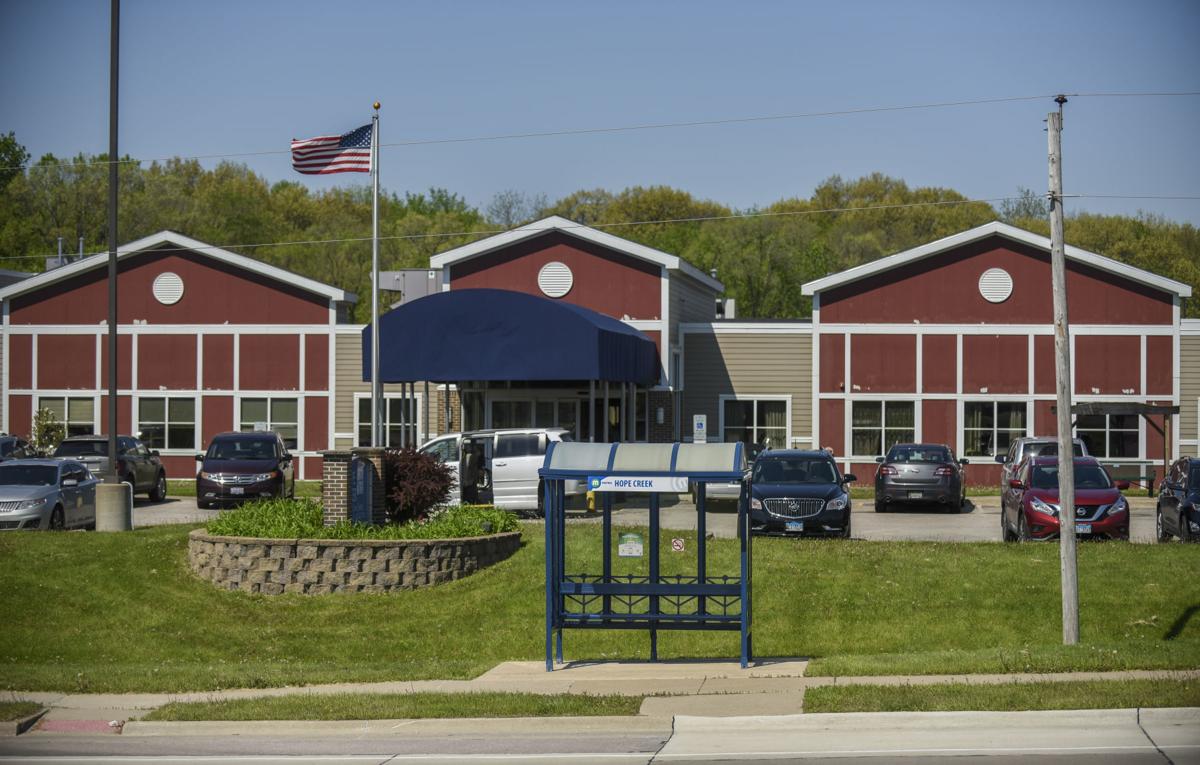 ROCK ISLAND — Hope Creek Care Center will be placed on the market for $19 million, barely enough to cover its current debt of $19.5 million, of which $12 million is mortgage debt and $7.5 million is short-term loan debt. 
Members of Rock Island County's governance, health and administration committee at a Monday meeting approved an agreement with Milwaukee real estate brokerage company Marcus & Millichap, which will market the county-owned nursing home at 4343 Kennedy Drive in East Moline. County board members will vote on the agreement during Wednesday's committee of the whole meeting. 
Ray Giannini, senior marketing director for Marcus & Millichap, told committee members he expects to get several offers for the nursing home. 
"It's a seller's market," Giannini said. "Newer facilities like this don't come available very often. Even though it's losing money, I still think there is good potential. I think we're going to get multiple offers.
"It's a beautiful facility. Nothing else out there is 2007 construction," Giannini said. "I walked through the facility. The sun was shining; it's got a two-story dining room. Most nursing facilities were built in the '60s and '70s with an addition. But this is new, state-of-the-art, sexy stuff. If a facility can be sexy, this is sexy."
Committee members Lauren Boswell-Loftin and Pat O'Brien voted against advancing the matter to the full board.
"I want to see the county keep the nursing home," O'Brien said. "I feel when it goes into a for-profit situation, that's going to affect the care of the people. I've been through it with my parents. I've seen them go into a private nursing home, and those places are all about profit. I'm still not convinced it is the best thing for the (residents) and the people who can't take care of themselves."
Boswell-Loftin said she also wants to keep Hope Creek under county ownership.  
Giannini said he expects a new buyer can turn Hope Creek's finances around and make it profitable in about one and a half years. 
"We think Hope Creek is certainly the nicest facility in town in terms of its physical plant; it's a premier facility," Giannini said. "There's no reason that someone buying it shouldn't be able to succeed. We've had erosion with the census, but this will continue to be the premier facility in the Quad-Cities.
"It's a very appealing facility. We should have no problem selling it and putting this in the hands of someone who will operate it and continue with your legacy of high-quality care."
County Administrator Jim Snider said he expects the process to take about six months. Once a suitable buyer has submitted a contract for Hope Creek, it will take a two-thirds super majority of county board members to approve the sale.
Brian Vyncke, chairman of the GHA committee, said the number of board members needed for approval of a purchase contract would be 17. Any board members absent would be counted as opposing votes. 
Snider said if two-thirds of board members do not approve the sale, a termination fee of $50,000 must be paid to Marcus & Millichap. If the sale goes through, the company will collect a 2.5% commission if the sale price is more than $15 million. A sale price of $10 million to $15 million will generate a 2% commission. 
Giannini said he has been with Marcus & Millichap since 1997 and has sold more than $600 million in real estate in the senior care and senior housing market. Half of that amount has been related to selling skilled nursing facilities, he said. 
"With (Giannini's) expertise and ability to market the home, we'll be able to count on a sale coming our way," Snider said. 
"If it's such a great facility, can we get more (than $19 million)?" O'Brien asked. 
"I think that's the maximum," Giannini said. "I don't see this facility being sold for less than $12 million."
Giannini said the $19 million price tag would be enough to cover all of the mortgage debt and transfers from county funds that covered shortfalls. 
The 140,000-square-foot facility sits on 12.5 acres and is licensed for 245 beds. According to a financial analysis by Marcus & Millichap, Hope Creek generates $10.6 million in annual revenue, but has $13.2 million in expenses. 
Giannini said it would be unlikely for the new owner of Hope Creek to dismiss any of the current staff. 
"A buyer who comes in is going to urge them to stay at the facility," Giannini said. "I don't see a lot changing. An LPN, RN, all of the qualified staff have many, many choices. They can literally get up and walk away and get hired somewhere (else) the same day. It's a critical function to keep the staff and keep them happy." 
Administrator leaving
Also on Monday, Snider told committee members Roger Herman, Hope Creek's interim administrator, has submitted his resignation. His last day will be Sept. 19.
Herman began March 15 as the interim administrator, taking over for Cassie Baker, who resigned Feb. 15. Snider said Herman was offered a better opportunity closer to home. 
"(Herman) has done a tremendous job of stabilizing the operation out there," Snider said. "It's going to be a challenge for us to replace Roger. The board has made a commitment to hire professionals and not just go with those who are new to the industry."
Snider said he is reviewing resumes and will soon interview two candidates who are qualified for the position.