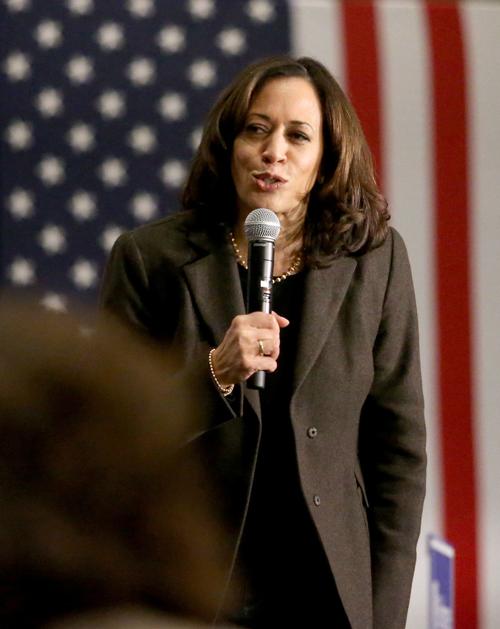 Mayberry will serve as Iowa deputy political director in charge of African American outreach.
The Harris campaign made the announcement Wednesday. It also announced that an African American Steering Committee has been organized in Iowa made up of African American leaders from across the state.
Mayberry posted a screenshot of Harris' announcement on her Instagram account Wednesday. 
"So thrilled to be joining the Kamala Harris campaign here in Iowa!" she wrote. 
Mayberry resigned her seat from the county board Monday and announced she had also resigned her position as associate attorney with the Rock Island law firm of Pappas O'Connor PC, where she had worked for more than four years. 
Mayberry said Thursday she was looking forward to the new opportunity. 
"It's something I'm really excited to be part of and to help facilitate," she said. "I'll be continuing work on the campaign that has been going on since Day One here in Iowa. Sen. Harris has been committed to this since Day One. 
You have free articles remaining.
"We are going to be bringing people into the campaign to engage with communities of color and those communities who haven't always been engaged in meaningful ways." 
Mayberry said she will be based out of Des Moines but will travel around the state as needed. 
"I'm very excited to be here," she said. "Kamala is a candidate who has been fighting for these communities of color, and I'm very excited to be part of the campaign."
Derek Jones, Rock Island County Democratic Party chair, said the Harris campaign made the right choice in hiring Mayberry. 
"No matter who you support in the Democratic presidential primary race, former county board member Mia Mayberry was put in an important position where she will exceed every expectation Sen. Harris has of her," Jones said. "She is going to do wonderful things and has a bright future ahead of her. She has been a wonderful representative of the community, and she will carry that with her throughout Iowa during the campaign."
Locally, the Harris campaign also recruited Iowa State Rep. Phyllis Thede, D-Davenport, who will be on the African American Steering Committee. 
A Harris campaign spokesperson said Harris has made "engaging communities of color a key priority of her campaign, and is committed to expanding the caucus electorate to include communities that have not always had a seat at the table."
Deidre DeJear, Harris' Iowa campaign chair, said in a release that the creation of an African American Steering Committee aligns with the values of Harris. 
"We are fully committed to running a campaign that embodies the values that Sen. Harris holds," DeJear said. "We are better as a country when more people are included, and our team has made meaningful, continued engagement with communities of color a top priority throughout this race."