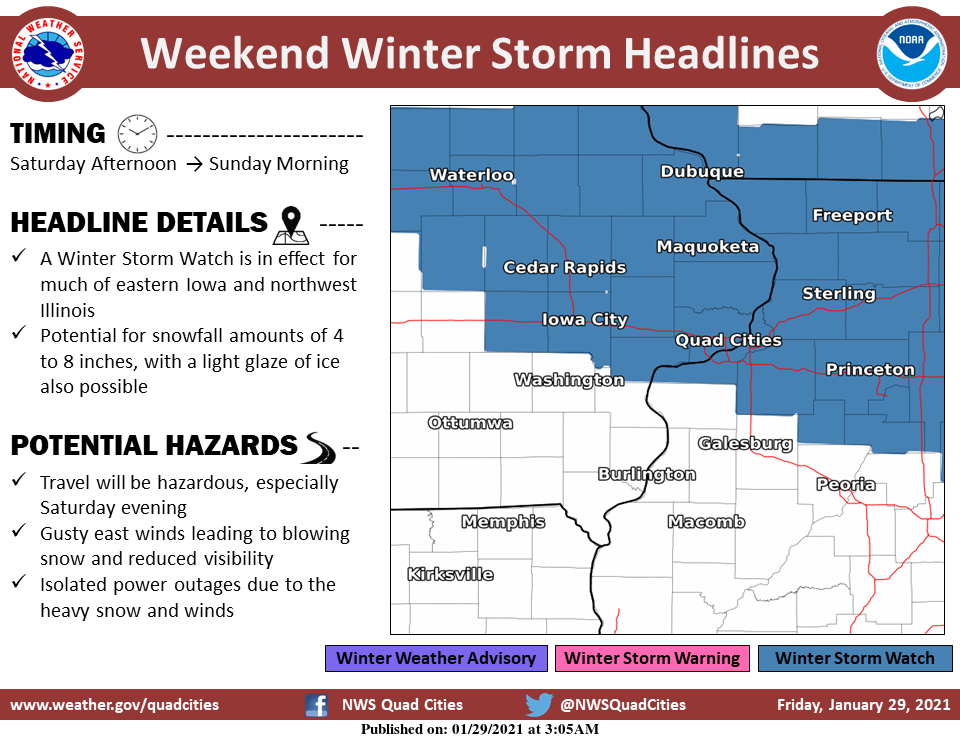 A winter storm is forecast to move across much of the area this weekend, and will have the potential to bring greater than 6 inches of snow, a little ice and gusty winds. 
A National Winter Service Winter Storm Watch goes into effect at 3 p.m. Saturday and will in effect until 3 p.m., Sunday.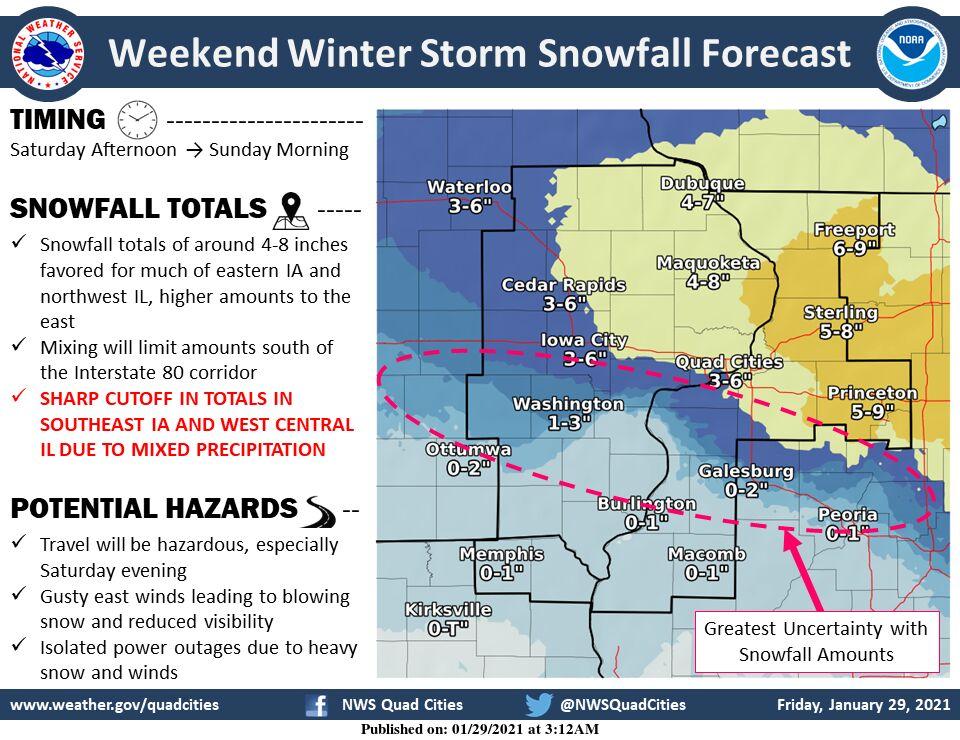 Storm details
WHAT: Heavy mixed precipitation possible. Total snow accumulations of 4 to 8 inches are favored mainly along and north of Interstate 80, and ice accumulations of a light glaze possible.
WHERE: Portions of east central and northeast Iowa and north central and northwest Illinois.
WHEN: From Saturday afternoon through Sunday morning.
IMPACTS: Travel could be very difficult.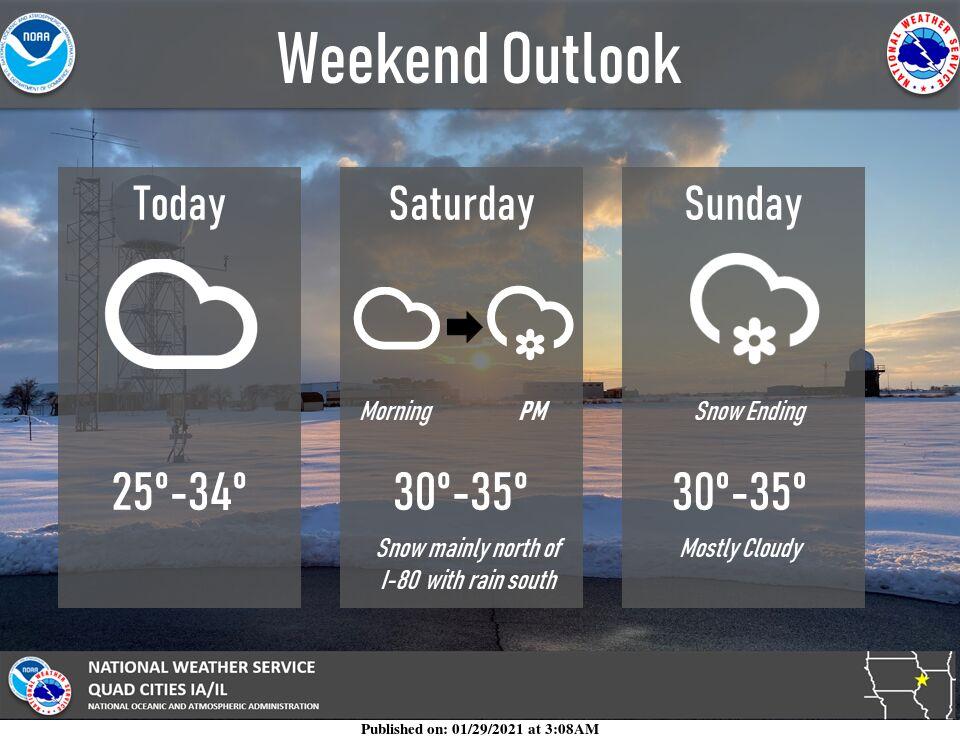 Today will be partly sunny with a high near 30 degrees and a low around 25 degrees.
Saturday there is a chance of rain and snow before 2 p.m., rain and snow, possibly mixed with freezing rain between 2 p.m. and 5 p.m., then snow after 5 p.m. The high will be near 34 degrees. It will be breezy with a southeast wind between 15 to 20 mph. The chance of precipitation is 100% with little or no ice accumulation expected. New snow accumulation of 1 to 2 inches possible.
Saturday night: Snow is likely and could be heavy at times. The low will be around 31 degrees. It will be breezy with an east wind  between 15 to 20 mph. The chance of precipitation is 100% with new snow accumulation of 3 to 5 inches possible.
Sunday: Snow is likely before noon. Skies will be cloudy with a high near 34 degrees. The chance of precipitation is 60% with new snow accumulation of less than a half inch possible.
Sunday night will be mostly cloudy with a low around 21 degrees.
The opportunity to start the two-dose COVID-19 vaccination will once again expand, as Phase 1B vaccinations start in Scott County and Rock Island County restarts its public health vaccination clinic at the Greater Q-C Auto Auction in Milan.
A plane being used in a training exercise was damaged Thursday when a wing clipped a snowbank while landing at the Davenport Municipal Airport, Sarah Ott, Chief Strategy Officer for the City of Davenport said in a news release.
DES MOINES — In addition to electing a U.S. senator and governor in November 2022, Iowa voters will be asked to amend the state constitution to give gun rights more protection from legal challenges.
More on the coronavirus in the Quad-Cities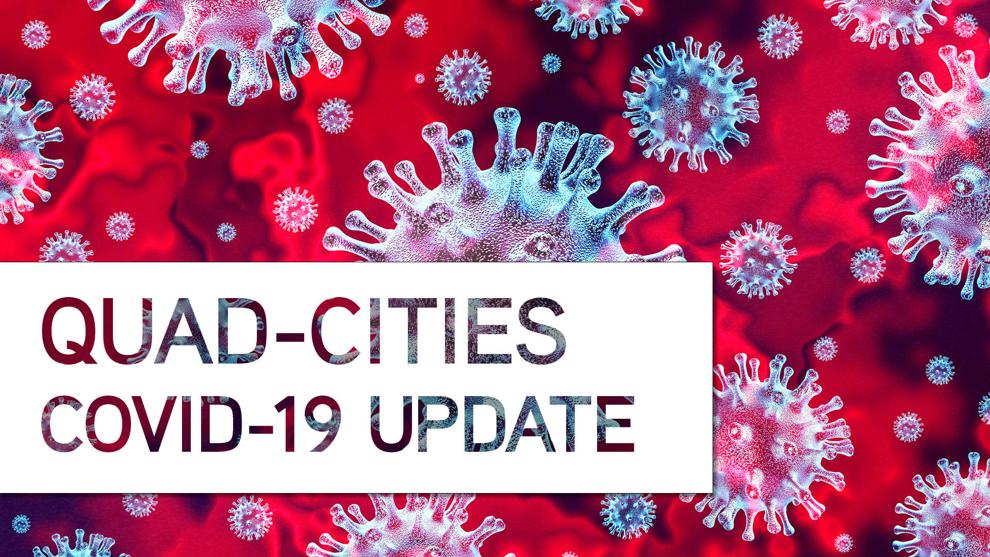 Today's lifestyle, entertainment headlines
Q: I'm 23 years old and just got out of college. I bought my first small house and am about to remodel my basement. The previous owners of the house glued 2-inch thick foam insulation to the poured concrete walls. It's got an aluminum foil face on it. Then they covered that with an open-cell foam board that's 3/4-inch thick.
A night that started ominously ended in celebration for the Augustana College women's basketball team Thursday evening.
In 2020, Evan Forker was in Davenport Assumption's wrestling room and in the lineup at 182 pounds.
Iowa junior Connor McCaffery vividly remembers the day last summer when he heard that both Ayo Dosunmu and Kofi Cockburn were going to pull out of the NBA draft and return to Illinois for another season.