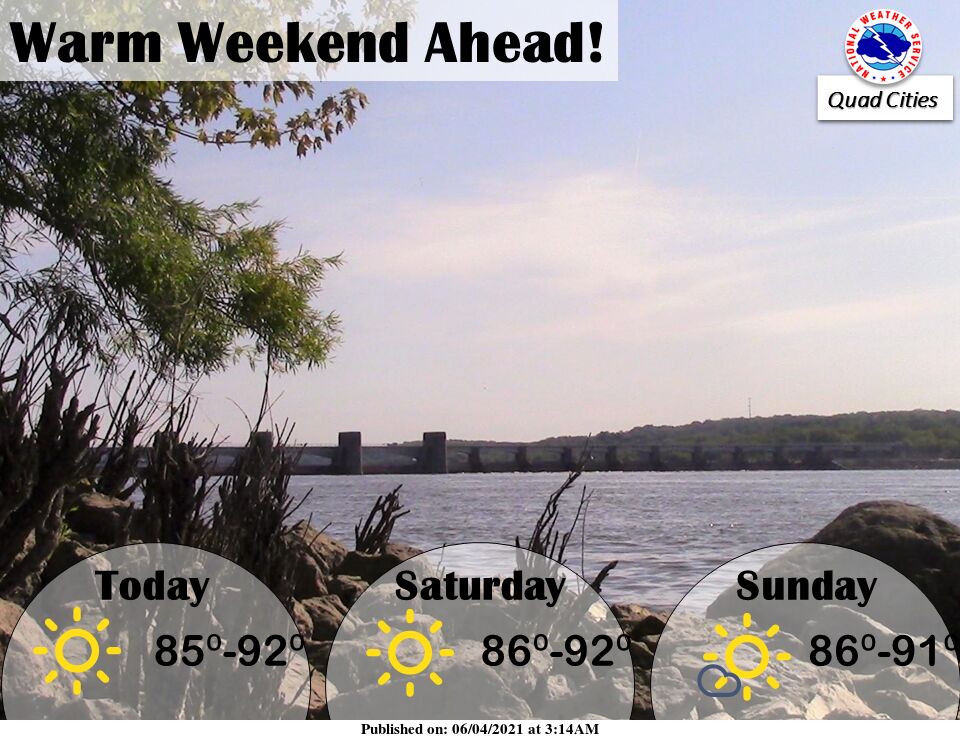 If you like your weather hot and dry, this weekend is made for you. We're looking at the hottest temps of the year with no rain in the forecast.
Here's the weather details from the National Weather Service.
Today will be sunny with a high near 91 degrees and a low around 67 degrees. West winds between 10 to 15 mph will gust as high as 20 mph.
Saturday will be sunny with a high near 90 degrees and a low around 68 degrees. Winds will gust as high as 20 mph.
Sunday will bring more sun with a high near 89 degrees and a low around 70 degrees.
One source of renewable energy has proven to be too expensive for the city of Rock Island. 
From beer to Super Bowl tickets, retailers are finding ways to incentivize COVID-19 vaccinations
The Quad Cities Cultural Trust and its funded partner agencies are putting on a street festival to celebrate raising $32 million. 
Crime, courts and public safety news
A bicyclist was struck and killed Thursday by a speeding motorist in a red SUV at Kimberly Road and Davenport Avenue, near Runge Mortuary and Crematory.
Gun violence, vehicle thefts and juvenile crime were the lead topics Thursday as Davenport Mayor Mike Matson held the first in a series of listening sessions at the Davenport Public Library's Eastern Avenue Branch.
A 74-year-old Bettendorf man is facing charges that he improperly touched a child.
Livestyle, entertainment headlines
Even near death, Stephen King gets ideas for stories.
The two-day celebration will include drag and musical performances, educational sessions, and a COVID-19 vaccination clinic. 
The Rhubarb Fest's main events will run from 9 a.m. to 4 p.m. Friday and Saturday. 
Today's top sports stories
The Geneseo girls track and field team showed depth and dominance in winning the Class 2A Geneseo Sectional title on Thursday.
Moline's Corynn Holmes qualified for state in the high jump, 110 hurdles and 300 hurdles, punching her ticket down to the IHSA 3A state meet in Charleston next Saturday.
Pleasant Valley knocked off Johnston 1-0 on Thursday to reach its first state soccer final in program history.