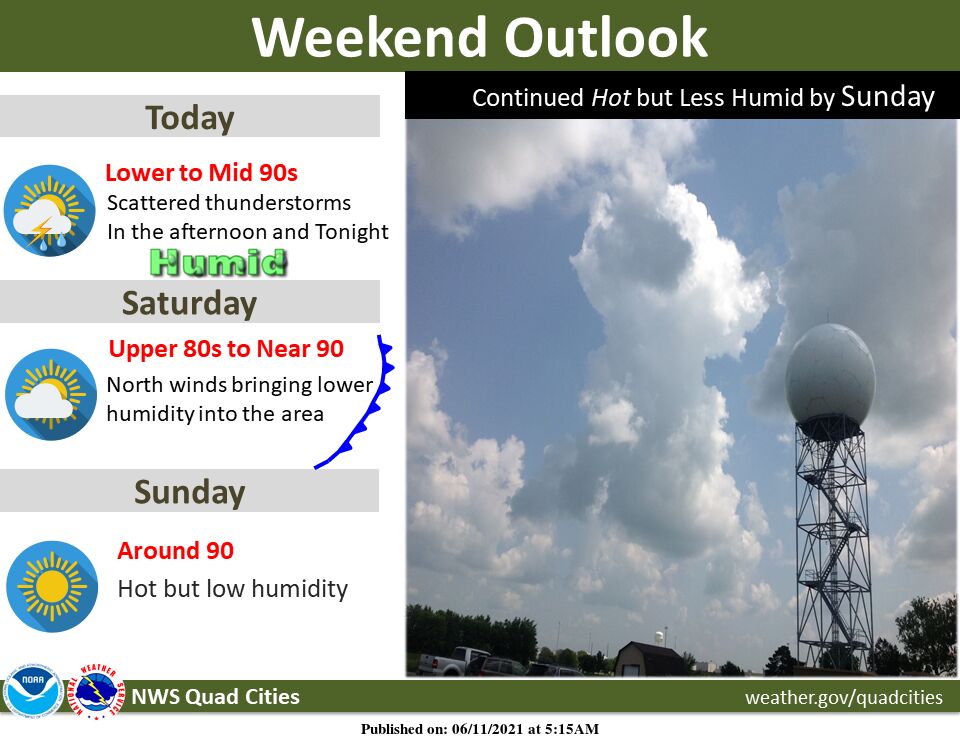 If you have been enjoying our latest heat wave, today is for you. We're looking at our hottest day of the year along with heat-index values near 100 degrees.
According to a National Weather Service Hazardous Weather Outlook there is a chance of thunderstorms this afternoon and tonight with the main threats from any storms being lightning, gusty winds, and torrential downpours.
And it will remain hot and humid today with afternoon heat indices topping out in the mid 90s to near 100 degrees.
Here is the weekend forecast from the National Weather Service.
There's a 20% chance of showers and thunderstorms after 2 p.m. Skies will be mostly sunny with a high near 93 degrees.
Tonight there's a 40% chance of showers and thunderstorms after 10 p.m. Skies will be mostly cloudy with a low around 73 degrees.
Saturday: There's a 20% chance of showers and thunderstorms before 4 p.m. Skies will be mostly sunny with a high near 89 degrees and a low around 65 degrees. North winds between 5 to 15 mph will gust as high as 20 mph.
Sunday: It will be sunny with a high near 90 degrees and a low around 66 degrees.
Tips for beating the heat
Each year in the United States, more than 600 deaths are attributed to excessive natural heat. Many of the deaths are preventable.
Genesis Medical Center emergency physician David Dierks, D.O., offers these tips to avoid being a victim of the heat:
• Stay out of the heat when possible. The young and old are particularly vulnerable. People with other chronic conditions, for example, heart disease, mental health conditions, asthma and high blood pressure are also at higher risk for heat illnesses.
• Make certain you don't leave small children or pets in a vehicle. Temperatures can rise quickly to fatal ranges. One tip is to put something vital to your day in the back seat with a child, including a phone, a shoe or work materials. Newer vehicles now have warnings about checking the back seats.
• Eat smaller meals, but eat more frequently.
• Check on elderly and sick friends, neighbors and relatives several times a day during a hot spell.
• Drink plenty of water, particularly when exercising or working outdoors. One guideline is 8 ounces of water for every 20 minutes of outdoor activity.
• When possible, complete outdoor work either early in the day or late in the day.
• If you go out to walk, jog or bike ride, take a phone. If get into trouble, call for help.
• Avoid alcohol and caffeine drinks. Both act as diuretics and speed up the loss of fluid.
• Make sure children take breaks from outdoor activity. Take a break from outside activity during the hottest part of the day to play games, or watch a movie together inside.
• Take care of your skin if you are outdoors. Use a sunscreen with an SPF of 15 or higher and wear a wide-brimmed hat. Reapply sunscreen frequently, especially if you are swimming.
• Seek shade or air conditioning if you begin to feel dizzy or nauseous.
• Seek medical treatment immediately if you are disoriented, have a high body temperature, are vomiting, or have stopped perspiring.
Symptoms of heat exhaustion include cool, moist, pale, or flushed skin; heavy sweating; headache; nausea or vomiting; dizziness; and exhaustion. Body temperature may be normal, or is likely to be rising.
Symptoms of heat stroke include hot, red skin; changes in consciousness; rapid, weak pulse; and rapid, shallow breathing. Body temperature can be 105 degrees F or higher. If the ill person was sweating from heavy work or exercise, skin may be wet; otherwise, it will feel dry.
• Traffic alerts: Avenue of the Cities to close today in Moline
The city of Moline reports that westbound Avenue of the Cities from 18th Street A to 19th Street, will be closed to traffic beginning today and continuing until August.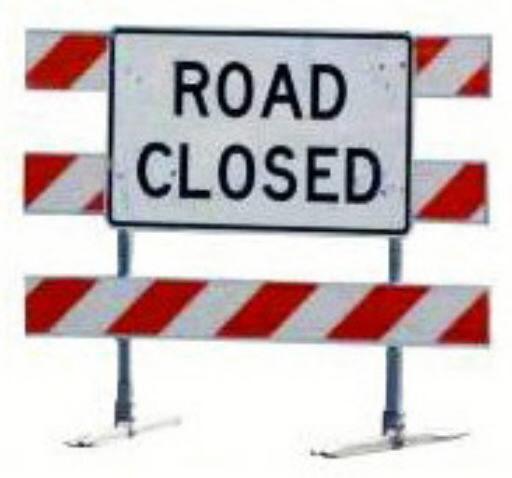 This closure is to facilitate the installation of a new sanitary sewer. Message boards are in place notifying the traveling public of any changes in traffic. Detour signage will be in place.
Delays are expected while the work is being completed.
Drivers are encouraged to plan ahead and use an alternate route.
• Also beginning today, 42nd Street between State (U.S. 67) and Elm streets in Bettendorf will be closed to all thru traffic for rail crossing repairs. Access to businesses north of the rail crossing will remain via 42nd Street. Access to properties south of the rail crossing will be via 35th Street and Elm Street from the west.
Repairs are expected to be completed and the street reopened June 14.
Today's top news headlines
Moline city council members unanimously approved an employment contract with incoming City Administrator Bogdan "Bob" Vitas on Tuesday night. Vitas will begin work June 14.
A proposal to require Illinois public schools to give standardized tests three times during the next academic year has been put on pause to give educators and parents more time to weigh in, officials said Thursday.
Crime, courts and public safety news
Latest: The Eldridge Police Department has released the name of the person fatally shot Thursday in the 300 block of W. Davenport Street. 
Troopers with the Iowa State Patrol during patrols Thursday night in Davenport recovered a Ford Focus that had been stolen out of Rock Island. 
Bettendorf firefighters responded to a house Wednesday night on Moencks Road.
Lifestyle and entertainment headlines
New coffee shops have been opening up all over the Quad Cities, just in time for summer. 
Unbeknownst to me, today's cool kids have rediscovered esoteric little bands from my youth, and those hard-to-find albums are now in heavy rotation on Spotify.
Davenport North student graduated with a high diploma and two college associate degrees.
Today's top sports headlines
In a meet delayed nearly an hour when lightning spotted nearby, the ensuing rainstorm made for slick surfaces in the field events at Thursday's Class 3A Rock Island Sectional boys track and field meet.
The extreme heat and humidity didn't stop the local competition from collecting medals at Thursday's Class 1A state girls track and field meet.
Sherrard distance runner Mattie Kindelsperger takes the 3200 Class 1A state championship on Thursday with a time of 11:19.35.