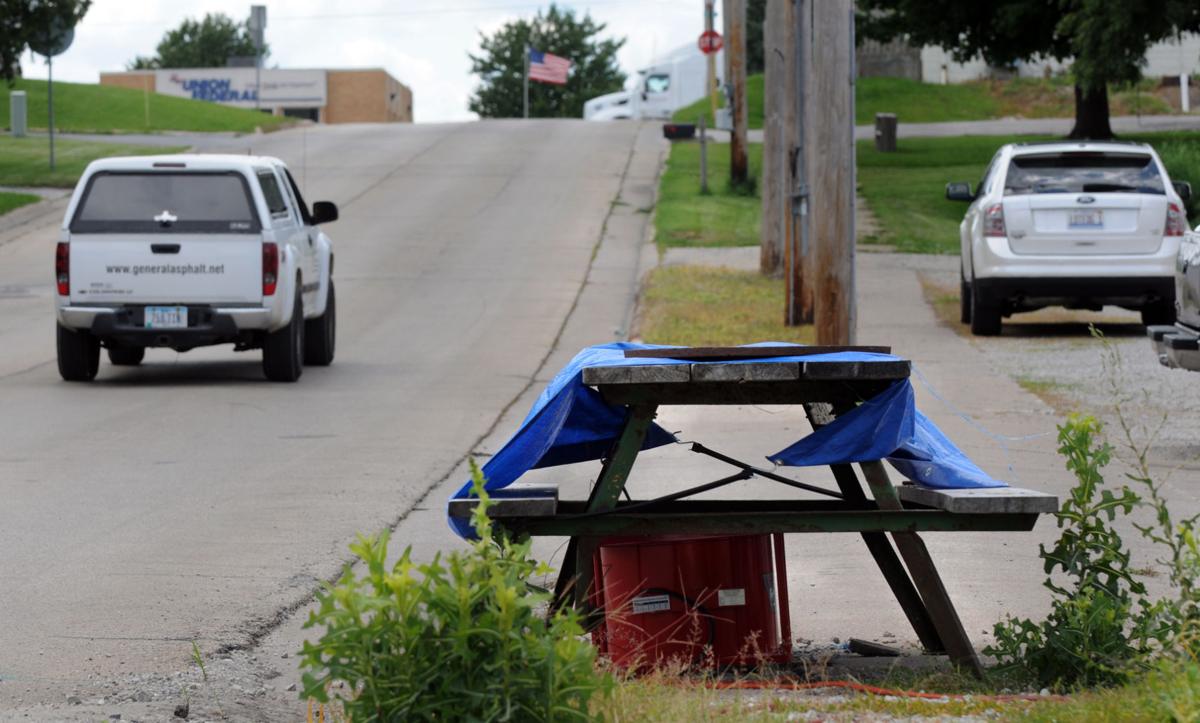 ORION — The Darren Brown family's health and home is in the hands of an exhaust fan sitting above an open manhole, covered by a picnic table and a tarp.
It is a "temporary" setup the Village of Orion installed on 11th Avenue roughly five years ago to remove gas and sewage fumes from a busted sewer line. Without the fan, fumes would seep into the Brown house and others, so it must be plugged into a power source 24 hours per day, year round.
The problem originated nearly 20 years ago, one that Mr. Brown was unaware of before moving into his home in 2009.
"That's what's frustrating to me. They knew about this in 1995, and I bought my house in 2009," he said.
Though neighbors have reported smelling the fumes in their homes from time to time, Mr. Brown said his is made worse because his basement is waterproofed, causing the fumes of whatever gas still is in the groundwater under his foundation to seep up.
He said the village convinced his next-door neighbor, who was smelling fumes as well, to pour cement in her basement drain. But if her basement were to take on water, there would be nowhere for it to go, which is why he was not so keen to follow the same advice.
"They wanted me to do the same thing, and I told them, 'No I'm not doing that to my house. Why don't you just pay to fix the problem in the city?'" he said.
According to Jim Larson, owner of Larson Body Shop, problems initially arose when the former Corner Express -- now Orion Mart -- had a gas tank leak underground. The tanks have since been fixed, but gasoline still was able to seep into the groundwater. From there the gas made its way into broken sewer lines, thus creating the current issue.
The setup sits right in front of Mr. Larson's shop. Not only does he say it is an eyesore for his business, but when the fan blows the fumes into the air, they end up right back in his shop.
"Try working in my shop on a hot day when the wind's out of the south and that things blowing sewer up," he said. "This whole building smells like sewer."
Mr. Larson -- who has been at that location at 109 11th Ave. for 23 years -- went on to explain the original leak was fixed once, but not properly, so the problem just came back. And now this temporary solution still is standing half a decade later, which has both men asking the same question.
When is the problem going to be fixed?
According to Hernando Albarracin, manager of the Leaking Underground Storage Tank Section at the Illinois Environmental Protection Agency, a corrective action plan was approved by the EPA earlier this year, something Mr. Brown feels is something he should have been informed of.
"It'd just be nice to get updates," he said.
The plan is a multi-phase process, with the first step supposedly taking place in mid-July. Initially the EPA will collect soil samples from the affected area or "on-site", then they will check the gas levels in the surrounding areas or "off-site" and then determine a solution. Mr. Albarracin said this will most likely be to inject chemicals into the ground to break down the hydrocarbons in the gas.
Though it has taken nearly two decades for anyone to come up with a real solution, he says this is not uncommon when dealing with old storage tanks. In fact, since the Orion problem began, the EPA has had about 27,000 cases like this in Illinois. Of that, 21,000 have been closed.
But Mr. Albarracin does agree with Mr. Larson that the original problem was not fixed properly. He said that many towns think they have solved the issue, and do not report any more information to the EPA, then when the problem resurfaces, the entire process must begin again.
"This case is part of that chunk of sites where people do some work and then they stop. And then some people think they're done," Mr. Albarracin said.
According to him, this combined with the boom of cases is what turned this into a 20-year ordeal. And for a quarter of that time, Mr. Brown and his family have had to live with that.
They have had to flat out pack up and leave the house roughly five or six times, and stay with relatives for days, because of the fumes. The most memorable time he said was after a snowplow unplugged the fan on Christmas Eve several years back.
"We came back home on Christmas Eve, and I'm like, 'We're going to stay here. The kids are going to wake up Christmas morning in the house,'" he said.
From there he walked down into the basement and could immediately smell the fumes, so right away he had to call up Village President Jim Cooper. "I probably could have walked right down there, but I wanted him to know this problem ruined Christmas Eve."
He has not had any issues with the gas fumes for awhile, and luckily neither he, his wife, or two young daughters have suffered any health problems from them either. And though the gas levels are not high enough for there to be any worry of fires or explosions, it still has not been the most ideal of living situations for him and his family.
And even after all he has been through, he is not looking for any settlement or to fight the city. He just wants an actual solution.
"All I want is it to be fixed," he said. "It just seems like there is a better solution than just a fan."
Mr. Cooper, along with village trustee Robert O'Leary, were both contacted, and had no comment on the subject.
Get local news delivered to your inbox!
Subscribe to our Daily Headlines newsletter.