BETTENDORF — It is 7:20 a.m. on a cold February morning, and the Bowman household is a blur of activity.
Kristy Bowman, 40, is already dressed for work and is busy getting her two children ready for school at Pleasant View Elementary.
Bowman, along with her husband, Tom Bowman, juggles the demands of working a full-time first-shift job and a full slate of family activities while taking care of her children, dog Oskar, the family home, and all the responsibilities they bring. 
Bowman works full time as a systems coordinator for Von Maur at the Davenport headquarters of the chain of department stores. She has been with the company for nearly 19 years and acts as a liaison between the information technology department and buyers for the stores. 
"I keep my sanity by having a great husband," Bowman says. "I have a great employer that makes it easier to balance work and my home life." She adds that "having a great support system of friends, neighbors and family" also helps her.
Daughter Maggie, 10, is eating toast at the dining room table. Across from her is her brother, Tyler, 8, who is having a bowl of cereal with a banana on the side.
Framed family photos adorn the walls of the tidy living and family rooms, and cover the front of the refrigerator. A bookshelf next to a brick fireplace holds more photos, family mementos and sports trophies. 
Oskar, a 1-year-old miniature schnauzer, grabs a winter glove in his mouth and lures the kids away from breakfast for a lively game of chase. 
"Oskar is still a puppy, so we have lots of sock chasing, hat chasing and glove chasing," Bowman says. 
"Tyler gets distracted; he has a list of things he has to do each morning," Bowman says. "Maggie is pretty self-sufficient. I usually try to get up before the kids so I'm showered and dressed. Tom and I tag-team in the mornings when he is here."
On this morning, Tom already has left for his job as CEO of Community Health Care Inc., overseeing its eight Quad-Cities' locations. 
Tyler runs upstairs to look for something he needs for school. Minutes later, he comes to the top of the stairs, "Mom, where did you put my whoopee cushion?"
"You don't need your whoopee cushion for school," Bowman calls backs. 
"Oskar pooped upstairs!" Tyler shouts. Bowman stops what she is doing, grabs a bottle of spray cleaner and some paper towels, and disappears for a few minutes to tend to the mess. 
"Our goal is to be out of the door by 8 a.m.," Bowman says. "I tell them if they're ready by 8 a.m., I'll drive them to school, which they really enjoy so they can socialize with their friends. But if it's after 8 a.m., they have to take the bus.
"You can always tell what mood I'm in by how loud I talk," Bowman says. "The closer we get to 8 a.m., the louder I talk."
Tyler is directing Amazon's streaming music service, Alexa, to play songs, but calling out random words, hoping there will be a song associated with his word choice. 
"Alexa, play 'Sunflowers With Spiderman,'" Tyler says. An Ariana Grande song begins playing.
"Alexa, play 'Alexa,'" Tyler tries again. 
You have free articles remaining.
The day isn't over once school and work end. Both kids are enrolled in after-school Y-Care and stay there until their mom or dad picks them up. After that, Maggie and Tyler's activities keep the family busy through the week. 
Mondays are spent at Davenport Junior Theater, where Maggie takes acting lessons. On Tuesdays, Tyler participates in wrestling with the Pleasant Valley Wrestling Club, and both kids attend youth group meetings at Heritage Church in Bettendorf.
Wednesdays are busy with softball lessons for Maggie and basketball lessons for Tyler. Maggie takes hitting lessons in Moline, and then heads over to Bettendorf, where she takes lessons from a catching coach.
Thursday is the only weeknight the family has nothing scheduled. 
"That's our free night," Bowman says. "We do homework, reading, and we have a sit-down dinner together. Maybe even a little TV time."
On Fridays, Maggie has softball practice with her travel team, the Midwest Sluggers. Maggie also participates in the Pleasant View choir and meets with her Girl Scout troop once a month after school. 
"We try to squeeze cleaning the house in there when we can; grocery shopping so we have something to eat," Bowman says. "We do a lot of creative meal planning with dinners. Normally my house doesn't look like this." 
The house is spotless; not one thing is out of place. 
"We have Saturdays off, and on Sundays, we have softball practice again." 
"We say Saturdays are off, except we fill them with errands," Maggie kids her mother. 
"Yep, you're right," Bowman agrees. "Saturday is errand day. But as the weather changes, our schedule will change, too. Basketball and wrestling will end, and we'll pick up some other activities. We don't stay still very long in this house. We are go, go, going all the time.
"I grew up with a mom who was very involved as a coach, room mom, chaperone, art mom, etc.," Bowman says. "She knew all the kids at my school. I have so many great memories, and I hope my kids will, too."
"Your breath smells bad, Oskar," Tyler says to the dog, who is following Tyler's every move. 
Bowman makes sure to credit her husband for putting in an equal amount of effort with the family's busy schedule.
"I definitely need Tom's help, as you can see," Bowman says. "It's not a one-man show over here. We need two hands on deck for this family. It's all about finding what works."
It's nearly 8 a.m. and time to go. The kids grab their backpacks and Bowman gets her things. 
"Oskar! You have another glove!" Tyler says. 
Maggie shakes a bag of doggie treats in front of Oskar, who drops the glove. Bowman shoos Oskar into his dog crate, and the family files out the door for another busy day. 
Progress: Mornings with the Bowman family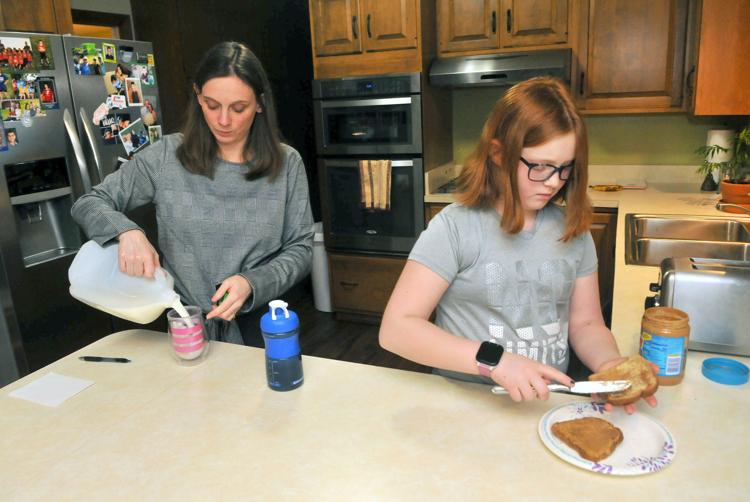 Progress: Mornings with the Bowman family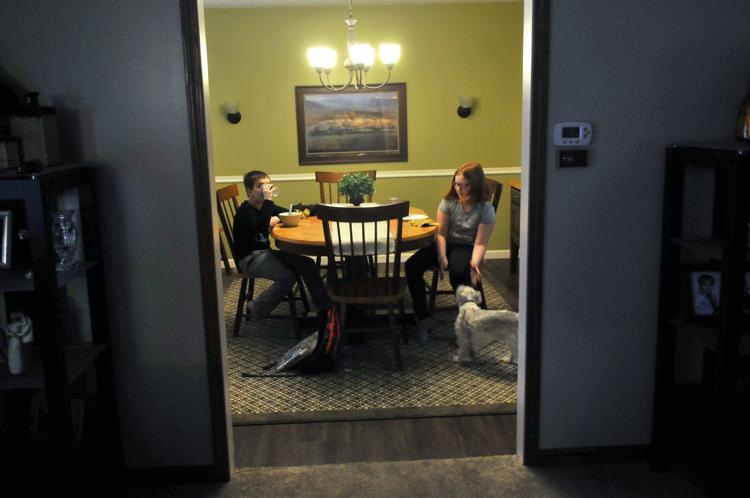 Progress: Mornings with the Bowman family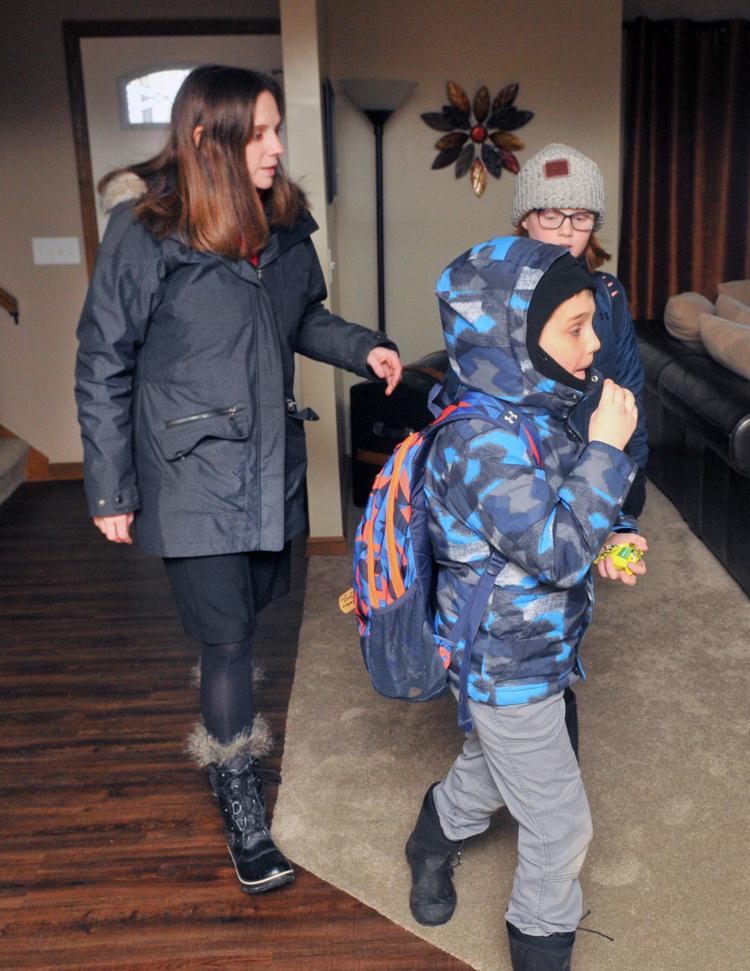 Progress: Mornings with the Bowman family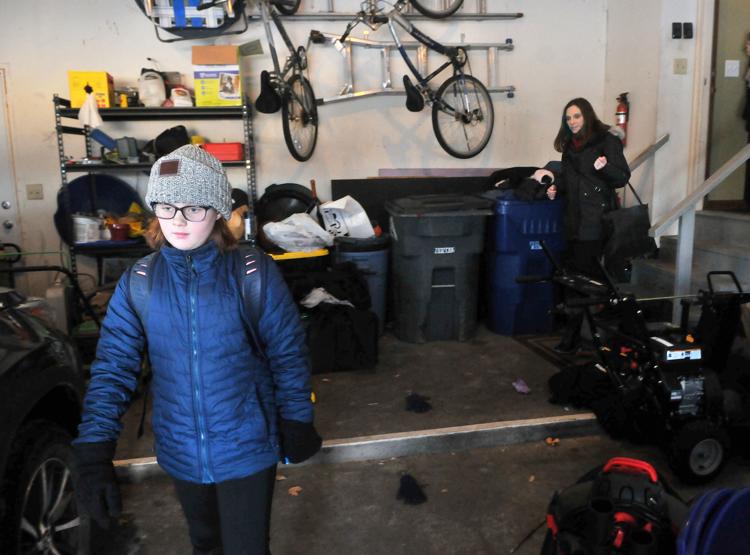 Progress: Mornings with the Bowman family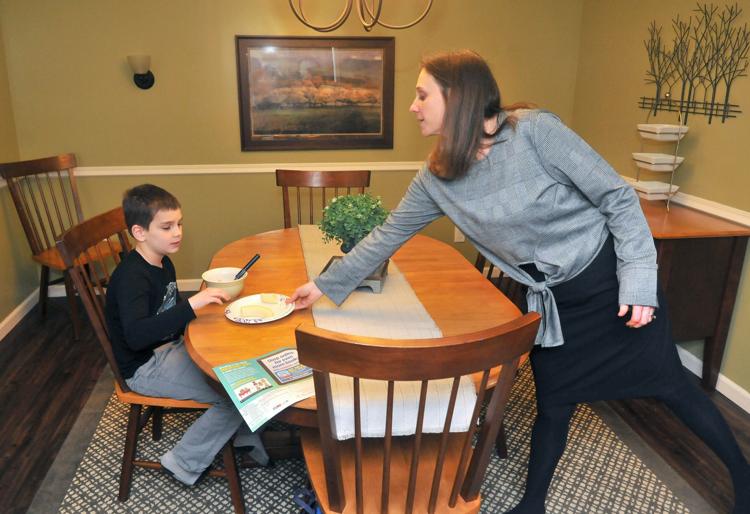 Progress: Mornings with the Bowman family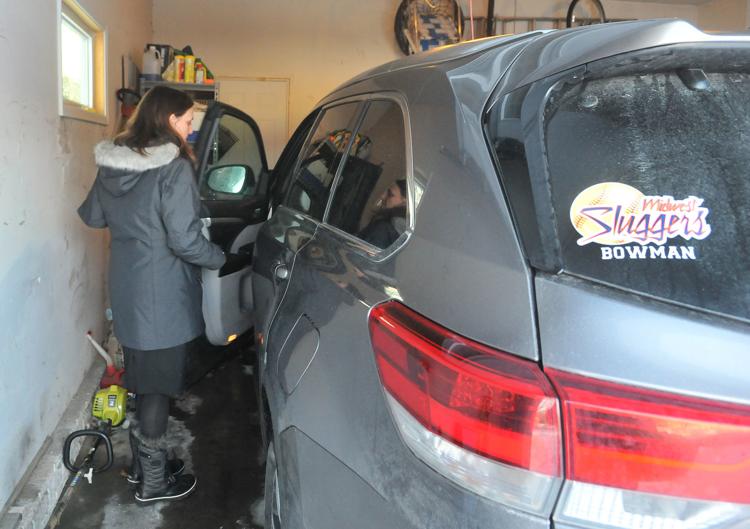 Progress: Mornings with the Bowman family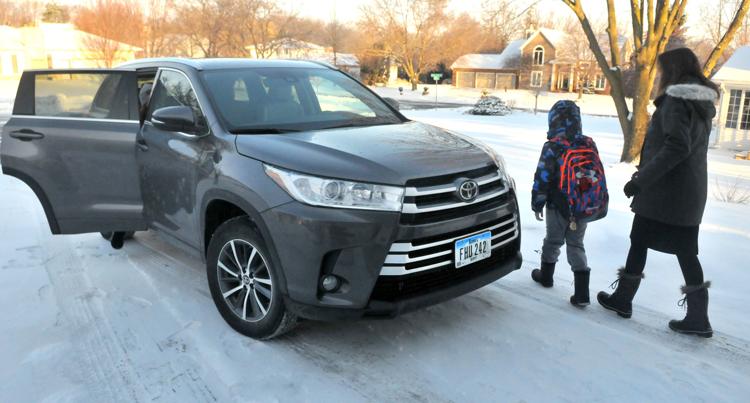 Progress: Mornings with the Bowman family