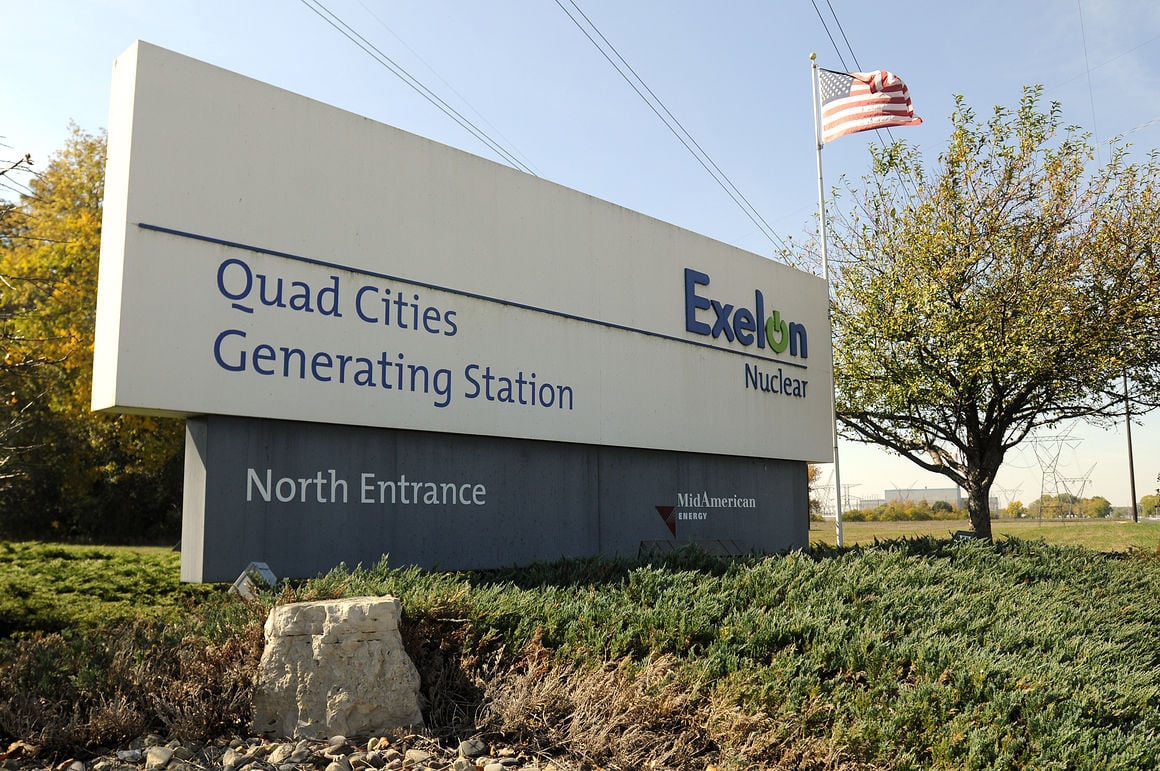 CORDOVA — Exelon officials announced Wednesday that they plan to hire more than 400 people to fast track multiple capital projects at the Quad Cities Generating Station near Cordova and its Clinton, Ill.  nuclear power plant.
The announcement comes one week after Gov. Bruce Rauner signed the Future Energy Jobs Bill into law at Riverdale High School near Port Byron and similar ceremonies in Clinton, Ill.
"Opponents of the Future Energy Jobs Bill called it a bailout, but that's a ridiculous argument," said Rory Washburn, executive director of the Quad Cities area's Tri City Building Trades Council. "This legislation is already creating good paying jobs for Illinois families and leveling the playing field so our safe and well run nuclear facilities can compete fairly with other subsidized sources of clean energy."
The Quad Cities project list includes installing a hardened venting system, plant computer upgrades and enhancements to the control room simulator, which is used to train reactor operators. The Clinton list includes upgrades to the plant's main generator, replacing an auxiliary transformer and upgrades to a pump motor that controls water flow outside the reactor.
You have free articles remaining.
The projects, and others, were cancelled or put on hold in May after Exelon announced plans to close the Clinton plant in 2017 and the Cordova plant in 2018 if state subsidies were not approved.
On Dec. 1, the General Assembly passed legislation that keeps both plants open for at least 10 years and provides Exelon with $235 million a year as a reward for the carbon-free energy its nuclear reactors produce which Exelon said it was just as entitled to as wind and solar power industries. Gov. Rauner signed the bill on Dec. 7.
"Now that it's been enacted into law, the Future Energy Jobs Bill is already starting to create jobs and economic growth for Illinois families and businesses," said Bryan Hanson, Exelon Generation's Chief Nuclear Officer.
"These plants are massive economic engines in their local communities, generating approximately $1.2 billion in economic impact each year," he said. "That will only increase once we get these large capital projects underway."
Exelon officials on Wednesday said the 400 new permanent employees are in addition to more than 3,000 electricians, pipe fitters, welders, laborers and contractors hired each year to perform refueling outages at the plants. Many of these workers come from local union halls.
"The Future Energy Jobs Bill is wonderful news for area businesses," said Marian Brisard, executive director of the Clinton Area Chamber of Commerce. "Restarting these capital projects will bring new jobs, millions in local purchasing and heavy foot traffic back to area retailers."