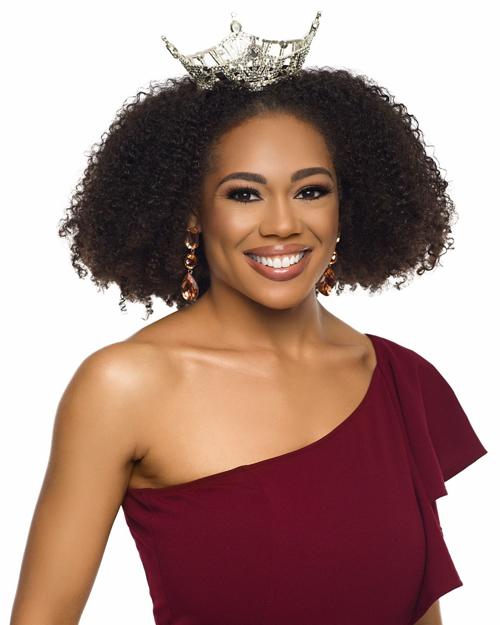 ROCK ISLAND — Mikhayla Hughes-Shaw, a 2015 Rocky alumnus and Miss Iowa 2018, will share a message of hope with Rock Island High School students on Monday.
The mental health advocate was invited to speak to students by the high school and the group SPARK, Suicide Prevention and Resilient Kids. Rock Island-Milan school board member Marji Boeye, SPARK co-founder, said every Rocky student will get a chance to hear Hughes-Shaw's message during two afternoon assemblies Monday. The Rocky Riveters Club will host a meet and greet reception for students and the public 3:30-4:30 p.m. in the cafeteria.
Boeye said she believes the assemblies will be meaningful to students.
"I hope they are inspired by a Rocky grad doing some great things, first and foremost," she said. "I just hope everyone is able to come away with a feeling of hope, encouraging people to be kind, and anything that's encouraging for students."
Hughes-Shaw's advocacy organization is titled "How About H.O.P.E." H.O.P.E. stands for Helping Others and Providing Encouragement, with the aim of creating and sustaining conversations on mental health and suicide.
On her website, mikhaylahughesshaw.com, she shared she experienced overwhelming depression and suicidal thoughts when she was 17. Help from Rock Island-based Royal Neighbors of America allowed her to found her organization focused on why a stigma remains around mental illness.
On her personal website, Hughes-Shaw shares information and some of her work as a multimedia journalist. The University of Iowa student is pursuing a degree in journalism and mass communication with a certificate in critical cultural competence.
She was selected Miss Iowa 2018 under the Miss Iowa Scholarship Program after being crowned Miss Wild Rose and Miss Clinton County in 2017. She also is a violinist and senior assistant editor of LOVE Girls Magazine.
Her suicide awareness message meshes well with SPARK, launched by Boeye and Inga Harty, of Rock Island in 2016. Boeye said they have considered seeking non-profit status for SPARK but, so far, has been able to achieve its goals without it.
September marked the third year Rock Island High School student ambassadors sold SPARK T-shirts, Boeye said. The shirts raise suicide awareness and provide funds for SPARK.
This year graphic design class students created the T-shirts, she said. The shirts, Boeye said, are a great way to start a conversation about the SPARK effort, suicide and mental health.
"We're trying to involve students, particularly with the T-shirts," she said. "They are kind of selling the concept by asking people if they want to buy a T-shirt."
Boeye said the high school's security, janitorial and cafeteria staff also have begun wearing the shirts to serve as a "walking billboard" for the initiative. She said students want more opportunities to learn about mental health and how to help friends.
SPARK was able to get a grant for mental health first aid training, she said. So far training has been provided to district teachers. Future goals include providing similar training for youth.
"We really do want to empower kids, and one of the things that has interested us so much is youth mental health first aid," she said. "The kids who do help us, the feedback is they want more information to help someone in trouble."
Boeye said the first aid mental health training provided to teachers is similar to CPR training. It teaches warning signs and is a lot like CPR training in that it is not necessary to be a doctor with many years of medical training to be able to help others.
"Basically you help take someone from a hot moment to cool down, maybe make some sense of what you should try next," she said.
Boeye noted mental health first aid training is a national effort championed by musician/actress Lady Gaga.