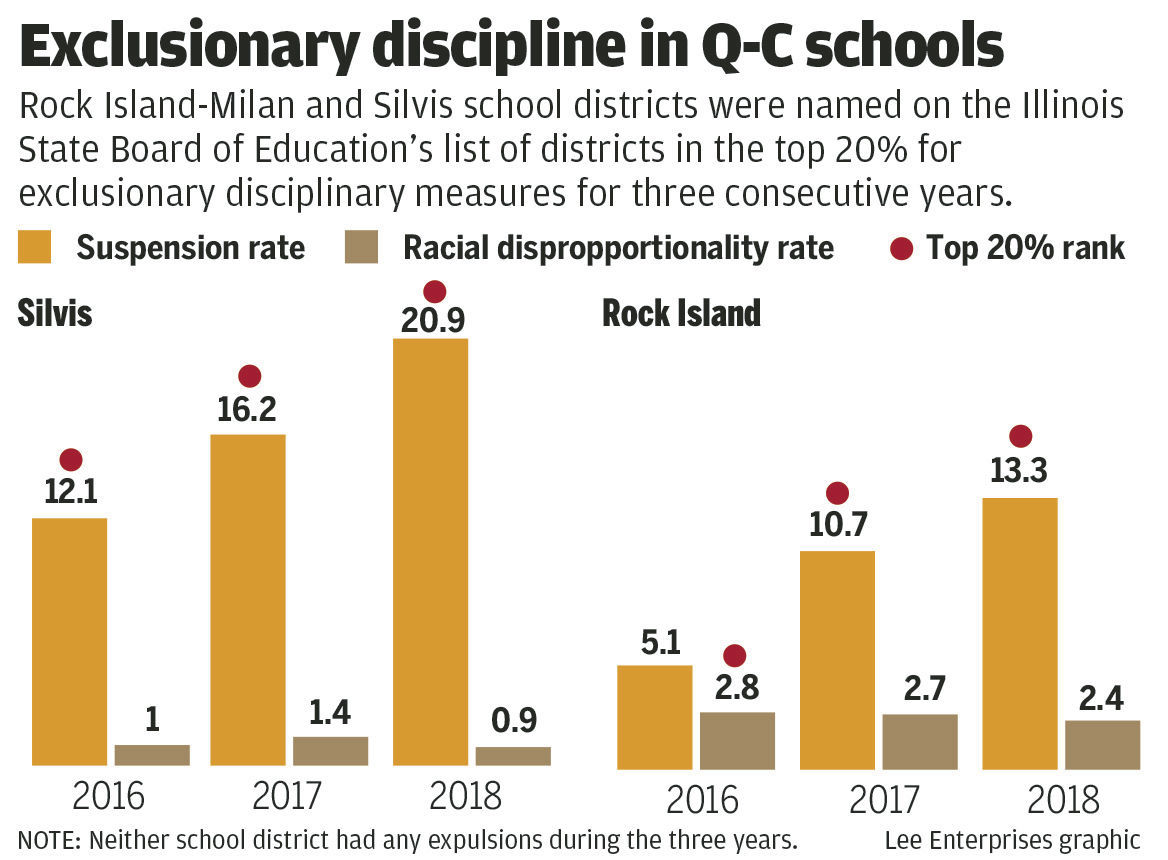 Two Rock Island County school districts are among 77 in the state to be cited for using "exclusionary disciplinary measures" more often than other districts.
The Rock Island-Milan and Silvis districts were included on the Illinois State Board of Education's list of districts in the top 20% for exclusionary disciplinary measures for three consecutive years — 2016, 2017 and 2018. The term describes when students are pulled out of class or activities as punishment. 
Illinois law requires the state board to identify districts that use exclusionary disciplinary measures more often than others do. Districts are required to submit a plan identifying strategies it will use to reduce discipline that is exclusionary or racially disproportionate. Within one year of being cited, districts are required to submit a progress report to the state.
The state looks at three categories:
Total number of out-of-school suspensions divided by the total district enrollment.
Total number of out-of-school expulsions divided by the total district enrollment.
Racial disproportionality, defined as the overrepresentation of students of color or white students who are disciplined in comparison to the total number of students.
Rock Island-Milan
In the Rock Island-Milan district's case, the district was cited for ranking in the top 20% for its suspension rate in 2018 and 2017, and for being in the top 20% for its racial disproportionality rate in 2016.
The district's suspension rate in 2018 was 13.33%, up from 2017 when it was 10.7% and from 2016 when it was 5.12%.
The disproportionality rate for Rock Island-Milan has remained more consistent over this same time period: 2.4% in 2018, 2.7% in 2017, and 2.8% in 2016.
"It's important to note that in the 2016 year, we were cited for racial disproportionality and have not been cited again. For the 2017 and 2018 school years, we were cited only for out-of-school suspensions. The district has been taking steps to improve in this area," said Alicia Sanders, Rock Island-Milan director of pupil personnel services.
According to Sanders, those steps include adding full-time counselors to each of the nine elementary schools to buildings to enhance the social-emotional learning to all students and staff. The high school has increased its counseling staff to five full-time members. In addition, one full-time counselor was hired at the Thurgood Marshall Learning Center, the district's alternative-placement center.
"Moving forward we are working within our district to aligning our data collection to the measures used at the state level," Sanders said. "We are doing a better job with data fidelity and implementation of consistent practices. This begins with monthly compliance checks."
Silvis
The citation for the Silvis School District stemmed from ranking in the top 20% for the suspension rate for all three years. The suspension rate reached a high of 20.9% in 2018. It was 16.2% in 2017 and 12.1% in 2016. Over the three-year period, Silvis did not rank in the top 20% for either the expulsion category or the racial disproportionality rate.
The Silvis district's racial disproportionality rate for all three years remained at about 1%.
Silvis Superintendent Terri VandeWiele said the district has implemented new initiatives and has seen great results.
"As compared to last year, we've seen an 84% decrease in suspensions district-wide," she said. "And compare that to two years ago, that's an 86% decrease. We've done a lot of positive things to be able to address that and keep kids in school. The big thing is we really need to keep kids in school, rather than sending them home."
VandeWiele said the district implemented a two-pronged approach, taking different approaches for George O. Barr Elementary and Northeast Junior High.
She said at the elementary level, the district already was working toward implementing PBIS, which stands for positive behavioral interventions and supports. VandeWiele said this was not a direct response to the state, but instead something the district began planning for in the 2017-2018 school year.
Under PBIS, she said, teachers collaborated on clear expectations for students' behavior; they taught the expected behavior at the beginning of the year, and that behavior is reinforced throughout the year.
Also at the grade school, the district has partnered with Bethany for Children and Families to obtain a full-time therapist. The therapist gives extra support to kids who need additional help and aims to address behavioral issues, VandeWiele said.
She said the district also re-evaluated when students really merit a suspension or when staff could take a different approach to keep kids at school.
At the junior high level, VandeWiele said, there was only one out-of-school suspension during the entire past school year. She said the district uses the alternative to suspension program operated by the East Moline School District, which offers choices such as in-school suspensions or after-school study as alternatives to suspending a student. She said the program services multiple local districts to provide alternatives to sending students home.
Overall, VandeWiele said, the district has worked on rethinking how to handle discipline with the goal of keeping kids in school. She said the staff is working on teaching appropriate behaviors to students and working more with families.
She said the district has seen an increase in the number of students exhibiting problematic behaviors in school than has been the case in the past.
"And sometimes it's because they feel school is a safe place," she said. "So they'll act out at school, and it's more that we want to help."
VandeWiele said all Illinois schools have had to rethink discipline following the 2015 passage of Senate Bill 100. The law reformed school discipline policies for public and charter schools, including eliminating zero-tolerance discipline policies and restricting the use of disciplinary consequences.
Be the first to know
Get local news delivered to your inbox!