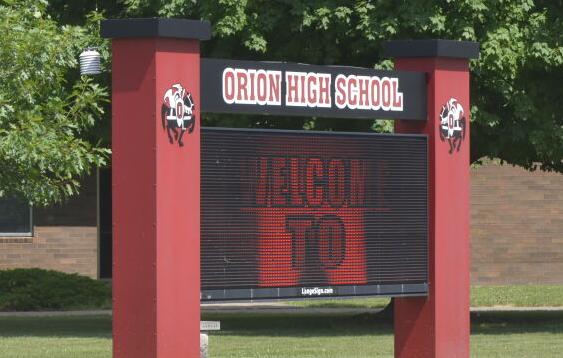 ORION — The Orion School District is still waiting to hear if it might get some relief from a natural gas bill that skyrocketed from $8,300 to $102,000 from January to February.
"We got the bill, we were in shock," Superintendent Joe Blessman said. "I called (state Rep.) Dan (Swanson) to see what could be done. I thought we should be protected from price gouging."
Blessman said the district had continued to get its gas in February.
"We were never told the prices were astronomical," he said. "We got the bill and fell out of our chairs."
He said Swanson was "great" to work with and called him back multiple times, helping him get in touch with the Illinois Commerce Commission (ICC).
"And that's where I filed my complaint," he said.
The ICC in turn got a response from MidAmerican Energy, from whom the Orion district has been buying gas since 2002.
With MidAmerican Energy, Orion is using a market-based natural gas product that increases or decreases as the utility's weighted average cost to deliver natural gas changes.
In the response letter, the utility noted multiple natural gas producers in Oklahoma and Texas had frozen well heads and equipment because of the effects of winter storm Uri, and the scarcity of natural gas caused significant price increases across the Midwest. Pipeline prices for natural gas averaged $155.84 per 1 million British thermal units during the week of the storm, Feb. 12 through 19, compared with typical February pricing of less than $3.
A subsequent email from MidAmerican to Blessman pointed out that the Federal Energy Regulatory Commission made winterization recommendations in 2011 that were not implemented. Over half of the board of directors of the Electric Reliability Council of Texas (ERCOT), including the chair and vice chair, resigned as the handling of the winter storm was questioned. The Public Utility Commission of Texas chairwoman resigned March 1, followed by the remaining two commissioners soon afterward. On March 3, the ERCOT board of directors voted to terminate the chief executive officer.
"I would hope there'd be some liability going back to the supplier considering the chairman, vice chairman and CEO are no longer with the company," Blessman said.
In the meantime, Gov. JB Pritzker announced a special fund of low-interest loans for municipalities in Illinois to help pay for higher natural gas prices available through the Illinois Finance Authority.
The superintendent said he was reevaluating the district's natural gas supply situation.
"Evidently, we had a good relationship because we hadn't changed it. We felt like we'd been treated fairly. After this we'll be working on it. MidAmerican Energy may have some programs, and I'll be calling other school districts to see how they purchase their gas," he said.
Blessman said February's bill had been like paying for one year's worth of gas in one month.