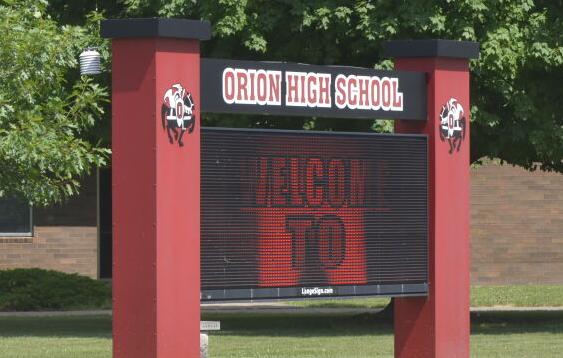 WHAT WE KNOW: The Orion school district is looking at issuing bonds to meet its building needs, and last month the board tentatively endorsed $5.5 million worth of bonds to be paid off in nine years without raising the district's tax rate. It would be accomplished by a combination of refinancing existing bonds and paying off bonds this December that had annual payments of $700,000.
WHAT'S NEW: Board members approved a "resolution of intent" for $5.5 million worth of working cash bonds to be paid through the district's tax levy. As mentioned at the June board meeting, the $5.5 million bond issue would include $3.5 million in improvements at the grade school and $1 million for new HVAC units at the middle school. In addition, Kendall King, with King's Financial Consulting, spoke to the board about refinancing $2.4 million in 2014 bonds, giving them a choice of doing so now for a savings of $200,000 to $250,000 or waiting until the bonds are callable in December 2022. He noted in waiting, there is a risk that interest rates would go up and negate all savings, but if rates stay the same, the district could save $350,000 to $400,000 by waiting.
WHAT'S NEXT: The board set a special Aug. 4 meeting to decide what the district's COVID-19 policies will be for the 2021-22 school year. Three parents spoke to the board to express their displeasure with mask mandates. Chad Cox said after sending his son to Augustana College for speech therapy, "all his progress stopped last year" because he was forced to wear a mask to speech class. He said he'd considered hiring an attorney to change the situation.
"I shouldn't have to beg or threaten you with lawsuits," he said.
Mickie Knox and Hayley Voorhees also spoke, saying they didn't want to register their children with the district until they knew the school's policy. Knox noted youth have gone to camps, games, theme parks and ballparks this summer without masks. "Give us, the parents, a choice," she said. Voorhees said 152 other school districts have lifted their mask mandates for the fall. "What are we waiting for?" she asked.
Superintendent Joe Blessman pointed out there are 800 districts in the state so it would be wrong to make it sound like the majority have lifted their mandates. He also noted local control does not extend to the buses, where masks will still be mandated.
"We do have parents that want their kids to wear masks," he added. "I'm not saying that's what we're doing. Some have pre-existing conditions." He also said registration fees would be refundable if parents register and later change their minds about having their children attend school in light of whatever policy is adopted. School starts Aug. 16.