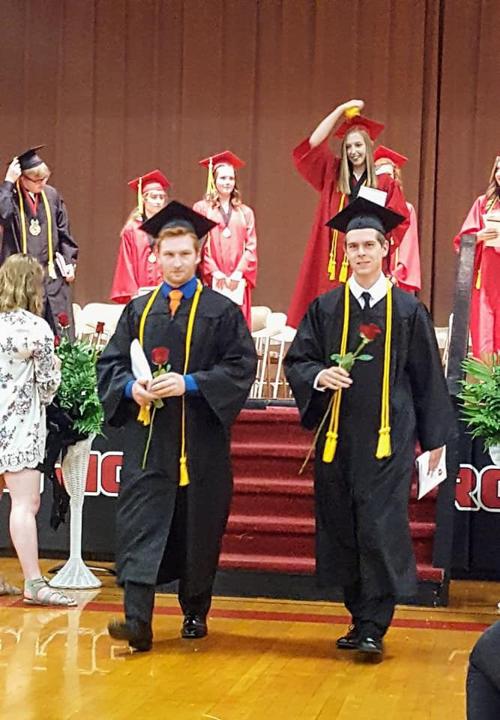 ORION — Members of the Class of 2018 graduated in a ceremony that took place Sunday, May 20, at the school.
Jared Abbott, Austin Anderson, Noah Anderson, Korryn Baraks, Popiel Battin II, Tyler Battin, Luke Burgert, Karissa Collis, Breslin Crose, Cassidy Delaney, Haley DeLille, Addison DeVoss, Dane Dolph, Matthew Engnell, Ronald Farwell III, Brandon Freed, Hailey Frutiger.
Scott Gambon, Cody Granatier, Anna Green, Noah Grems, Tate Hancock, Joseph Hartshorn, Noelle Hoffman, Kelly Jacobson, Kayla James, Ellie Johnson, Jacob Johnson, Lauren Johnson, Ava Lawson, Michael Lees, Max Lillibridge, Claire Lodge, Parker Lough.
Alexandra Mack, Paige Masias, Lauren Matson, Samantha Mayo, Andrew Minas, Nicholas Mitchell, Jolee Mohr, Daniel Mount, Lucas Nimrick, Gracie Noble, Audi Oliva, Mykeala Palmer, Kobe Perry, Shane Richardson.
James Schnerre, Cole Schroeder, Cassidy Schultz, Markell Sierra, Navarre Sissel, Patrick Smutzer, William Sowers, Clara Stamer, Isaac Stanley, Peyton Stropes.
Kelly Teel, Wesley Tennant, Abigail VanDuyne, Maggie Vestal, Taylor Werkheiser, Samuel West, Bethany Zmuda and Daimon Zurcher.
Be the first to know
Get local news delivered to your inbox!