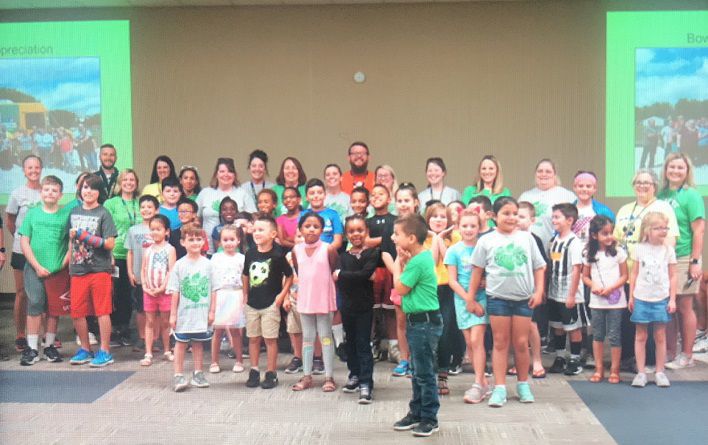 EAST MOLINE — It was the season's most exciting tailgate. And it wasn't for Friday night football. It was for a Monday night school board meeting. 
Before the district board meeting on Monday night, dozens of families and teachers from Bowlesburg Elementary School held an outdoor celebration complete with hotdogs and desserts.
The occasion was to celebrate progress at Bowlesburg, which has undergone sweeping changes in learning and instruction over the last year.
"This last year has been stressful for our students and staff," said Principal Jeffrey Fairweather. "And now it's paying off." 
The transformation began when the school partnered with Learning Sciences International (LSI), an education consultancy that provides professional development services at schools.
In January 2018, Bowlesburg staff visited the Mesabi East School District, in northern Minnesota. The district is a "Demonstration School for Rigor," a partnership in which LSI gives teacher training and evaluations in an effort to help close the achievement gap. 
For Bowlesburg staff, the visit was a catalyst to rethink how they lead their classrooms.
Before she visited Mesabi East, Cami Tapscott was skeptical. To her surprise, the trip was a spur of ideas. She came back to Silvis convinced that radical-sounding changes could work even in a kindergarten classroom.
"I came back and I tore my entire room down," Tapscott told the EMSD board. "I started over. The amount of growth we made in just a semester was unbelievable."
In August 2018, Bowlesburg became a Demonstration School itself. More than a year later, the partnership has yielded numerous benefits, which school leaders touted before the district board. 
You have free articles remaining.
Chief among the changes was the transition from "teacher-centered" to "student-centered" instruction. Instead of a teacher standing in front of a room and lecturing or assigning problems, students are arranged in "teams" where everyone has a distinct and indispensable task. 
It's something of a paradigm shift in the classroom. Teacher Greg Wilken likened the old system to the chaos of kids playing soccer at recess. By contrast, "teaming," as the arrangement is known, "is like soccer practice after school. Each player has a position, and each person is supposed to do their job."
Fourth-grade students told the board about some of those jobs, including a "facilitator" who keeps their peers on task and a "reporter" who speaks to the teacher on behalf of the group.
The changes have been difficult, acknowledged teachers, parents and students. 
Already one source of satisfaction is test scores. Between 2018 and 2019, the number of Bowlesburg students who met or exceeded Illinois Assessment of Readiness (IAR) standards in English Language Arts jumped from 20% to 32.2%, according to district figures. In math, the uptick was smaller but still meaningful, from 16% to 18.9%. 
The overall composite IAR score has also improved from 18.2% to 25.5%.
Other changes are cultural. The school community is more focused and motivated than ever, staff said. Fairweather credited the teachers, who have devoted themselves fully to the changes.
Jodi Sierra is an instructional specialist at the school. She told the district board about the first professional development training, which was held before any teachers were contractually obligated to attend. Session organizers were worried no one would show up.
To their happy surprise, everyone made it. "It shows how powerful a community and culture our building has," Sierra said.
Now community morale is picking up as student outcomes trend upward.
The evidence for that was visible on Monday night, as around 70 students and parents attended a board meeting that is typically closer to empty.
"Usually I do this to a crowd of two," said Sheri Bentley-Peacock, associate superintendent, in her presentation to the board. "This is exciting!"