ROCK ISLAND — Just in time for Halloween, Minda Powers-Douglas is scaring up tours for people who want to learn about Rock Island history.
During the 46-year-old Moline author's new QCHaunts & History Tours, you'll discover that dead folks do tell tales. Powers-Douglas offers three 90-minute presentations — a downtown tour ("Gangsters & Ghosts"); a College Hill neighborhood tour ("Haunted Rock Island"); and a tour of historic Chippiannock Cemetery, where many of the area's pioneers and leaders are buried.
Tours are scheduled through mid-November and will return in the spring. See the schedule and make reservations at qchaunts.com.
"I'm a research fiend/nerd. I love learning new old things about our area," the lifelong Quad-Citian and Augustana College alum said. "Then I love sharing those things. We have some great stories here in the Q-Cs. Some are well-known; some have been buried away or mostly forgotten. History isn't just a dry, brittle, old book of boring stuff. It's the story of our community and what's shaped us.
"When you go into a cemetery, it's filled with history," Powers-Douglas said. "Our founders are there. And when you walk downtown, it's a bit of the same thing. The buildings that have been there for years have lived their own lives. Woolworth's had its department store heyday, and then it has its, well, time as the Thirsty Beaver nightclub."
She has interviewed people across the U.S. as well as in other countries for her projects. 
Powers-Douglas has been giving tours of cemeteries in the area for about 15 years. The ones she knows best are Chippiannock, Riverside in Moline, and Oakdale in Davenport, which has a section for pets. "I've also traveled to places throughout the Midwest to give presentations and tours," she said.
"It's been my dream to offer ghost tours here since the first ghost tour I took," Powers-Douglas said. "I don't remember if it was in New Orleans or St. Augustine, Fla. I go on as many as I can wherever I travel.
"I started with Rock Island because I've been giving tours of Chippiannock for years, and I wrote a book about it. It's honestly one of my favorite places in the Q-Cs. It's my parents' house, then Chippiannock. I feel at home there."
She said she adores the beauty, serenity and history of cemeteries. "People have called them outdoor museums, and it's true," Powers-Douglas said.
"But what gets me every time is that no matter where you go in a cemetery or tiny graveyard, you are seeing the names or sometimes just a worn stone of people who all have stories. Some large and some smaller. Each person affected the lives of many people even if they didn't realize it.
"Each person was somebody," she said. "And I believe we should remember as many of them as possible. Even if it's just walking by and reading their names aloud or noticing an interesting carving on their marker."
You have free articles remaining.
The sprawling, hilly Chippiannock at 2901 12th St. is the final resting place of interesting people from all walks of life, everyone from Quad-Cities settler George Davenport to local musician Ellis Kell, Powers-Douglas said.
"And the statuary ... the dogs, the cradle, the six-ton sphere and the Cable monument alone are worth the price of admission," she said. "Even if I didn't tell people about the cemetery as we walked through and just pointed at things, it would still be an interesting tour. But I talk a lot, so there's no fear of that."
The famous dog statue at the Dimick family graves was meant to honor the children Eddie and Josie Dimick, who died from diphtheria at ages 5 and 9 on the same day, Oct. 22, 1878. Powers-Douglas said she loves the contrast of that sweet image with the nearby tombstone of Lucius Dimick (1862-1889), who was shot dead by his wife after she found him at a Rock Island brothel. His father posted the bail to get her out of jail, Powers-Douglas said.
Chippiannock is home to the unmarked grave of Henry Bastian, "the mad butcher of Milan," a serial killer who hung himself in 1896.
And it's also home to the soaring glory of the huge Cable family monument, which includes a bronze statue of a woman reaching up to a sarcophagus on top. The entire piece was created in Brussels. Mining and railroad magnate Philander Lathrop Cable died on May 21, 1886, less than a week after John Deere was laid to rest. 
The Argus newspaper stated that "what Mr. Deere was to Moline, Mr. Cable was to Rock Island," according to the Rock Island Preservation Society. "Both men were born elsewhere, but reached their business, financial, and personal heights in their adopted cities. Each was an indisputable genius and civic benefactor."
"We've got a lot of John Looney stories to share," Powers-Douglas said. "That guy was a hoot. OK, he was a very, very heinous man. I like pointing out where Mayor Harry Schriver beat the living daylights out of him at City Hall."
Because she'd done so much research on Rock Island for her cemetery book, Powers-Douglas had a head start on the ghost tours.
"The ghost stories are fun and a little spooky, but the basis of the three tours is local history," she said. "In the College District, my least favorite part is the hill. If people want to take the tour but are thinking, 'Thanks but no thanks,' we've arranged to drive people up when requested.
"This tour is all about the haunts," she said of College Hill, which starts at Cool Beanz at 30th Street and 14th Avenue. "Augustana has its fair share. I'm a grad, and I only knew some of the stories.
"There's a house nearby (on 43rd Street) that has at least three ghosts and a phantom hearse that rolls down its street. People will also learn about which businesses have their own spirits hanging around. And if you're interested in haunted items, I know a shop you'll want to check out," she added of Fred & Ethel's.
Fittingly, Powers-Douglas works a "graveyard" shift starting at 10 p.m. as a content screener for Legacy.com, an obituary website, out of her Moline home. She's married to local caricature artist Bill Douglas, who is lead vocalist for the band Einstein's Sister and part of the musical duo Douglas & Tucker. They have a 13-year-old daughter, Annabella.
101619-mda-nws-qchaunts-051a.JPG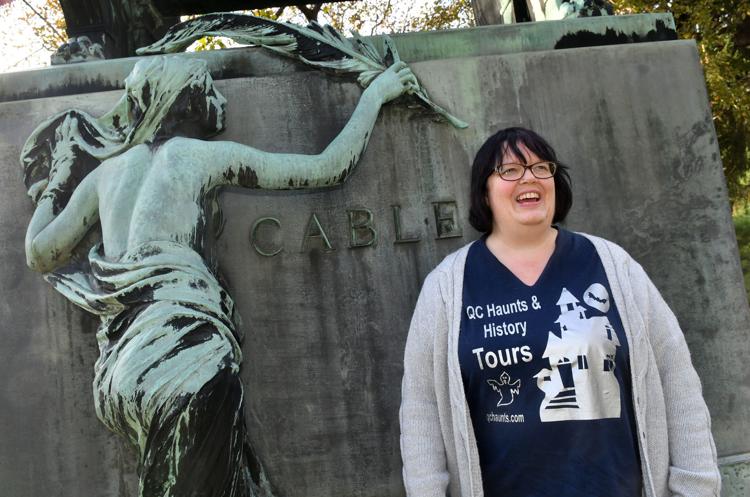 101619-mda-nws-qchaunts-094a.JPG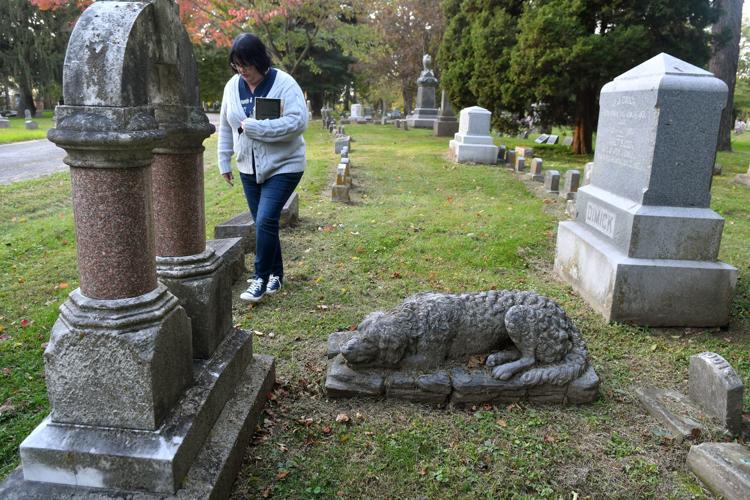 101619-mda-nws-qchaunts-061a.JPG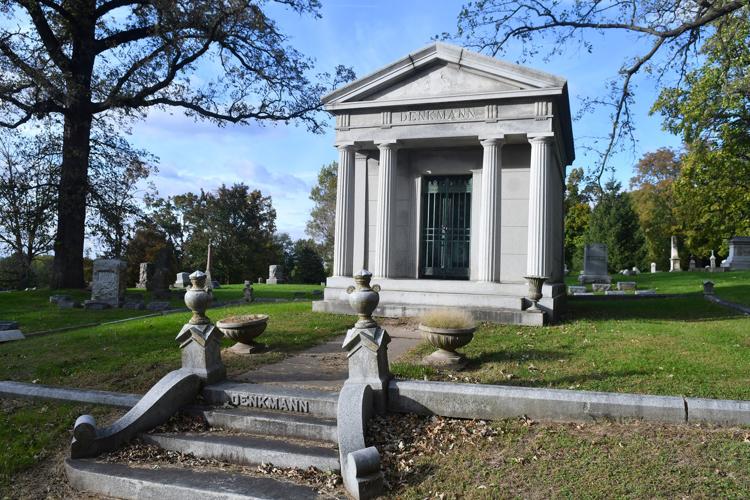 101619-mda-nws-qchaunts-111a.JPG
101619-mda-nws-qchaunts-003a.JPG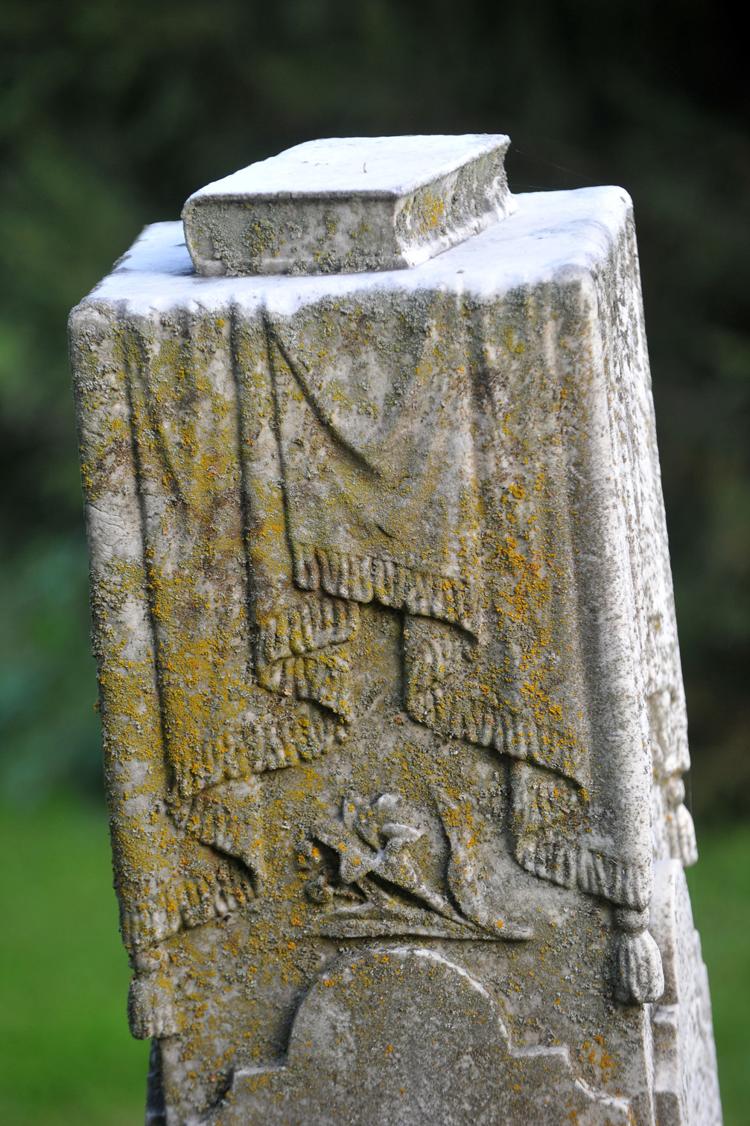 101619-mda-nws-qchaunts-025a.JPG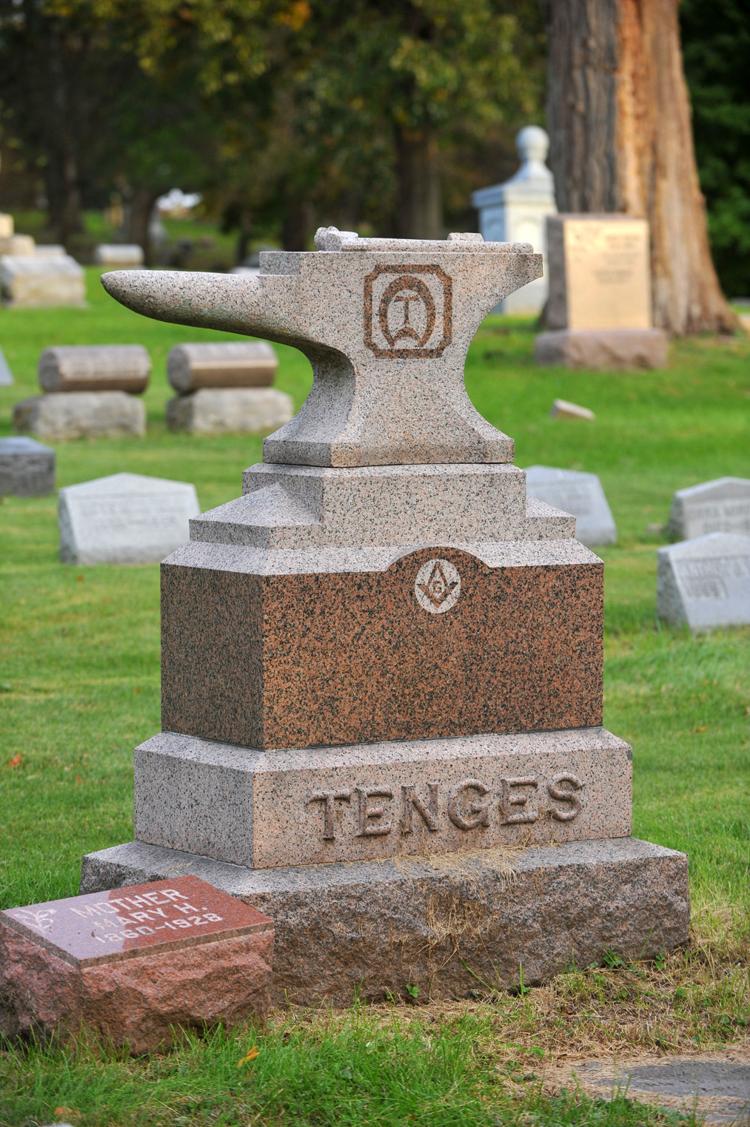 101619-mda-nws-qchaunts-097a.JPG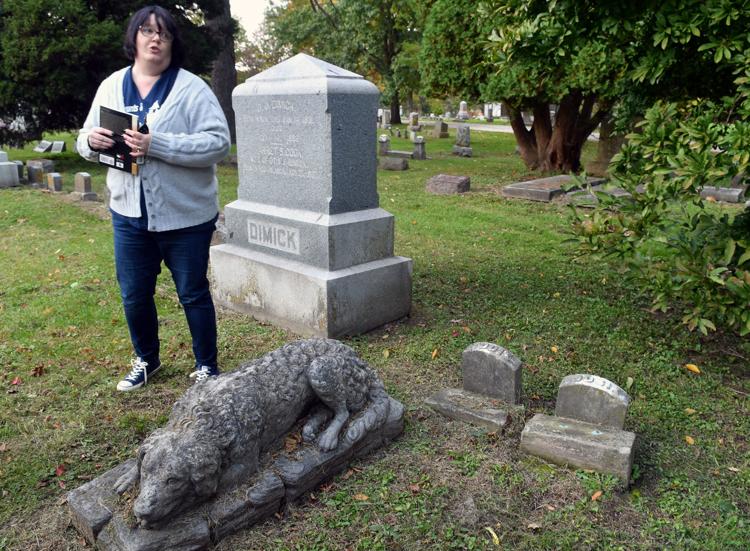 101619-mda-nws-qchaunts-046a.JPG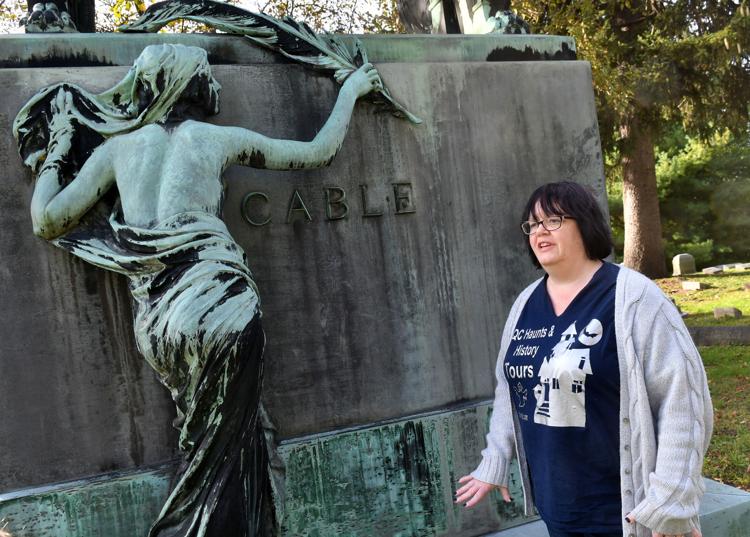 101619-mda-nws-qchaunts-052a.JPG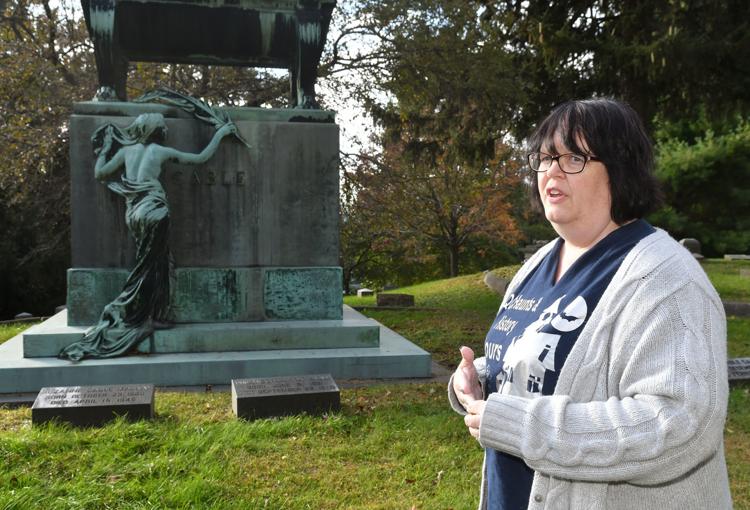 101619-mda-nws-qchaunts-041a.JPG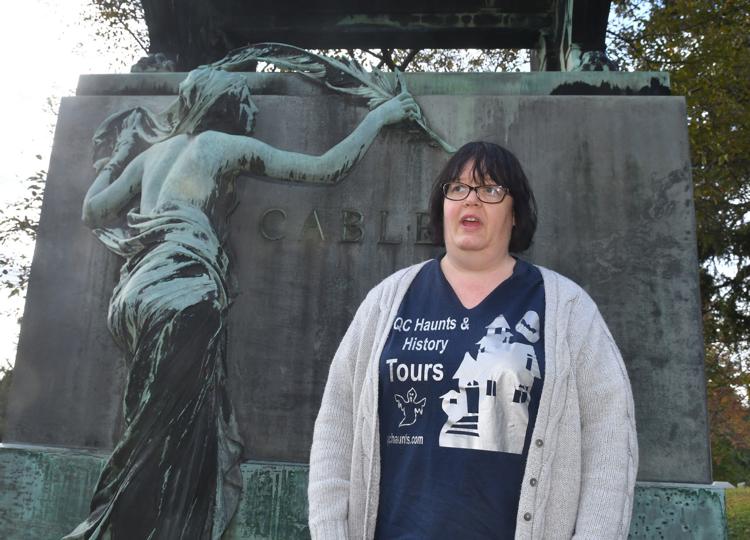 101619-mda-nws-qchaunts-086a.JPG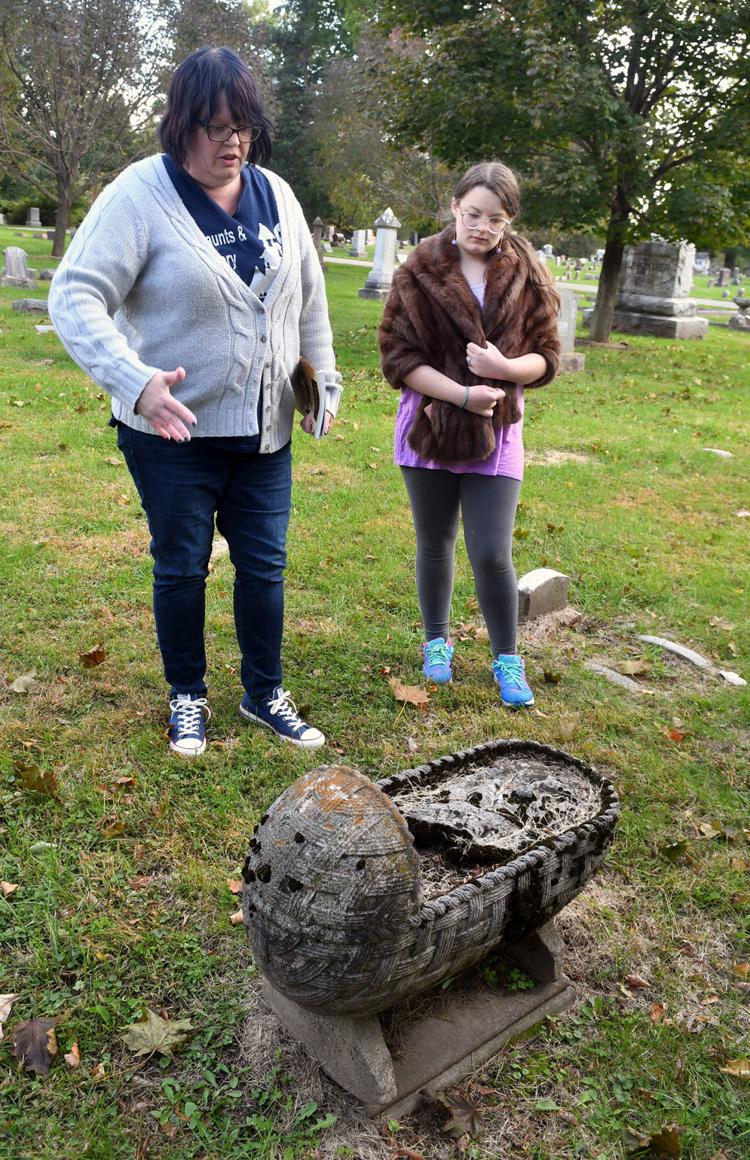 101619-mda-nws-qchaunts-059a.JPG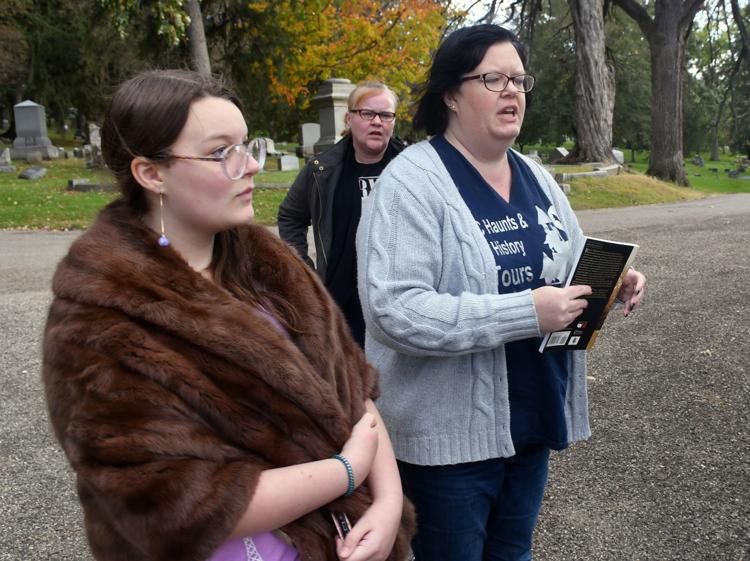 101619-mda-nws-qchaunts-049a.JPG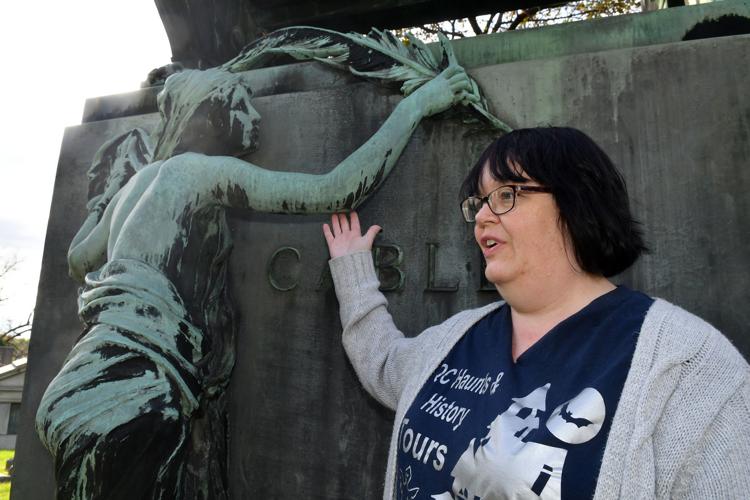 101619-mda-nws-qchaunts-098a.JPG