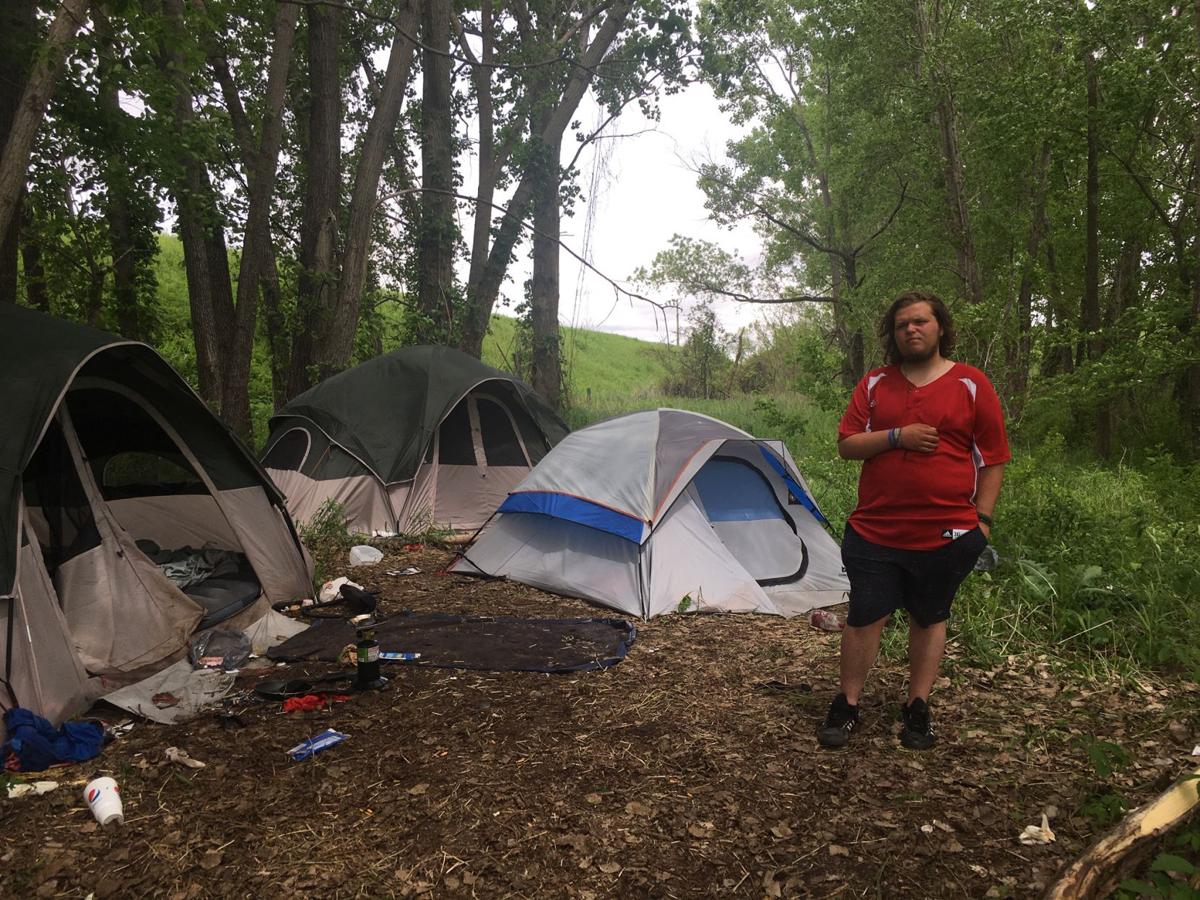 Ryan Kelley is like many other 21-year-olds — he lives with his parents.
Home is three tents located at the bottom of the small valley between the back of the Walmart Supercenter on Elmore Avenue and the busy lanes of Interstate 74. Kelley shares a tent with his 19-year-old brother. His 18-year-old sister has a tent, and his parents sleep in yet another.
Surrounded by trees and the remnants of an old wood farm fence, Kelley and his family were nearly hidden from the world.
But the Davenport Police visited the three-tent, single-family encampment just before noon Wednesday. Visits from law enforcement are nothing new for Kelley. Moving at a moment's notice is the norm, too.
"We've been here a week, maybe a week-and-a-half," Kelley said over the sound of the traffic on I-74. "We were living across Elmore, in a field across from the Walmart here, and we were run off from there.
"So we came down here. Honestly, I prefer to camp."
Kelley said his family ended up without a home and in Davenport by happenstance.
"It just kind of happened," he said. "My family and I lived in Decatur, Ala. That was home. We went out toward California about three years ago for a funeral. On the way back my grandfather got sick and we stopped here in Davenport.
"That was about 18 months ago, I'd say."
Kelley apologized for some of the debris scattered about the campsite.
"We don't want to make a mess," he said. "We're going to have to get out of here and we started throwing some stuff into piles. We do try to keep it clean. It is where we live."
Kelley tried to describe life without a traditional home. He said the biggest downside is the lack of showers. And ways to cook.
"For showers, truck stops are the best," he explained. "And you have to try to not eat too much fast food or too much drive-through stuff. We cook with this."
Kelley held up a Coleman propane bottle with an attached skillet surface.
"We try to work when we can," he continued. "Our IDs got lost so we have to stay away from anything that needs that kind of information.
"So we end up working cash jobs. We end up working for some pretty sketchy people, I can tell you that."
Kelley said he wasn't surprised someone turned in his family's campsite.
"We really aren't hurting anyone down here," he said. "I think people would just rather not see homeless people. Or if people do see you, they look the other way. People like us are pretty much invisible — until someone doesn't like seeing us." 
Get local news delivered to your inbox!
Subscribe to our Daily Headlines newsletter.