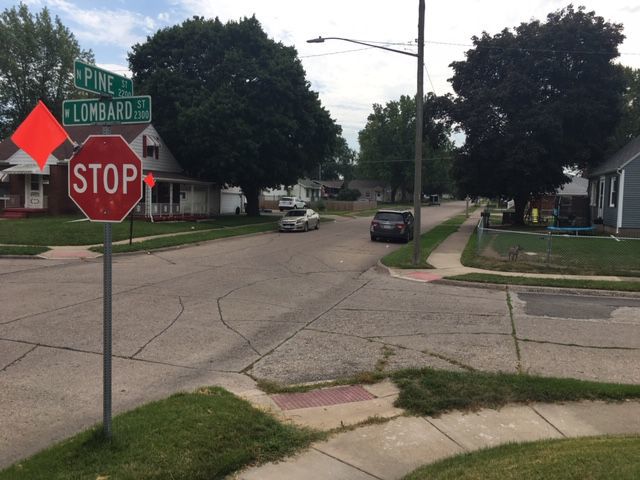 Amanda Robinson was driving back from Casey's General Store on Locust Street with a Friday night feast fit for six kids and two stressed-out moms when her cellphone rang.
"It was just after 7 (p.m.) and I had just picked up three pizzas, I remember that. It was my sister calling. Her name is Chelsea Harland," the 25-year-old Robinson said Tuesday. "I answered right away because we had just got all the kids out of the yard and into the house.
"I was thinking maybe she had them back out in the yard. My sister has been living with me and my husband — we have two kids. And Chelsea has four kids. So things have been crazy in the house."
Instead, Harland told Robinson the news of gun shots fired in front of the Robinson's house, at the corner of the 2200 block of Pine Street and 2300 block of West Lombard Street.
"I just couldn't believe it. Chelsea said to be careful when I got home because someone had driven down the street shooting and she wasn't sure if there were two cars or where those cars were," Robinson said. "When I got a second, I asked if the kids were in the yard and Chelsea told me she had the kids all in the kitchen."
Harland was one of a number of Pine Street residents who called Davenport police at 7:06 p.m. Friday about shots being fired. When officers arrived they found 11 shell casings. They later found a stolen vehicle with several bullet holes in it parked in the 1600 block of Lookout Lane.
"I've lived in this house, basically, since my parents bought it in 2001," Robinson said. "I took it over from them and I know that in that time there's never been anything like that on this block.
"This really is a quiet neighborhood. It's young families or older, retired people. We were thinking with Lincoln Street pretty much closed down in this area, maybe they were looking for a way out of the neighborhood or a way across. I just don't know how or why this happened."
Robinson and her family are part of a 26-home neighborhood on a section of Pine Street that starts on Locust Street and ends with a dead end at Dover Court. All of the homes are simple, well-cared-for one-story and bungalow-style houses. Most of the homes have detached, shed-style garages, and a number have children's toys left in front lawns.
You have free articles remaining.
Robinson said many neighbors are out in the evening, either with children or walking the block.
Arlynn Hartwig agreed. The 77-year-old and Junior, a toy poodle-lapso mix, were on a trip down Pine Street late Tuesday morning.
"You won't find many people to talk to until the evening time — most of the people work in this neighborhood," Hartwig said. "In the evenings, people like to walk. I think we got lucky with the shooting, lucky no one else was hurt.
"I can't believe it happened on this street. It was shocking."
Hartwig said he " ... would be interested to learn what happened. And I would be really interested to know more about the records of the people they arrested after this shooting."
Witnesses pointed Davenport Police to the disabled vehicle on Lookout Lane. According to a news release, officers checking that out saw two men flee, and after a short foot pursuit captured both of them.
On Pine Street, investigators found two handguns in the path the men took to flee. The vehicle sustained extensive damage and was determined to have been stolen earlier Friday. No other damage or injuries were reported on scene.
Late Friday Charles Singleton III, 17, and Nessiah Clark, 17, both of Davenport, were charged and booked into the Scott County Jail. The pair face adult felony charges of intimidation with a firearm, felon in possession of a firearm, second-degree theft and interference.
On Tuesday, Robinson pointed to where police recovered shells at the bottom of her driveway.
"I was just kind of numb, then I started thinking about what would have happened if the kids had been in the yard," Robinson said. "That scares me.
"And I have a camera inside the house. It didn't get the cars going by, but it did get the sound of the shots. You can hear them faint. Then they get louder. Booming. There were a lot of shots fired that night."