A Scott County judge has denied a Davenport man's petition to be removed from the state's sex offender registry.
District Court Judge Henry Latham announced his decision about 66-year-old Donald Gene Widener immediately after testimony ended in the hearing that lasted for about an hour and 15 minutes on Thursday.
Widener has been on the sex offender registry since July 28, 2016, and had to serve five years on the registry before he could petition to have his registration modified.
Widener, formerly of Clinton, pleaded guilty May 22, 2006, to a lesser included charge of lascivious acts with a child, a Class D felony that carries a prison sentence of five years, and two counts of third-degree sexual abuse, each a Class C felony that carry a prison sentence of 10 years.
On July 28, 2021, Widener had an assessment interview with now retired probation and parole officer Diana Danielson, who had served with the 7th Judicial District Department of Correctional Services.
Called to the stand by Widener's attorney, Eric Mail of Puryear Law of Davenport, Danielson testified that her assessment of Widener indicted he was at a below-average risk to reoffend and that she felt that Widener had met the legal criteria to have his petition for modification approved.
However, on cross examination by Assistant Scott County Attorney Steven Berger, Danielson said that "there is no reliable predictor of human behavior."
"I wish we could say for certain that person would not reoffend, but there is no risk assessment that can guarantee a person will not reoffend," she said.
One thing in the assessment that stood out to Berger was the fact that three other children had made reports to the Department of Human Services about being sexually abused by Widener, although no charges were filed based on those allegations.
While no charges were brought in any of those three cases, Danielson did admit to Berger that those accusations altered somewhat the final assessment.
Also, in one of the assessments used, known as the STABLE 2007 risk assessment, Widener placed in the "moderate density range of criminogenic needs," meaning at a moderate risk to reoffend. 
Widener testified he should be off the registry because, "I'll never hurt another child," and said he understood the level of "pain and suffering" he had caused.
Widener added that he didn't see any situation where he would be around children. When asked by Mail why he should be believed, Widener responded, "All I can do is be a man of my word."
Berger called to the stand Jennifer McAndrew, a probation and parole officer who has been over the sex offender unit since 2014 and had supervised Widener when he was placed on work release and for a time when he was on parole.
McAndrew testified that Widener should be evaluated by a professionally licensed person and he should have to take a follow up polygraph test.
McAndrew also pointed out that at the time Widener's parole ended, he had not completed his treatment and did not complete it after he was released from parole. She said he was not a good candidate to have his sex offender registration status modified.
In his decision, Latham noted that Widener had not finished his treatment, although he could have done that at any time after he was released from parole. Latham also noted that the STABLE 2007 risk assessment showed he was a moderate risk to reoffend.
Widener's victim sent a letter to the court stating that he should not be allowed off of the sex offender registry.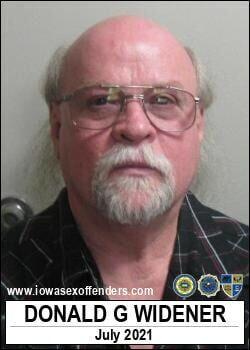 Widener sexually abused the victim from the time she was 8 years old until the time she was about 14 years old.
The victim went to Clinton Police about the abuse on June 29, 2005.
On June 29, 2006, District Judge David Sivright sentenced Widener to 10 years each on the Class C felonies and five years on the Class D felony, with the sentences running consecutively, or back-to-back.
Widener also was ordered to pay $2,750 in fines and $29,004.56 in restitution, all of which has been paid.
According to Iowa Department of Corrections electronic records, Widener was placed on work release on July 29, 2016. His work release ended Aug. 17, 2017, and his parole ended Aug. 30, 2017.
According to Widener's petition, he was classified as a Tier III offender and was required to check in with the Sex Offender Registry quarterly.
Metros with the fewest homes for sale
Metros with the fewest homes for sale
#35. Buffalo, New York
#34. Rochester, New York
#33. Fresno, California
#32. Worcester, Massachusetts
#31. Oxnard, California
#30. Stockton, California
#29. Reading, Pennsylvania
#28. Vallejo, California
#27. Elkhart, Indiana
#26. Springfield, Illinois
#25. Oshkosh, Wisconsin
#24. Lumberton, North Carolina
#23. Ithaca, New York
#22. Bay City, Michigan
#21. Midland, Michigan
#20. Auburn, New York
#19. San Diego
#18. Springfield, Massachusetts
#17. Lancaster, Pennsylvania
#16. Modesto, California
#15. Salinas, California
#14. Manchester, New Hampshire
#13. Santa Maria, California
#12. Rockford, Illinois
#11. Erie, Pennsylvania
#10. El Centro, California
#9. Concord, New Hampshire
#8. Springfield, Ohio
#7. Wooster, Ohio
#6. Farmington, New Mexico
#5. Lafayette, Indiana
#4. Wausau, Wisconsin
#3. Lewiston, Maine
#2. Mansfield, Ohio
#1. San Jose, California