A Rock Island woman whose Kia was damaged by someone trying to steal it believes she may have been the victim of a TikTok challenge that has been plaguing other cities since about the middle of 2022.
On Monday, Jan. 9, Anita Mickelson's 85-year-old mother went to the 2020 Kia Forte they share to find the vehicle's steering column severely damaged after someone had tried to steal the vehicle overnight.
"It was the first thing in the morning," Mickelson said, adding that her mom lives in the same Rock Island apartment building. "My mom, who lives upstairs from me and shares the car, was going to go to the library and make a grocery run."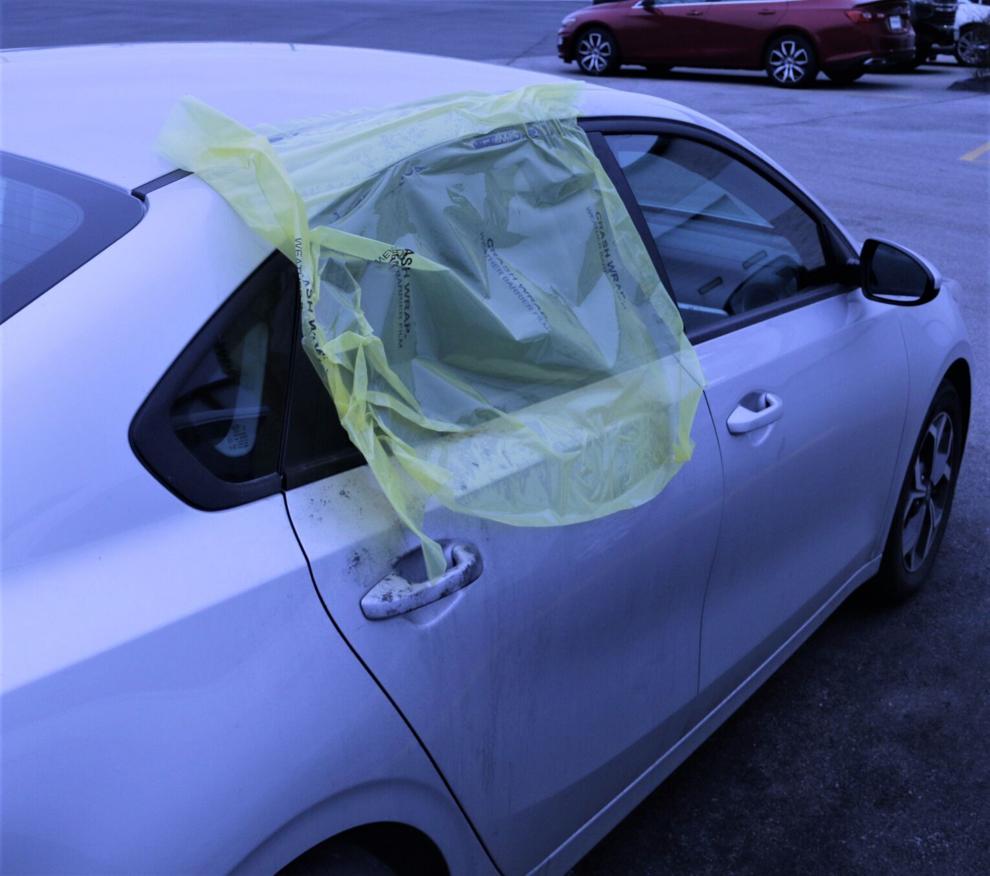 The would-be thief or thieves broke out the back passenger-side window and attempted to steal the car but bungled it.
"They messed up the steering column but couldn't get it to start," Mickelson said.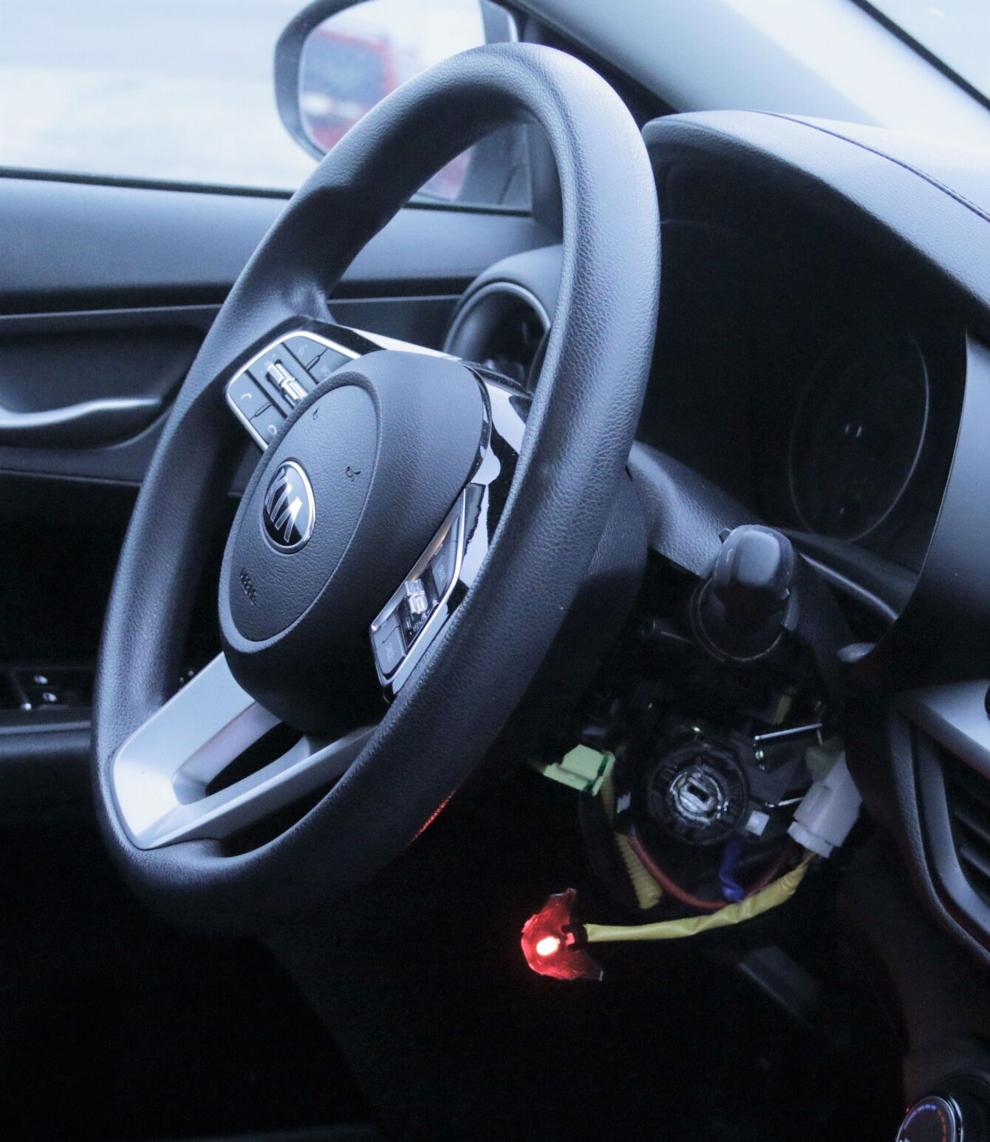 So when they got tired of trying to get her car to start, Mickelson said they broke into her neighbor's Kia that was parked next to hers. The would-be thief or thieves bungled that attempt, too, and left both vehicles there, damaged and unable to be driven. 
Mickelson said she believed she was possibly a victim of the TikTok Kia or Hyundai Challenge that has been hitting the nation since about September of 2022.
According to the Insurance Institute for Highway Safety website, Hyundai models made between 2013 and 2021, and Kia models made between 2011 and 2021, were built without electronic immobilizers that prevent someone from bypassing the ignition and driving away in the vehicles.
When someone figured this out and posted it on social media, a new TikTok challenge was born.
"They'll take videos of themselves joyriding in the stolen vehicle and post it on TikTok," Mickelson said. The vehicles then are abandoned and often are trashed.
Mickelson's car, however, remains at the repair shop that is waiting on parts. There is no telling when the parts to fix her car will be in, she said.
"The gentleman there has been very sympathetic certainly, but he's also being honest," she said. "They just can't get the parts, and there are many of these things happening."
What the vandals don't care about is that Mickelson needs her car for work and to take care of her family. She had to come up with the $500 deductible for the insurance company, and she got a $25 per day deal on her rental car. But the rental car could run into hundreds of dollars depending on how long it takes for her car to be repaired.
She said there was a Kia at the same shop that had been there four months awaiting parts, although she was not sure how that car was damaged.
Whether or not car thefts in the Quad-Cities have anything to do with the TikTok Challenge is speculation until the thieves are caught and their cell phone records are searched.
Not every department is seeing a large amount of Kia or Hyundai thefts. 
In Silvis, Chief Mark VanKlaveren reported the city had 23 motor vehicle thefts in the city in from Jan. 1, 2022, to present. Of those, only one was a Kia and one was a Hyundai.
In East Moline, Chief Jeffrey Ramsey reported 57 vehicles were stolen in the city in 2022, with four being Kias. There were no Hyundai reported stolen in East Moline in 2022.
Moline police said they don't have much information specific to the TikTok challenge or if the challenge is causing more vehicles to be stolen.
"But keep in mind it is 2015-2019 models that are vulnerable because of the immobilizer issue," Moline police said. "While we did have 11 models stolen, you would have to delete four of those which are not in the year range. A quick review of the reports also eliminates the cases on Nov. 2 and Nov. 14, for sure, because the reports indicate the keys were in the vehicle for those cases."
As to the other cases, there is no way to be sure.
Bettendorf Police Chief Keith Kimball said there were 41 vehicles stolen in the city in 2022. None of them were Kias or Hyundais.
Davenport police are working on compiling their numbers.
The only city where the theft of Kia and Hyundai vehicles was significant was Rock Island. 
Out of 204 vehicles stolen in Rock Island in 2022, 41 were Hyundais and 33 were Kias, according to police department statistics.
However, there also were 32 Fords stolen, as well as 20 Chevrolets and 11 Dodges.
Of the 41 Hyundais stolen in Rock Island, 40 of them were stolen from June through December, with 10 being stolen in September alone. Before June, only one Hyundai had been stolen, and that was in February.
Of the 33 Kias stolen in Rock Island, 32 of them were stolen between May and December with eight being stolen in August along. Before the Kia thefts began in May, only one Kia had been stolen, and that was in January.
"I have no evidence that these thefts are being driven by TikTok," Rock Island Police Chief Rich Landi said. "To me that's pure speculation. What is apparent is these thieves know about the vulnerability of the ignition system and are targeting these cars because of this."
Mickelson said her biggest worry was that others who owned Kia and Hyundai vehicles could find themselves in her predicament.
"I want people to be aware of what's going on and to do the best they can to protect their vehicles," Mickelson said.