Preliminary hearing days at the Rock Island Justice Center are often hectic.
Defense attorneys, armed with multiple file folders, talk with their clients, both in and out of custody. Deputies bring in inmates from the county jail for their turn in front of the judge, while bailiffs work to keep the often-packed courtroom gallery quiet.
Police officers from around the county wait patiently for their turn to testify. Some, however, don't get the chance to get on the stand.
"I think that's been kind of the biggest frustration that has started kind of bubbling up in the last probably couple of years with preliminary hearings," Rock Island County State's Attorney Dora Villarreal said. "A lot of it is a waiting game."
For felony offense, a defendant must be formally charged through either a preliminary hearing or grand jury. Both types of proceedings are utilized by prosecutors, and the burden of proof is much lower than it is at a trial.
On average, 30-34 felony cases are set for preliminary hearings every Tuesday morning. Of those, there may only be three or six hearings, while the rest of the defendants waive it, she said.
But now, these hearings are a thing of the past. Probable cause in all felony cases will now be determined by a sitting grand jury, an independent, impartial panel made up of Rock Island County citizens, starting this month. 
Villarreal told the Quad-City Times that while grand juries in Rock Island County are already being utilized in some cases, she believes the move toward them rather than preliminary hearings will be a more efficient use of court time and may save money in the long-run.
Once someone is arrested, they must be indicted by a grand jury within 30 days if they are in custody and 60 days if they are out of custody, said Assistant State's Attorney Alex Geocaris. 
If prosecutors are seeking an indictment against someone who has not yet been taken into custody, they have an unlimited amount of time.
Grand jury proceedings are much more informal than a trial. Prosecutors will present evidence -- typically officer testimony. Jurors can ask questions of the officer and prosecutor. The hearing is closed to the public.
The defendant and his or her attorney is not present, but are entitled to receive a transcript of the proceedings. Judges, court clerks, and correctional officers also are not present at the hearings. 
"It actually eliminates the need of quite a bit of the court services that we utilize for preliminary hearings," Villarreal said.
Selecting jurors to sit on the grand jury is similar to selecting the jury in a trial.
Jurors then deliberate and, if they determine probable cause exists that a defendant has committed an offense, will hand up a true bill of indictment, the document that formally charges a defendant. 
During a preliminary hearing, a judge hears testimony and decides whether probable cause exists. The defendant and his or her attorney is present and can cross-examine witnesses. Many defendants, however, waive the hearing, Villarreal said. 
In both proceedings, neither the grand jury nor judge makes a determination of guilt or innocence. 
As a former public defender, Villarreal said it can be very difficult explaining the preliminary hearing process to clients.
"A lot of defendants believe it's their trial at this time when you go to a preliminary hearing," she said. "Very early on in the case, discovery and evidence reports have not been tendered to the defense counsel. Therefore, there really is not much that can be argued on behalf of the defense at that time."
In the past, cases were assigned to attorneys after a defendant either has a preliminary hearing or waives it.
"Now we are assigning cases to our prosecutors after a defendant's initial appearance in court, so they can begin reviewing and preparing the case sooner."
In turn, prosecutors will be able to get discovery to the defense faster, she added.
During preliminary hearings, officers often are called to testify and wait around to see whether the defendant in their case will waive the hearing or not.
Now, prosecutors will ask one or two detectives from each agency to come to a set hearing where they will be guaranteed to testify.
"I think that's the main thing of why it's going to be more efficient is that people aren't just sitting around waiting to see if there is going to be a prelim or not," Geocaris said. "When it's scheduled for a grand jury, it's going."
Villarreal said she started looking more at utilizing the grand jury more shortly after she was appointed state's attorney in June. One of her reasons, she said, was a 2017 bond reform measure in Illinois that significantly changed the number of criminal defendants that are not in jail.
You have free articles remaining.
Register for more free articles
Stay logged in to skip the surveys
"I think the bond reform is really something that has triggered preliminary hearings to become less and less efficient because we have so many people that are showing up to preliminary hearings and they don't know what it is," she said. "They haven't had an opportunity to speak to their attorneys. You have to wait for them to talk to someone or it gets continued. The more it gets continued, then the more that those mornings stack up and stack up and detectives are waiting around when there could be much better use of their time."
Villarreal said the practice of sending cases to the grand jury, rather than utilizing a preliminary hearing, is used a lot in other counties, such as Cook, McHenry, Winnebago, and Peoria counties.
To get the project off the ground, she tapped two assistant state's attorneys, Geocaris and Justin Umlah, who previously worked in counties that send all felony cases to the grand jury.
They put together a proposal and helped pitch the idea to court administration and judges and to train the office on the grand jury process. They also are helping to train attorneys on the grand jury process. 
Villarreal said she has not yet decided who and how many attorneys in the office will actually be presenting to the grand jury, adding that it will depend on schedules.
The use of a grand jury is not new in Rock Island County. Villarreal said anywhere from 30 to 60 case have been submitted over the last year. Some of the cases are the more high-profile ones, such as murder. The bulk of the cases, Geocaris said, are drug cases because "they're just are simple cases and just clogging up our system."
Grand jurors in the past serve for one year. Now, they will serve for six months, she said. They most recent grand jury was selected in October, she said. 
"They have only been sitting once a month, so that will increase to twice a month," Villarreal said. "We will be incurring that extra day of juror fees, but that's about the extent of the expense. The rest of it will be the transcript costs and our office will pay for those if requested."
Grand jurors are paid $10 a day, plus mileage, Court Administrator Vickie Bluedorn said. 
Geocaris said there are times when a grand jury declines to indict a defendant. However, it's rare.
"Our office already tries to review these cases that we tried to, I don't want to say weed them out, but we only try to bring forward cases we feel that are appropriate for charges that we know that not only do we think that there's probable cause, but we're charging cases that we feel that there will be proved and reasonable doubt or not," Geocaris said.
"We decline quite a bit of charges that to come through here, despite what some of the public may claim," Villarreal said. "Everybody here works together very well and if there is any question or questionable cases they are discussed among the attorneys before a charging decision is made."
Chief Judge Frank Fuhr said the decision to take cases to the grand jury rather than to a preliminary hearing is "totally at the discretion of the state's attorney's office, however they prefer to do it."
"From my point of view, it actually frees up a courtroom on Tuesday morning, so we can use it for other purposes," he said.
In Iowa, prosecutors have the option of sending a case to the grand jury or indict by trial information, a document that sets up the formal charges.
It contains a confidential document known as the "minutes of testimony," which includes a notice of all the state's evidence and every witness and what they are expected to testify to.
Scott County Attorney Mike Walton said more than 90 percent of the cases that come through his office are brought by trial information.
The office has about 5,000 indictable cases a year. About 2,000 of those cases are felonies, he said.
"So right there, you can see it would be pretty much impossible to bring all of our felony indictments by a grand jury," Walton said. "It would be all day every day and I don't think any citizen would be real keen on devoting a year of their life to be on a grand jury 24/7."
Although rarely utilized, a new grand jury of 12 citizens are selected each year. Seven of them are considered actual jurors, while the other five are used as alternates.
To hand up an indictment, five of the seven jurors need to vote in favor of the indictment.
Another duty of the grand jury in Iowa is to inspect the county's incarceration facilities, such as the county jail and juvenile detention center, Walton said.
Walton said that while he sees the value in grand juries, the trial information process gives prosecutors more control over what the most appropriate charge is.
"By doing the charging through trial information, we control what's being charged because we're the ones that ultimately have to prove the case," he said. "With the grand jury, they're not going to prove up the case later.
"So, if they have a tendency to indict high, which is actually been my experience, it may be a higher level than what actually can be proved because the grand jury is going at the standard of probable cause, where as a conviction is the standard of beyond a reasonable doubt."
Courtroom at the Rock Island County Justice Center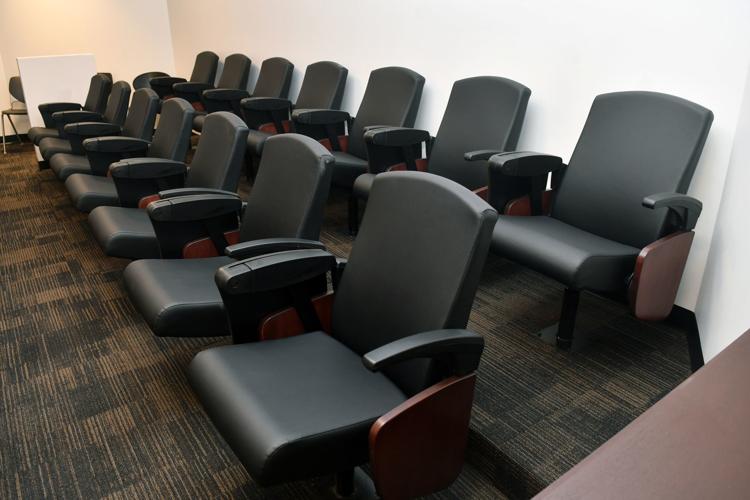 Courtroom at the Rock Island County Justice Center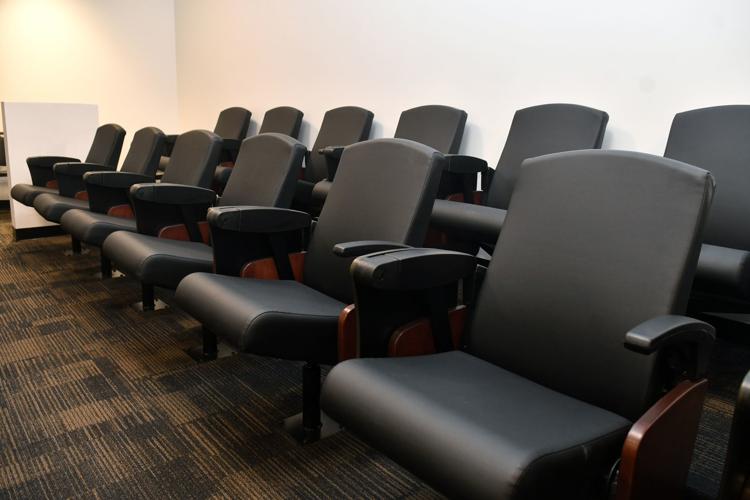 Courtroom at the Rock Island County Justice Center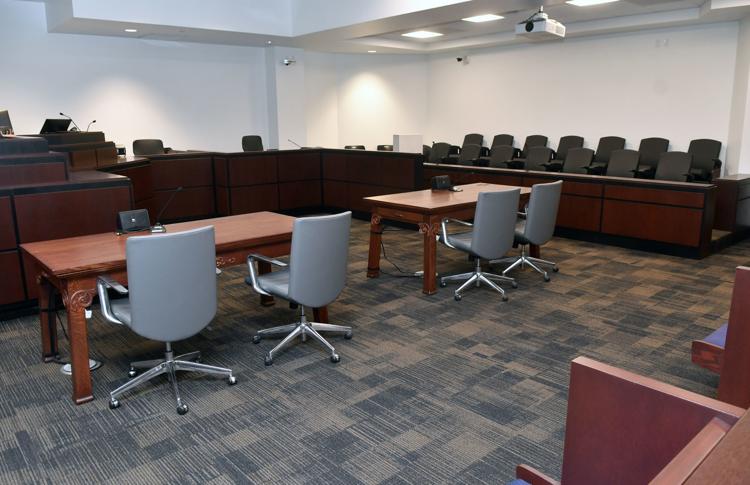 Courtroom at the Rock Island County Justice Center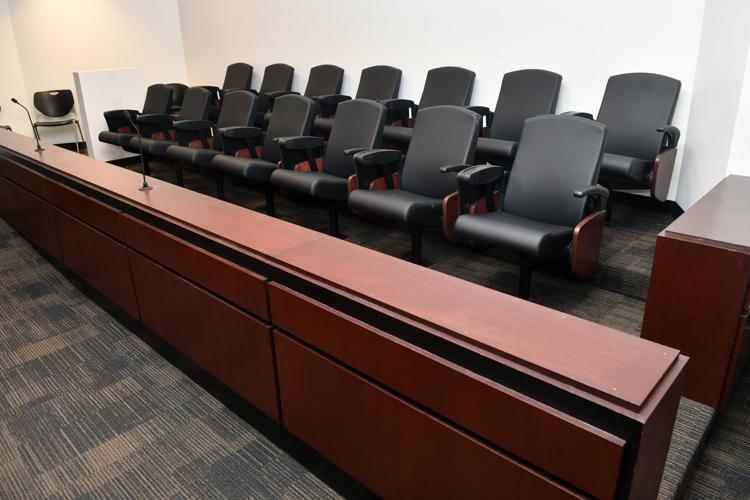 Courtroom at the Rock Island County Justice Center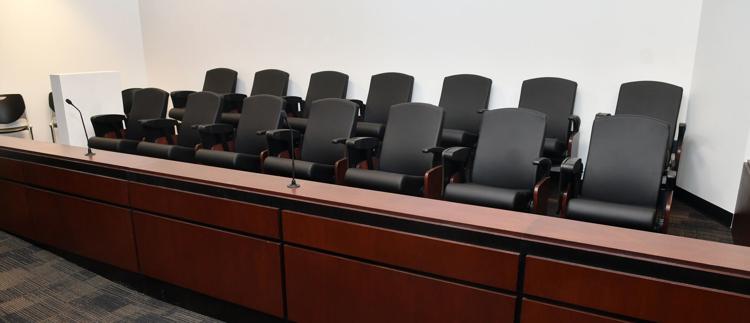 Courtroom at the Rock Island County Justice Center
Courtroom at the Rock Island County Justice Center