Matt Burroughs doesn't remember the noise or the feeling of getting "jerked around" when a Plymouth Voyager van slammed into his Ford Escape Wednesday night in Moline.
The 47-year-old Milan man and his fiancée, Tammy Loos, were driving along John Deere Road, about to turn onto 16th Street to pick up ice cream at Whitey's — her favorite — and grab a pizza to take home to celebrate her 51st birthday that day. They were laughing and joking.
"The light turned green, I started to turn…that's all I remember," he said.
Loos ultimately died from her injuries in the crash that came next, while Burroughs suffered a broken hip, pelvis and ribs.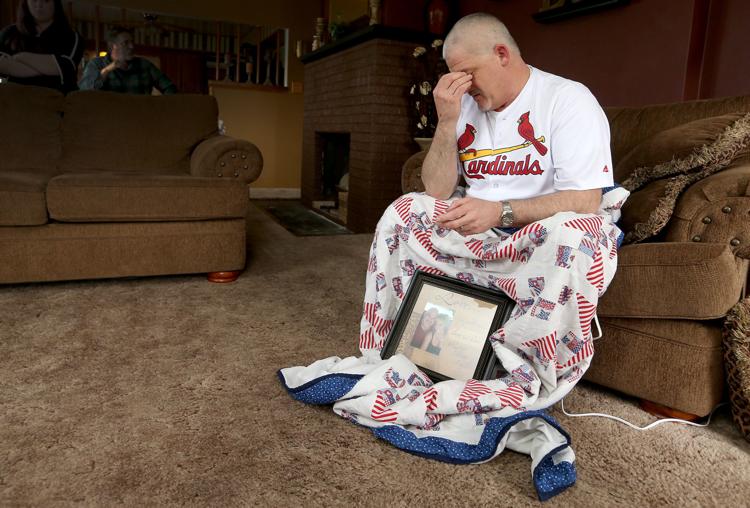 The three occupants of the van, Armand Cannon, 24, of Grand Mound, Alex Garrels, 25, of Walcott and Amy Taylor, 27, of Davenport face charges.
The van they were in, according to police, was stolen out of Cedar County.
The crash, Burroughs said, is a tragic consequence of the stolen vehicle epidemic in the Quad-Cities over the last several years.
He is speaking out to bring awareness in memory of Loos. "We all knew this was going to happen and now it's happening, and it took the life of somebody very close to me," he said. "And first it's going to be me, then it's going to be you. It could just as easily be you.
"When somebody's life is taken over something that's so senseless, something needs to be done about it. I don't what else I could do for Tammy other than put the word out."
An 'addicting' smile
The couple was together for about two years and got engaged Dec. 1. They had planned to get married in Florida in September.
"We both wanted to get married on the sand," he said. "It was just after I met her, I didn't want to let her go -- I wanted to make sure we got engaged."
Loos, he said, had a heart of gold. She ran her daycare business for 25 years in Davenport and "helped raise and raised kids from all over all the way until they were in high school."
"Her heart's really big when it comes to children," Burroughs said. "Her family's real important to her."
Her family includes her three children, William "Bill" Hermanson, Courtney Loos, and Brandon Loos; all of Davenport, as well as a special nephew, Brent Wade, according to her obituary.
More recently, she worked as a patient care technician in the operating room at Genesis Medical Center-East Rusholme Street, Davenport.
What she was most known for, he said, was her smile.
"It's addicting," he said. "Everybody will tell you that, too."
The couple was "always doing a lot of things," such as bowling, going to stock car races and listening to live music.
Loos was a die-hard St. Louis Cardinals fan and for her birthday, Burroughs purchased tickets to see them play the Milwaukee Brewers in Milwaukee for opening weekend.
They were set to leave for Milwaukee on Friday, two days after Loos was killed.
Healing
Instead, he's home, surrounded by family and friends, including his daughter, Jackie. Burroughs left the hospital Thursday.
While the crash remains under investigation, Burroughs learned the stolen van had smashed his car across four lanes of traffic, over a median and up on the sidewalk.
"The impact was pretty severe," he said.
He remembers reaching over to grab Loos when he came to after the crash. He asked if she was OK. She said she was.
In the middle of the chaos, Burroughs doesn't remember how first responders got her out of the car.
"I remember when she was leaving the car somehow, I just remember I grabbed a hold of her hand or still had a hold of her hand…but I remember letting go and telling her that I loved her and everything was going to be OK," he said. "She said 'I love you.'"
Both were taken to a hospital, where Loos died.
"I was just so angry, so upset that it was hard for me to even, it was almost like you're in a different world at that point," he said. "It was kind of crazy. I don't know. I just remember sitting there crying and grabbing my head saying, 'no.' I didn't think it was true. She was sitting here talking a little bit ago."
He has received overwhelming support. As he talked about Loos and the crash, he received multiple alerts on his phone from friends, family and even strangers from around the world.
"I mean, hundreds of messages through social media from people that I don't even know because of what this is – it's the stolen car thing.
"That's what it is. it's not because it was me or because it was Tammy or the people that are involved in the accident. It was because everybody knew this was a problem here and now it's coming to light. So, who else has to die?"
Being at home, seeing the sights and smells of their life together, is as hard as it is comforting.
"I feel she's here with me," he said and looked down at the red, white and blue quilt covering his lap. "I mean, something as simple as a blanket. That was Tammy's. Actually, I sat down, I grabbed the blanket.
"There's going to be harder times, I'm sure. It's sinking in more."
One of the first things he did when he got home was put on his wedding ring.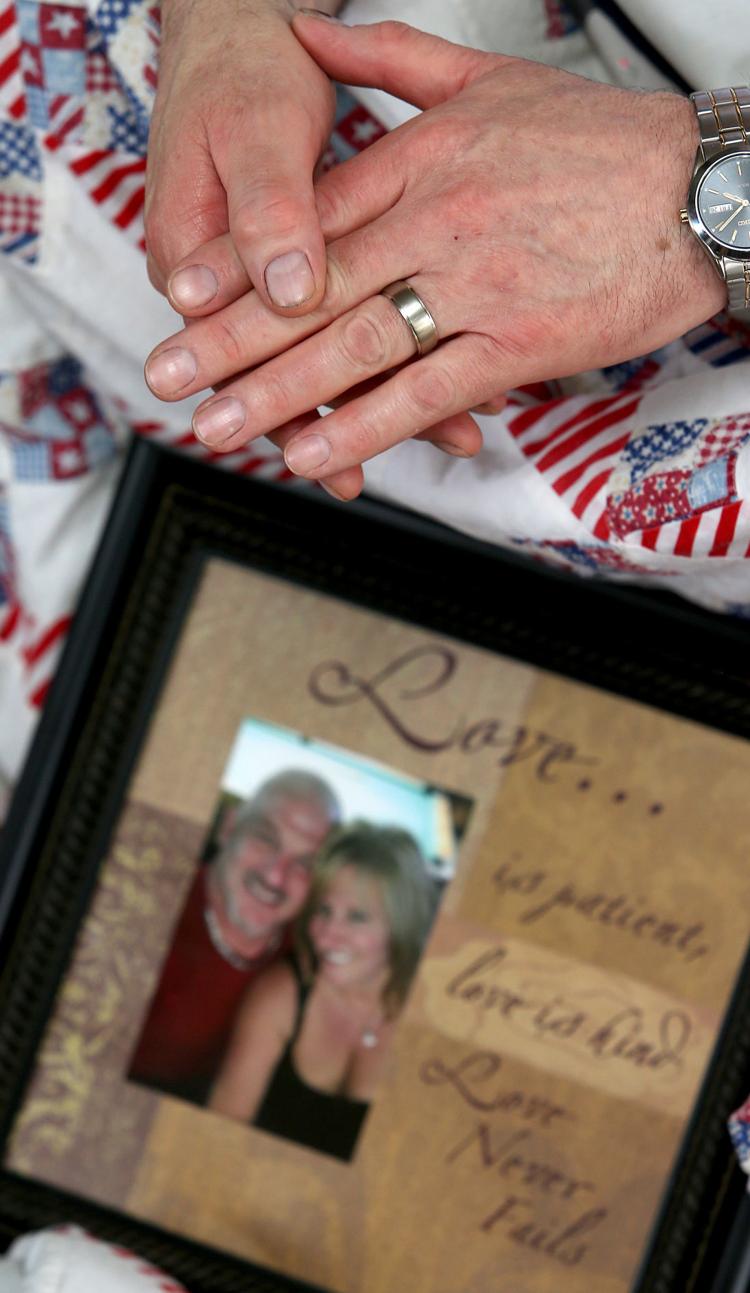 "Just as a peace of mind," Burroughs said. "Just give me something a little bit close."
Burroughs said he is focused on healing his body, something Loos also would have recommended if she was still here.
He said his car club is putting together a car cruise in Loos' memory on April 13.
A GoFundMe page also has been set up by his friends at bit.ly/2OCEX5K.