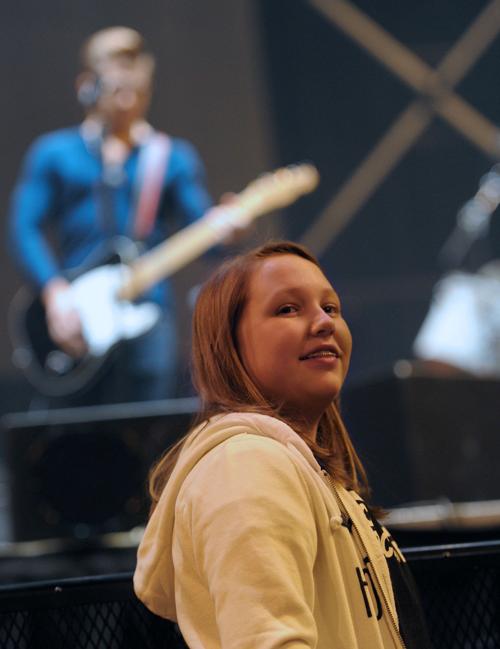 MOLINE -- Before Hunter Hayes' Friday night show at the iWireless Center, a group of area teens, tweens and media were treated to a little pre-show of their own.
Students from the the QC Rock Academy, some of their parents and members of the media were invited to meet the country singer and his band, and sit in on a sound check Friday afternoon before the concert.
Tour manager Dan Wise first gave the group a tour of the stage, pointing out what the iWi provides and what the bands' crews bring in and set up. The group giggled, asked questions, and snapped photos with their smartphones along the way. 
"Hunter loves the fan experience," Mr. Wise said, explaining how the stage is designed to allow him to interact with the crowd. 
Soon, Mr. Hayes' band members -- including drummer Steve Sinatra, guitarist Devon Malone, and utility player Sam Ellis -- began to trickle into the crowd to chat with the kids and sign autographs on drumheads and drumsticks, 
Then Mr. Hayes came out -- and so did the cellphones.
"Thanks for coming to sound check," he said. "I'm glad you're here." 
He went around the crowd, shaking nervous hands. "Hi! I'm Hunter," he said before asking each of the QC Rock Academy students what instrument they played. 
"I wish I had this" a few years ago, he said of the Rock Academy, adding that he wished he had it now, too. "I could use it." 
After chatting a little bit about tour life and "recharging" at home, he opened the floor to questions, including what is his favorite color (blue), and what does he like about meet-and-greets. 
They give him a chance to "let myself be myself," he said.
Throughout his shows, he said, he works in times between songs to "goof off," talk and connect with the audience. 
Many of the Rock Academy students have dreams of being stars, and Mr. Hayes told them there really is no right or wrong way to be a musician.
"You find your own way of doing it," he said.  "There is no one way to do it. That's the fun part." 
While it's also scary, he said, "being yourself is the name of the game here." 
When the crowd ran out of questions, they gathered in a line to get an autograph and a photo with Mr. Hayes. 
Gracie Bruce even brought him a bouquet of flowers.
The 13-year-old from Buffalo sings and is learning how to play the guitar in Rock Academy, she said.
She has suffered from depression and anxiety. "Music in general saved my life," Mr. Hayes' music especially, she said, pointing to his song "Invisible," which has lyrics about not fitting in, being yourself, and there being more to life "than what you're feeling now." 
"Whenever I get really upset, I turn that on," Gracie said.
Gracie said she was happy to learn how down-to-earth Mr. Hayes is, and what he taught the group.
"You have to go your own path," she said.
After everyone got photos and autographs, Mr. Hayes took requests for which songs to play during sound check. The group settled on "Invisible," "Tattoo," and "I Want Crazy."  
After the short show was over, Davenport sisters Maddie and Katie Pessman were beyond excited.
"We really like listening to his music," said Maddie, 13. 
"We're big fans of Hunter," added Katie, 10.
When the two learned they would meet him Friday, Maddie said, "we were both speechless." 
"I thought they were kidding," Katie said, of their parents. 
The two were tickled that they got to hear "Invisible" up close and personal. 
"I almost cried," Maddie said.
"That's like our favorite song," Katie added. "It has a good message."